After revealing the Quest 3 at the keynote of the 2023 Meta Connect, the metaverse (and now unsurprisingly AI company) also revealed impressive new AI features across its products that'll help people get closer to each other.
But that's not all. Meta also held its Developer State of the Union after the keynote, which is a session that's focused on developers who are building for Meta Quest, Meta Spark and AI.
Meta says that over $2 billion has been spent on games and apps in the Meta Quest Store, with a lot of the money going to developers. The company has also earned over $10 million in gross revenue from one in 12 titles in the Meta Quest Store and plans to bring more titles to users later this year. 
In addition to giving the Quest 3 more power, Meta says it has been working on ways to make it easier for developers to deliver more beautiful and real-time 3D software on Quest 3. The company went on to add that the Quest 3, "Is a world-class mixed reality device" that'll make a huge difference for developers.
Oculus publishing
Earlier this year, Meta announced its Oculus publishing platform, which is, "A game publisher that actively funds and provides production support to high end profitable games on Quest," said Chris Pruett, director of content ecosystem at Meta.
Many of the top titles that are on our platform today were built with the support of Oculus publishing and it's a program that we plan to expand. Meta is also putting developers in control of their businesses by shipping a range of self-service tools that are designed to help developers promote, monetise and make their apps successful. These self-service tools include:
Try Before You Buy: This allows customers to test out your app before they decide to make a purchase decision.
Self-serve pre-orders: This allows developers to get started with promotions even before their game launches.
Self-service bundles: This will enable developers run limited discounts on their games as long as they've been on the store for at least 90 days. 
Custom Promo Codes: This allows developers to generate a code that gives consumers a discount on an app.
Country-specific pricing 
VR shortlinks: This will allow developers to track an off-platform campaign.
App and AOC price A/B testing
Store promotional art A/B testing
Improvements to Meta Spark
Meta says that over 750 million people are already interacting with experiences built in Meta Spark every month. And it is introducing new tools and capabilities for the developer community that's designed to make creation easier for developers.
Meta says it not only plans to make the Meta Quest ecosystem the best VR ecosystem for developers, but for everybody and for years to come. Adding that its mission is to, "Empower developers to build experiences that allow people to connect in ways that are fun, engaging, authentic and meaningful.
According to Pruett, "We've added skeletal animation blending and [a] timeline editor to improve the process of creating seamless and realistic animations." Meta has also developed debugging and profiling tools to accelerate creation and iteration testing.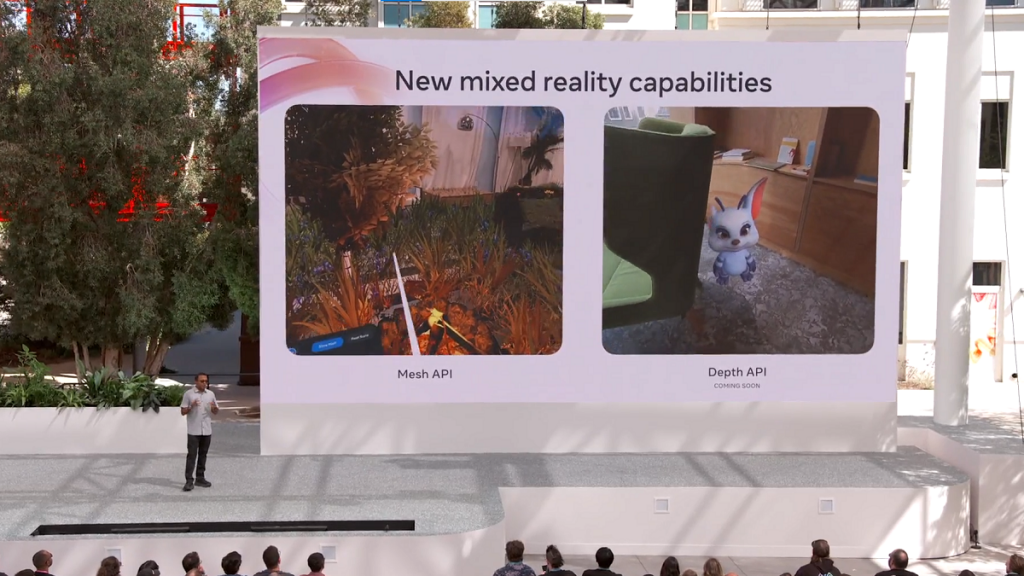 Mixed reality and new ways to interact
During the Developer State of the Union, Meta says that it has made significant improvements to Mixed reality on the Quest 3 including a new Space Setup feature which makes it, "Magical to get started in MR" and higher resolution. There's also a new Mesh API that provides geometric representation of a user's space to make their app feel more realistic.
Meta also shared two new ways for users to interact using apps: Multimodal Inputs and Microgestures. The former will enable the use of hands and controllers at the same time. Microgestures on the other hand will allow developers to enhance and enable new experiences.
The Quest 3 controllers come with two touch haptics, which according to Meta, "Enables a deeper sense of immersion and allows developers to tap into people's natural sense of touch."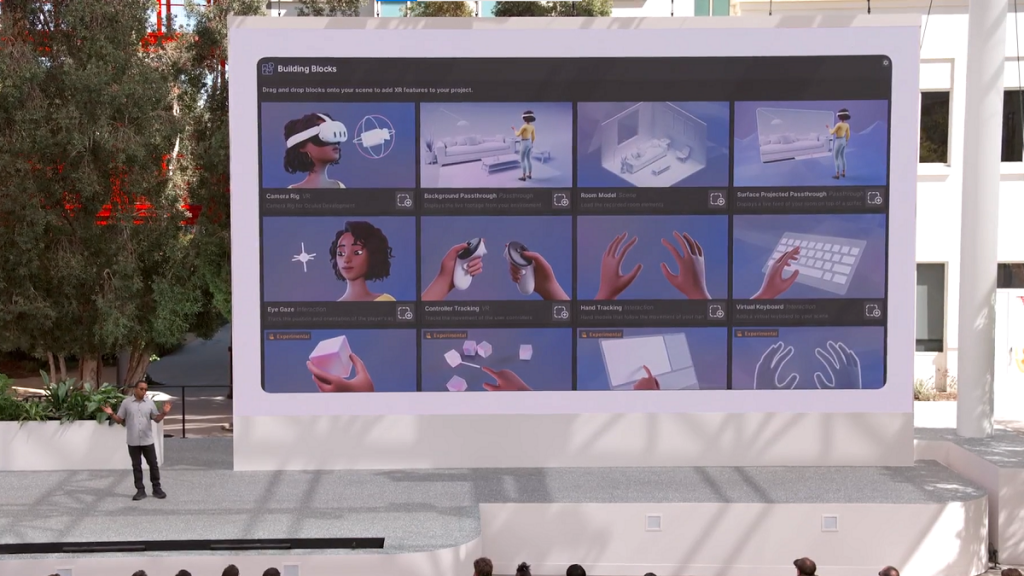 Building blocks for Unity and AR Foundation
In partnership with Unity, Meta announced AR Foundation support for Quest devices, which will allow developers to build MR applications once and release them in any ecosystem of their choice, "Not just Meta's".
Meta says this is an easy way for developers to combine multiple of its SDKs into their existing projects. Adding that its building blocks feature is as simple as dragging and dropping from the editor.
The company says its mission is to, "Empower developers to build experiences that allow people to connect in ways that are fun, engaging, authentic and meaningful."
Meta's 2023 Developer State of the Union was a strong signal of the company's commitment to making the Quest 3 worthwhile as well as simplifying the creation process for the developers who are building it.