By now we're all familiar with the metaverse… Or metaverses… Or meta-vi?… Or… Come to think of it what even is a metaverse? Sigh…
We asked our team of Virtual Visionaries – our thinktank of forward-thinking, forthright minds from all around the games, entertainment and interactive industries – for their freshest thoughts on where all this is heading.
Should metaverses exist separately? Or will they be connected and navigable as one? Can I buy sneakers in one and wear them in another? And – in light of recent collaborations and collusions – what does the the whole Meta/Microsoft/Epic and more Metaverse Standards Alliance really mean and is this necessarily 'a good thing' for the easy-to-use, fun, entertainment and utility-packed, potentially interoperable metaverse that could be just around the corner?
The Metaverse Standards Alliance? Is this a good thing for 'the metaverse'?
Patty Toledo, Marketing Director at 4Players
I find it complicated to talk about a 'Standards Forum' when only companies with financial interest are involved. For me it's a similar situation to suddenly having the internet controlled by Amazon, Google and Facebook.
In my opinion, the metaverse(s) should be as the internet; A live organism constantly evolving and changing based on the users and creators. So the standards should also come from the users and creators, not only from the conglomerates.
I don't believe there will be only one metaverse. I think it will be a hive of metaverses, co-existing and serving different tastes and needs. People are different and they like different things, so we can't have just one approach forced on everybody. For that to be achieved, we need to continue developing different tools and platforms, and be less based on economical advantages and investment and more focused on democratizing it to all kinds of users.
The problem of an open, interoperable metaverse, umbrella style, is that it may limit the creativity and advance of different views. But if we can achieve interoperability without restraining creators to certain norms and limitations, but accepting the differences, then it may be interesting,
What worries me the most at the moment is that a lot of the metaverse is focused on financial gains, not on creativity. And the big players have a lot to gain from it. It is important to give way to smaller companies to bring their views forward as well, and diversify it as much as possible.
HaZ Dulull – Co-Founder & Director HaZimation
I feel having a standards forum is important if we all want the metaverse to work mainstream (as the internet does today). The kind of things that will really need to be looked at asap if this standards forum is to be taken seriously is content safety.
It's important to address issues such as piracy and abusive content now whilst we are building this from the ground up. We didn't have that opportunity or way of thinking back in early 90s with the internet, so we learnt from a lot of mistakes.
We owe it to ourselves and the generations to come, to get it right from a civil safety perspective (we don't need hate, abusive behaviour or crime to move from this real world to the metaverse). We'll need basic standard protocols all without comprising what makes the metaverse so attractive in the first place – the freedom to create, share and explore along with the three I's (immersion, interaction and imagination).
I think interoperability is a great thing. We should ensure that content creators (which will soon be anyone who wants to do it) can create avatars, worlds and anything they want. So you can create a character in Unreal engine, and then export it in a format (please not GLBs!) that preserves the shaders, skeleton, animation and sockets etc in a type of universal standard file format that allows importing into any metaverse.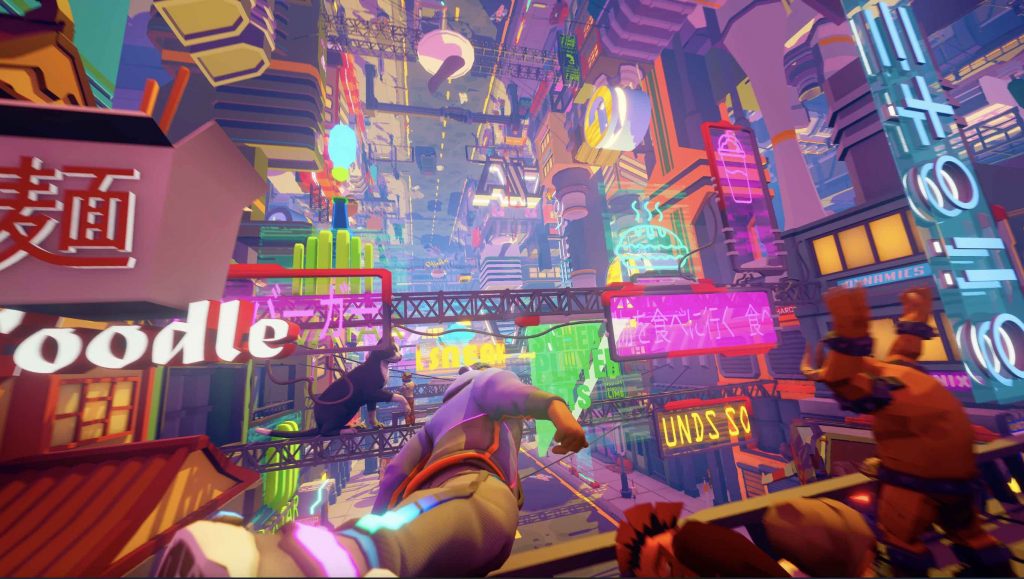 Kelly Vero – Creative Badass, Web3/metaverse/NFT champion and expert
The metaverse should be a shared persistent space using the definition by Richard Bartle, "continues to exist and develop internally even when there are no people interacting with it".
Potentially powered by NFTs, this presents a wonderful opportunity for the creator economy to storm and form the metaverse as they see it. Web3 is a little like the age of gold prospecting. It wasn't the gold prospectors who made all the money, it was the people selling the tools to mine it, and that's exactly how Web3 will find its own level.
Is fighting for some form of standardised opportunity the best use of our time? I don't think so. As someone working in the games industry and servicing the world of NFTs through my standard at NFT Consult based in Zurich, I'm pretty focused on the long term view. When I first published my paper on the NFT standard in June 2021 no one cared. Through working with actual standardisation bodies such as IEEE, I decided in October 2021 to move a little bit closer towards a standard from the perspective of trading NFTs across marketplaces and platforms thus putting interoperability as priority #1 rather than nice-to-have, which is what these guys are leveraging today.
It's impossible to own the metaverse but it is possible to create both an atmosphere of due diligence whilst also setting up the foundations for regulation in a decentralised space. This, as I understand it, is the most viable solution that can be achieved and that's why I created a patented solution that banks, insurers and traders trust.
If the open metaverse proposed by Meta, Epic Games et al is to be adopted, where does that leave the real practitioners in this space: the creator community? An open metaverse that is controlled by the few for the many? Using a format structure from profiting companies without the inclusion of every company in this space? It's not open at all is it? It's a cabal.
Though an operating standard is all well and good for some of the tech companies who have forged this proposition, Web3 and the metaverse belongs to absolutely everybody and that's how it should prevail.
Chris Hainsworth, Chief Financial Officer at The Game CFO
I am interested to see how Microsoft, Meta, Epic etc participate in a forum whose membership includes several enterprises unconstrained by legacy business models. As these new players build out frontier infrastructures, experiences and communities, they will determine the diversity, openness, and economics of the metaverse.
The Metaverse Standards Forum could play a key role in reconciling competing priorities and values. But layers of potential conflict in which the incumbent tech giants have some clear positions will need to be resolved, such as accessibility, privacy, self-expression, and digital IDs.
I am particularly interested in accessibility, so it's great to see the World Wide Web Consortium ('W3C') among the Founding Members of the Forum. Its Immersive Captions Community Group, hosted by W3C though not necessarily representing its views, is doing pioneering user-informed research figuring out how to make captions work well in virtual worlds.
The XR Access Initiative is another key organisation architecting an inclusive metaverse. Like the Forum, it does not set standards, but serves to bring together those interested in making virtual, augmented, and mixed reality accessible to people with disabilities.
Accessibility must precede interoperability. What is the point of being able to take our digital possessions from world to world, playground to playground, if hundreds of millions of disabled participants are excluded at the gate? The experience and insights of XR Access Initiative should be required reading for all around the Forum's table.
Virtual Visionaries is our monthly series of industry insights, addressing the issues of the day and preparing us all for the challenges ahead.