More and more makers are realising that the smart way to user engagement is gamification. Making mundane or serious tasks more fun, giving them a purpose and a journey helps make the results more useful and connection with the user more frictionless and more frequent.
One such company, bringing vital, useful, healthcare and help to its users is Litesprite. Their Sinasprite app allows healthcare professionals or corporate clients to deliver a helpful set of fun, informative and educational tools to customers and employees that both aid the individual directly and allow these bodies to learn more about what needs to be done to make living and working environments better.
It's a bold, genuinely useful piece of what's become known as Health Entertainment, at the cutting edge of tech to bring wellbeing to users via simple, easy-to-use apps. And in this day age of isolation, health worries, and even war, more of us are realising that we all need a little help from time to time.
We spoke with Litesprite's founder and CEO, Swatee Surve to find out more.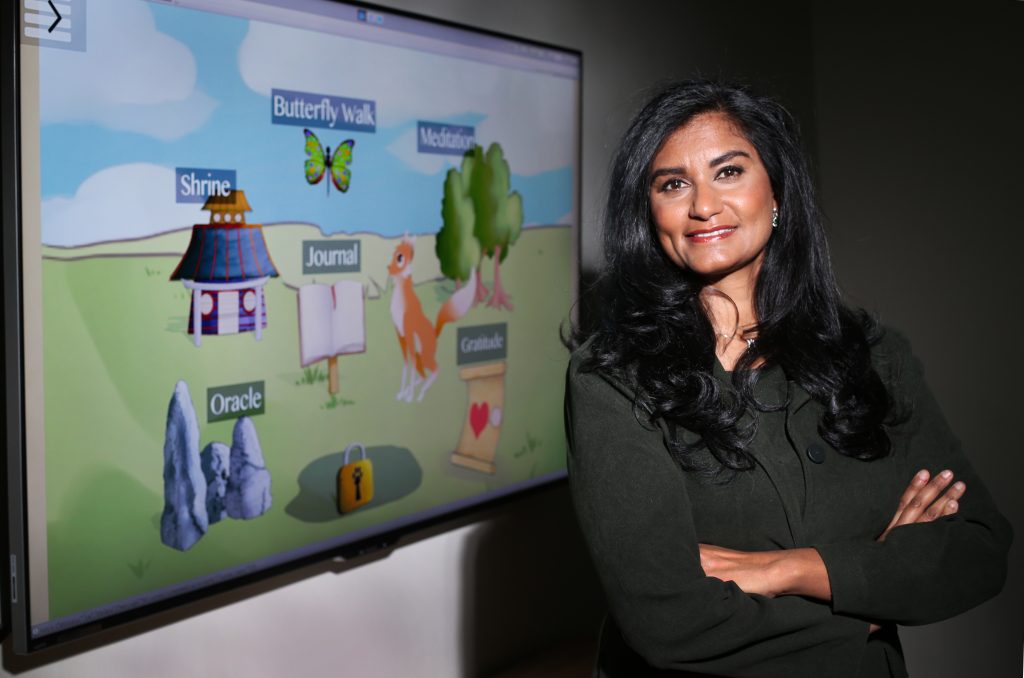 What's the neatest way to describe Sinasprite for someone new to the concept?
"Let's say you showed up to the restaurant first and are waiting for your blind date to arrive. But you're feeling a little nervous… OK… a lot nervous. And you feel a sweat coming on. You could use a quick pick-me-up from a friend. And with Sinasprite, now you've got one.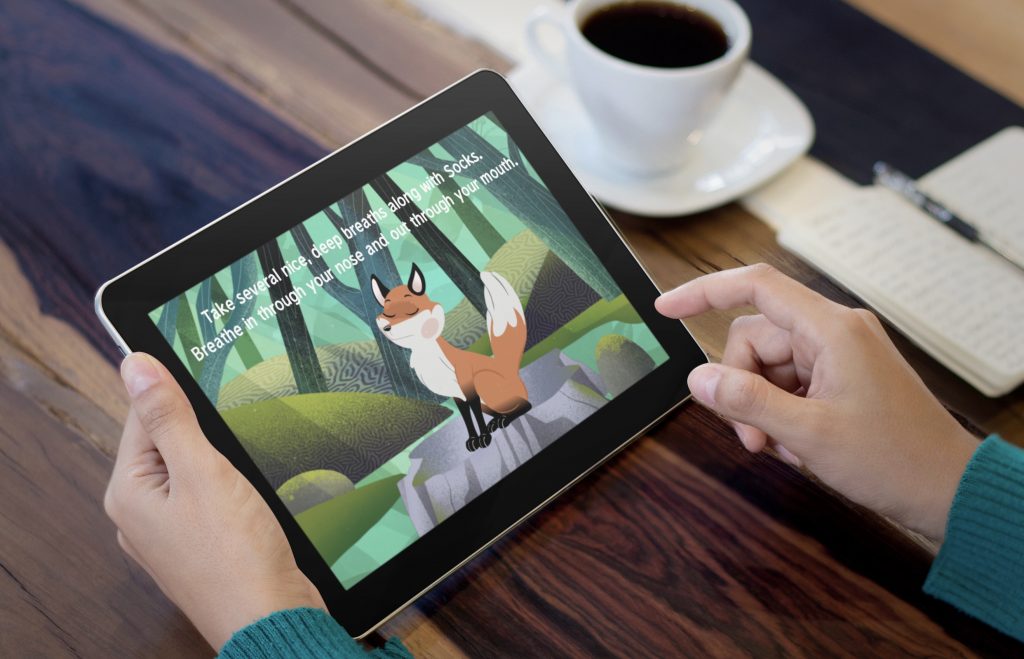 "Their name is Socks, they're a non-judgmental fox, and they're here to help you breathe through it, talk it out, or whatever you may need. Discreetly. Before your date arrives. So you can focus on building a relationship…and enjoying your dinner.
"Or – a more "corporate" version – it's a player-driven world exploration game that teaches players clinically validated tools for coping with a variety of mild to severe mental health conditions, like depression, anxiety, loneliness, stress, and PTSD."
What kind of companies do you think could benefit from Sinasprite?
"We appeal to a broad range, but the ideal fit meets this core criteria: If they have 500 or more benefits-eligible employees. They have an existing culture — or is building a culture — where mental well-being is of equal importance to physical well-being. Where talent retention is a strategic priority. And where leadership seeks insights into its workforce's mindset to influence business planning, not just employee benefit design ."
You've described the game as 'a player driven world exploration game'. How does that appear to the player?
"We have several mini-games players can explore as they help Socks-the-fox, their guide/avatar on their journey to become a Zen master. For an example, let's take the use case of one of our players, a teenage girl living in the UK. She experienced an anxiety attack during school. She went into the girls' lavatory and locked herself in one of the stalls. Because she and her mother had been using Sinasprite already, she had the presence of mind to open the app and play the meditation mini-game.
"After five minutes of diaphragmatic breathing with Socks, she had her attack under control, and she was able to go back to class. Before Sinasprite, she would've had to call her mum, and her mum would've had to leave work to pick her up from school. That means that this player would've had to wait minutes, perhaps hours, depending on how fast her mum could get to the school, before receiving comforting support, and would've missed schooling. Her mum would've missed work. And her mum's company would've missed the productivity of its worker. But the big thing in all of that is that this teenage girl would've had to experience an anxiety attack in isolation where she could've been discovered by whatever (or whoever) had triggered the attack, without any support to help her cope. So this is just one of the ways Sinasprite benefits players."
Tell us about the data that's gathered by the app and the way that privacy is protected. How might this data then be used?
"Though we've seen a greater awareness of mental health and more willingness to talk about these topics in public spaces, with Prince Harry and Olympian Simone Biles, mental health still carries a deeply entrentched stigma. In the U.S. 42% of adults receive their physical and mental health care through an employer-sponsored benefits package. So there is already an understanding that employers receive de-identified data insights about their covered employees.
"In our case, we focus on aggregate utilization, clinical improvement rates which the player/employee notices improvement in their own mental health, and trends, such as 30% of employees are struggling with relationships, be it personal or professional, platonic or romantic. Employers use these insights in a variety of ways.
"The goal is to use the medium of an entertaining game to help people learn clinically validated skills for improving their mental health in a way that doesn't feel like work."

Swatee Surve, Founder and CEO of Litesprite
"Some will use it to inform their internal communications, surfacing complementary benefits, such as EAP programs, that support relationships. Others will use it to inform overall benefit design. Still others use it as a way to gauge employee morale and/or mindset as part of their overall business KPIs.
"With health care providers, it's different. When our app is used in a clinical setting as part of an overall treatment program, the provider is able to see player-specific data, as this use case is contained within the privacy agreement between the player and their provider (i.e. HIPAA). Consequently we store player data to meet the privacy compliance required to be used in clinical settings. Clinicians use the player data to track adherence to and understanding of the tools and strategies learnt in-session in between these sessions for an individual or a specific patient group."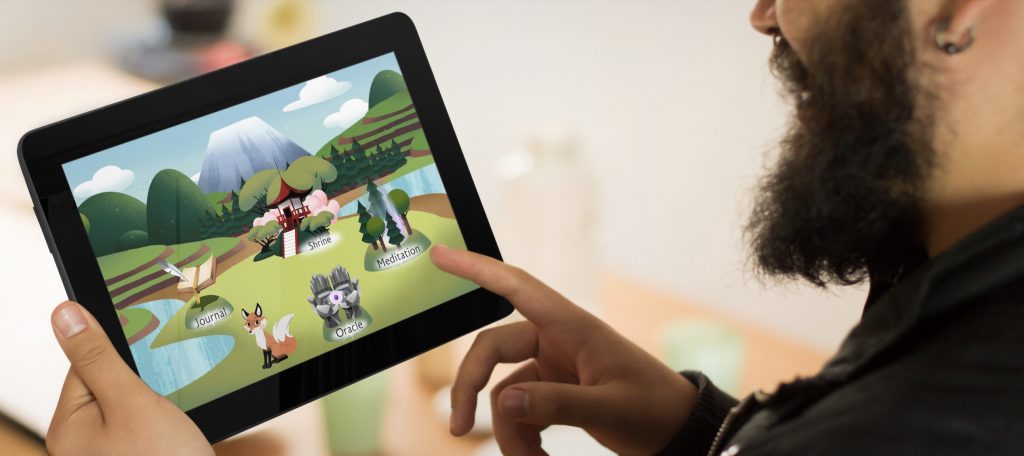 How long is the game? Is it something that users dip in and out of through the day?
"It's entirely player driven. Some mini-games can last as little as two-to-three minutes. Others may take 30 minutes, depending on how involved the player gets with the game. From a clinical standpoint, we encourage players to play daily for about 5 minutes for six weeks to see improvement. After those first six weeks, our game is used either habitually as a way to retain or reinforce the techniques they've learned, or as in the case of the teenage girl I spoke of earlier, as an intervention tool when a player is in crisis.
Tell us about the concept of 'Heathcare Entertainment' and how it sits with the broader, what's become known as 'Serious Games' bracket?
"Serious Games have proven that games are a great safe space for learning without life-or-death consequences. But that's mostly been applied to professional skill building. With "Healthcare Entertainment," or "Health Entertainment" for short, we're moving the application to personal skill-building for improved health outcomes. With Sinasprite, for example, the goal is to use the medium of an entertaining game to help people learn clinically validated skills for improving their mental health in a way that doesn't feel like work.
"Many of the current tools in the digital therapeutics category, and in wellness digital therapeutics in particular, rely either on direct provider intervention or on the "edutainment" model where people passively watch videos or read articles. Those are great solutions for visual learners, but at best, that translates into 40% skills retention. That goes up to 90% when adults are able to see, hear, and do.
"The "do" in Sinasprite is where the marriage of gaming and health can significantly improve mental health because players are retaining the skills needed to cope with their conditions."
Want to know more about Litesprite and how they could help? Visit www.litesprite.com.
And meet Swatee in person at her session at our upcoming Pocket Gamer Connects event in Seattle on the 9th and 10th of May.
Find out everything you need to know about our event here. See you there!