Facebook parent company Meta recently concluded its Meta Connect annual hardware showcase event and although this year's keynote was mostly anticipated to be all about the Meta Quest 3, the tech company had a few other news and products to share. 
The company revealed several other new products like the new Ray-Ban Meta Smartglasses, Emu AI and its very own chatbot called Meta AI. Since Meta's primary focus remains finding new ways to bring people together, we've detailed all of the company's announcements and reveals from the event. 

Finally, Meta Quest 3
The Meta Quest 2 was a virtual reality headset and although the new Meta Quest 3 has VR capabilities, it has a unique camera feature that makes a user's content exist in the same world as them. The new headset does this with two dedicated colour sensors and a depth sensor. 
These sensors allow the headset to create a real-time image of surroundings, which is then overlaid onto the virtual world. This means that a user can see and move around in the virtual world, while also being able to see and interact with the real world around them.
Meta's Quest 3 will also be able to stream Xbox games through Xbox Cloud Streaming. This doesn't mean that all Xbox Game Pass titles will be playable in VR, but it's very similar to Apple's Vision Pro approach by allowing users to play Xbox games on a giant virtual screen within their environment using a normal controller.
The Meta Quest 3 is powered by the Snapdragon XR2 Gen 2, a new chip with a much more powerful graphics processor (GPU). This will allow more VR games to run directly on the Quest, without needing to be connected to a powerful gaming PC. The Instagram parent company claims that the Quest 3 is the most powerful VR and MR headset ever created and will be available to purchase from October 10th at $499.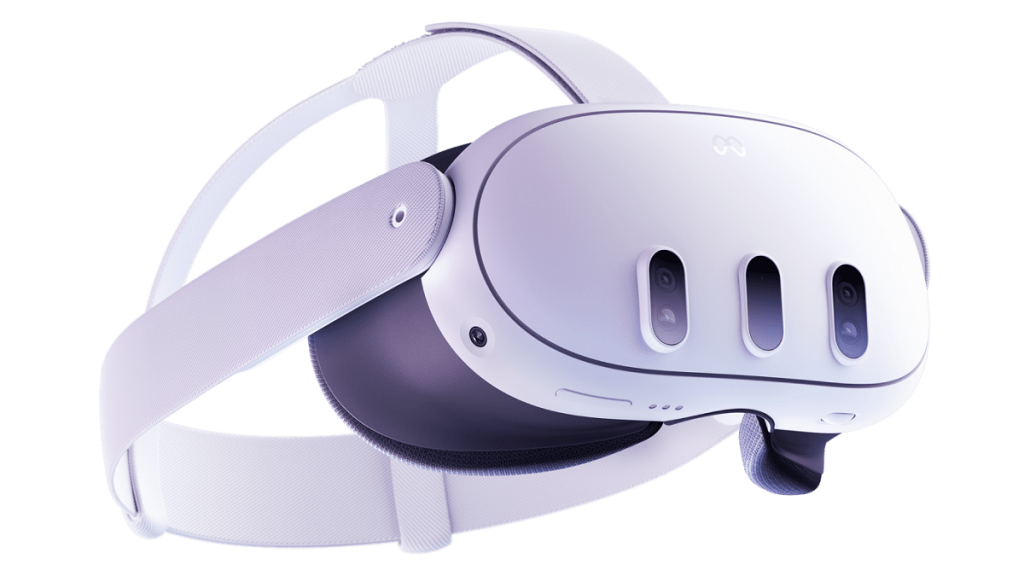 Emu AI across family apps
As we're gradually shifting into the generative AI era, it's almost impossible to browse the internet or scroll through social media these past few months without stumbling upon 'AI'. Meta is now looking to democratise the nascent tech further with Emu, a new initiative to make AI models accessible to Facebook and Instagram.
Meta's big idea with Emu is to use AI image generation capabilities to create fun pictures or even custom stickers instantly that users can send to friends, whether they're in a chat or commenting on a post. Aside from its own AI models, Meta is building a platform for developers to create AI models for its massive user base, so we can expect to see even more 'Smart' video filters.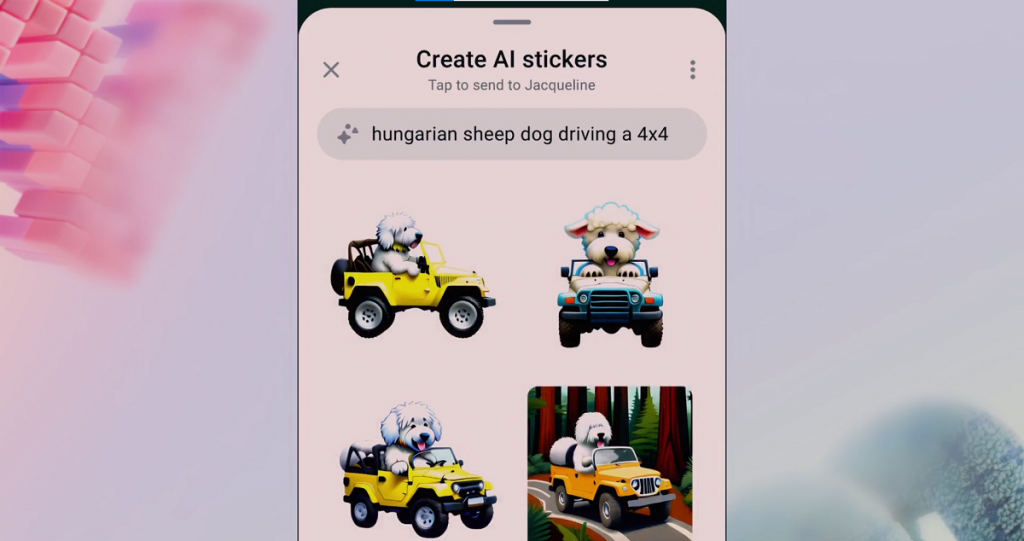 Meta's Ray-Ban smart glasses
While the company's new Ray-Ban smart glasses weren't the biggest highlight of the event, they do come with some impressive features. On each side of the glasses, there are two round modules with a 12-megapixel camera and an LED light that turns on to let others know you're recording.
Aside from being able to livestream to friends and followers directly from the glasses, users can choose from over 150 unique combinations of frame colour, style, and lenses. The Ray-Ban smart glasses are now available in select markets, with prices starting at $299 for standard lenses. Polarized and Transitions lenses cost $329 and $379, respectively.

Meta's AI Assistant
While it's not entirely shocking to see Meta unveil its very own AI chatbot and join the chatbots war against the likes of ChatGPT and Google Bard, the company is bringing its Meta AI to the Quest 3 VR headset. The AI assistant can help users plan a trip with friends in a group chat, answer general knowledge questions, and search the web using Microsoft's Bing to provide real-time results.
During the showcase, Meta also launched AI Studio, a new platform that will enable businesses to build AI chatbots for the company's services such as Facebook, Instagram and Messenger. The new service is still in alpha but Meta says that it will help companies, "Create AIs that reflect their brand's values and improve customer service experiences."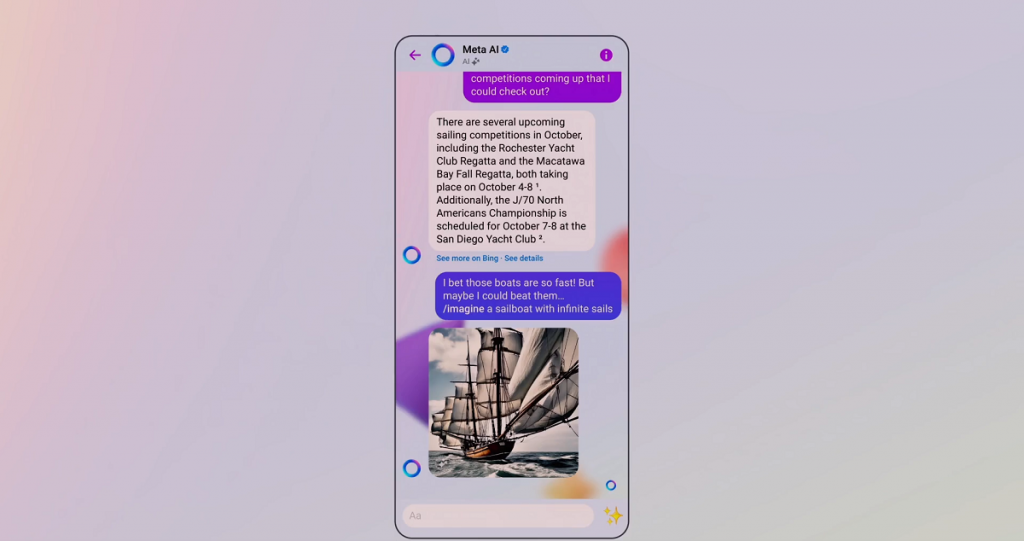 Meta has since created up to 28 AI characters based on celebrities that have agreed to let the company use their likeness including Charli D'Amelio, Dwyane Wade, Kendall Jenner, MrBeast, Snoop Dogg, and Paris Hilton. So instead of making its AI assistant a single chatbot, Meta AI is a collection of AI chatbots based on celebrities, each with its own unique personality and expertise. As you chat with any one of them, their profile image will subtly animate based on the conversation, making the experience more immersive.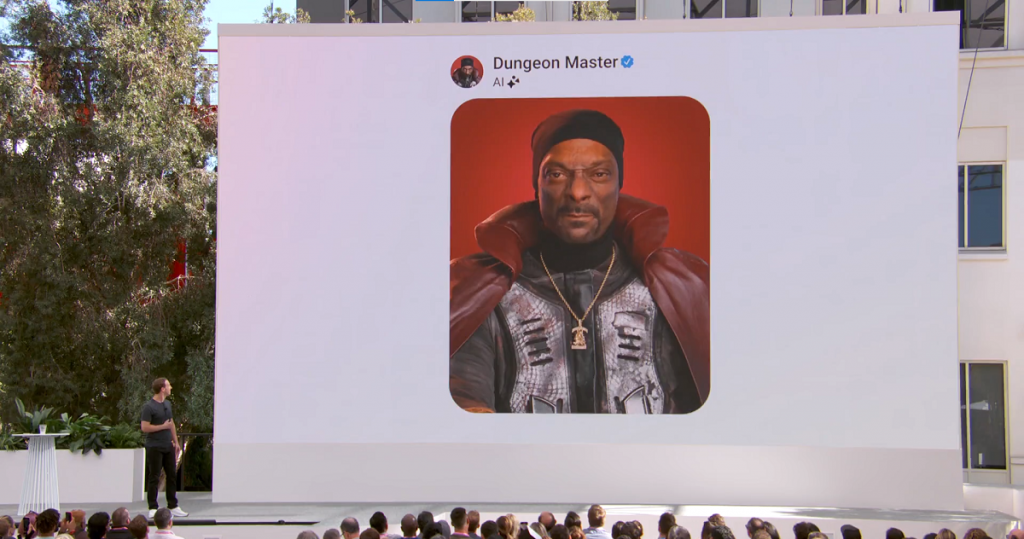 But what about the metaverse?
This time, it was surprising to see that Meta CEO Mark Zuckerberg didn't spend a lot of time talking about the metaverse which he once said would become, "The future of the internet." Zuckerberg didn't mention the metaverse until 33 minutes into his Meta Connect presentation.
"We're also working on bringing all of this to the metaverse… where these AIs will be embodied as avatars, you'll be able to make them as NPCs in the different games and experiences that you build in all of the different Horizon Worlds, and I think that's gonna be really neat," Zuckerberg said at the Meta Connect event. 
Meta is seemingly making progress with AI while VR takes a back seat. And while it might seem that Zuckerberg is leaning more towards AI, the CEO has denied abandoning the metaverse in an April earnings call where he says he remains committed to the metaverse vision.