Virtual Reality (VR) puts the user inside digital worlds like no other medium. Wearing a Head Mounted Display (HMD) blocks out the real world and fully engages the user's senses of sight and sound for experiences that are far more immersive than a simple flat screen can offer.
Instead of looking at another world through a window, VR gives a sense of presence as you're free to look around simply by moving your head, as well as physically reaching out for objects. With a new breed of motion controllers, interactions are more natural and instinctive too – many of the main actions in VR are intuitive, rather than requiring players to understand and use button interfaces on controllers.
Something of a holy grail for decades, it was only five years ago that consumer VR truly arrived. That first generation of hardware used outside-in tracking provided by external sensors, but now we have standalone headsets complete with inside-out cameras and sensors that ensure better coverage for room-scale experiences.
Data tech consulting firm Omdia suggests that consumers own more than 26 million VR headsets globally – we reckon the actual total is far higher – while IDC reports an annual spend for the industry of $19 billion on virtual (and augmented) reality products.
Let's take a look at VR's progress from early prototypes to the present day and what may come next for this truly 21st Century medium.
The story so far…
The history of consumer VR is longer than you might first think – all the way back to 1838 if you include Sir Charles Wheatstone's 'desktop' stereoscope that used mirrors to show binocular images. Fast forward to 1956, when American cinematographer Morton Heilig created his Sensorama, claiming it to be, "The cinema of the future." The booth not only featured a stereoscopic 3D screen, but also stereo audio – an innovation that had yet to reach the HiFi market.
It was in 1968 that the first Head Mounted Device (HMD) was created by computer scientist Ivan Sutherland and his student, Bob Sproull. The Sword of Damocles could only display wireframe graphics and was so heavy to wear that it was suspended from the ceiling.
After decades of VR development for aviation use by McDonnell-Douglas, British Aerospace and NASA, the general public got its first taste of VR with arcade machines from Virtuality in 1991. Archaic now, they were wonderful at the time.
Sega never launched its SEGA VR headset, leaving Nintendo to become the first console manufacturer to release home VR hardware in 1995, the ill-fated Virtual Boy.
And then the trail goes cold until 2012, when 18 year-old entrepreneur Palmer Luckey raised $2.4 million on Kickstarter for the Oculus Rift. The company was bought two years later by Facebook for a staggering $2 billion.
The hot ticket in town
2014 was the year when VR went from a seemingly impossible dream to a, well… reality. Google released its mass market Cardboard viewer that cost next-to-nothing, with Samsung stepping up with the Gear VR for its Galaxy smartphones. And moving up to consoles, Sony revealed it was working on Project Morpheus, which was to be released as PS VR in October 2016.
Sony's hardware would become arguably the strongest seller at the time – with total sales to date exceeding five million units – but it was the high end PC-powered HMDs that excited enthusiasts. And just like buses, you wait forever and then two come along at once. Oculus Rift landed first in March 2016, but HTC's Vive – co-developed with Valve – was just a month behind.
All of a sudden, the nascent medium was THE hot ticket in town, with market strategists forecasting $billions of profit. But there was a problem. At the affordable end of the market, Cardboard and Gear VR experiences were little more than a taster of what VR could be. But at the other extreme, tethered PC systems were prohibitively expensive – around £600 for the HMD, plus in the region of £1,000 for a PC powerful enough to run it. So at a total investment of nearly £2,000, PC VR was the preserve of the enthusiast. Sales hit a plateau.
With the power of the Facebook war chest behind it, Oculus led the charge for VR. But even CEO Mark Zuckerberg – a self-professed VR evangelist – repeatedly called for patience on profitability in the sector because it would take years for the tech to become established.
Elsewhere, with VR not taking off as fast as predicted by the analysts, investors chased the next quick buck out of town. And with the vacuum behind all those rapid exits sucking in all the headlines, the VR industry entered the so-called 'valley of disillusionment'.
The mainstream dream
Despite rapid progress in just five years, the consensus from the outside looking in was that VR needed to go mainstream to be considered a success – and Oculus had a plan to do just that. They realised the hardware needed to be affordable, easy to use and independent of any external hardware. 2018's Oculus Go was something of a mis-step with its non-positional three-degrees-of-freedom tracking, but that didn't stop it selling an estimated two million+ units.
It was the following year's launch of the Quest headset that saw VR gain traction in the home sector. Finally, we had a standalone headset with the full 6-degrees-of-freedom using internal sensors and cameras – and all for £400. Upon release, the hardware was so popular that it sold out and Oculus announced that with revenue at $20 million, the Quest had generated over 20% of all its platforms.
Oculus' Qualcomm Snapdragon 835- powered Quest had impressed, but not even a year-and-a-half later came the Quest 2, powered by the XR2 system-on-chip that had been designed primarily for VR. With higher resolution and refresh rates, this standalone more closely approached the PC experience and with the addition of the Link cable, could again be used as a tethered headset too. Coming in £100 cheaper than its predecessor at under £300 hasn't hurt either.
The result was an announcement this year by Facebook Reality Labs' VP, Andrew Bosworth, that in less than six months, Quest 2 had sold more units than all other Oculus headsets combined to date. That's a pretty compelling argument that while VR is yet to hit the prime time, it's on a fast approach from the margins to the mainstream.
Future Visions
It seems that a divide is opening up in VR hardware – and for once, it isn't platform based. On the one hand, you have Oculus' march towards the mainstream with increasingly powerful and affordable standalone headsets – they've even discontinued support for the PC-based Rift platform. On the other hand, you have companies like Valve and HP focusing on raising performance for the PC premiere league – with suitably high-end price points. I don't see that changing any time soon.
The games industry in general has been one of the exceptions to the financial impact of the global pandemic, with digital game revenue reported to be up 12 per cent this January. Meanwhile, VR game revenue specifically grew by 25 per cent. That's even ahead of Grand View Research's forecast of 21.6%, who also predict the VR market will reach $92.31bn in 2027.
VR has fallen foul of similarly effusive forecasts before and these are unprecedented times. With different markets dipping in and out of lockdown at different times, it's hard to forecast sales around those fluctuations. That said, with more people owning more headsets, they will doubtless look for more games and experiences to enjoy.
Software
A common criticism of VR experiences has been that they are too short or lack depth, but we're seeing a move from snack-sized shorts to full length meals as developers become more accustomed to the medium and more confident in its application.
We've seen many VR titles break through the $1m sales barrier now, but Superhot VR took the world by storm with $2m in sales in just one week in 2019. But for truly monstrous numbers we must look at 2020's Half Life: Alyx that sold nearly two million units in its first six months and generated more revenue than all PC VR titles in 2019 combined. This was exactly the kind of full-length AAA game that VR needed and remains a high watermark.
We'll see more titles with higher production values as established publishers realise that VR – while not the runaway train as predicted – is still on track for continued growth.
In seated genres such as flight or race simulators, VR will become even more of a de facto way to play and gain support from studios that have yet to embrace its potential.
And one day, maybe we'll see entirely new genres that are only possible in VR…
Hardware
Without looking to the blue sky far future of neural interfaces or even 'just' contact lens displays, we can reasonably expect the tech to grow in resolution, field of view and frame rates at lower price points.
Cloud services may struggle to support the exacting latency demands of VR right now, but you can guarantee it's on the horizon. Maybe when 5G rollout reaches blanket coverage? And the moment that headset needs to be nothing more than a lightweight, comfortable dumb display then there will be one in every household. Probably.
There's one tech giant that is notable for not having thrown its hat in the virtual ring. With a strong track record in coming late to the party with polished products that appeal to the mass market, all eyes are on Apple. The fact that Cupertino is working on VR and AR hardware is possibly the industry's worst kept secret, thanks to patents and recruitment ads alike. Facebook is working on smartglasses with Ray Ban, but our money's on an iPhone powered wireless pair of glasses – if they get the looks right – this side of 2025.
Speaking of Oculus, rumours abound that a Quest Pro is in the works. Specifics are non-existent, so it could mean a bump in processor specs or lens quality, but the latest rumblings from El Zuck himself suggest face and eye-tracking. I'd be happy with the addition of DisplayPort support for a Link cable without the need for resource-hungry video compression. New hardware is not expected until at least next year.
And coming right back to the present day, HTC just announced its technically impressive and suitably expensive Vive Focus 3 for enterprise and Vive Pro 2 for consumers at this year's ViveCon. Both headsets will be available next month (June 2021).
Apple, Oculus, HTC and more – we look forward to trying them all…
Key companies and kit
Since Facebook's $2bn acquisition of Oculus hit the headlines in 2014, a whole raft of manufacturers have announced, launched and even retired their own hardware. Here are those that we consider to be the key players right now.
The big four
---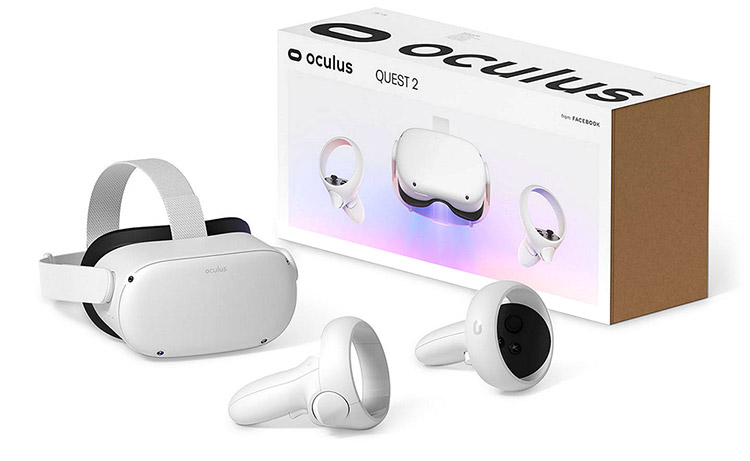 Oculus
Questionable decisions over USB connection to PC and mandatory Facebook sign-in aside, there's no denying that Oculus' latest Quest 2 standalone is almost single-handedly bringing VR to the masses. Oculus also accounts for more than half of all PC VR users according to Steam data.
---
HTC
In the battle of the platforms, where it was once the Windows to Oculus' 'OSX', HTC has lost ground in recent years. We await the new hardware announcement later this month with bated breath.
---
Valve
https://www.valvesoftware.com/en/index
Moving on from co-developing the Vive with HTC, Valve's Index is possibly the best all-round VR hardware on the market – not least thanks to those innovative 'Knuckles' controllers. As long as you have deep pockets…
---
Sony
https://www.playstation.com/en-gb/ps-vr/
Despite those appalling controllers, the PS VR remains a surprisingly good VR experience for console players. With PS VR2 addressing that main bugbear, we look forward to seeing the PS5 add-on next year.
---
Honourable mentions
Microsoft
https://www.microsoft.com/en-us/mixed-reality/windows-mixed-reality
Windows Mixed Reality (WMR) is a thing that exists. And it works. Just not as well as say, the more user-friendly Steam VR. And don't get too hung up on the 'Mixed' name, either. At least it enables us to use HMDs from the likes of Lenovo, Acer, Samsung and more.
---
HP
https://www8.hp.com/us/en/vr/reverb-g2-vr-headset.html
HP's Reverb G2 boasts a spectacular display, but sub-optimal controller tracking and a reliance on WMR mark it down versus the big boys.
---
Varjo
Finland's Varjo focuses on enterprise applications such as design and engineering, medical, and training, but the VR-3 boasts the industry's highest resolution and widest field of view.
---
Pimax
If you want dual native 4k displays or 180Hz refresh rates, look at the range of HMDs from Pimax, which tops out at $1,299 for the Vision 8K.