With over 160 consoles, starting from the 1970s and going up to today's next-gen machines, the Power Up exhibition in London's Science Museum is a celebration of video game history. Today, we interview the curator of the exhibit.
Initially a temporary exhibition celebrating games consoles, Power Up is now occupying permanent gallery space just beyond and beneath the great hall of steam trains and space rockets at the Science Museum.
In the gallery, visitors experience how gaming has expanded in the past decades. There are nostalgic treats like the Atari 2600, Sinclair ZX Spectrum and Sega Mega Drive, an area devoted to BAFTA Young Game Designers, and a vast ongoing Halo 3 multiplayer battle.
Mark Cutmore has overseen the project, and we grabbed the chance to speak with him last week. Cutmore has worked for the Science Museum Group for seven years, with a background in retail before that. He opened the Science Museum's first kids interactive gallery, Wonderlab. Entry to the main Science Museum is free, but Cutmore's role is to work on experiences that people are prepared to pay additional entry fees for. "And that includes a whole range of weird and wonderful things," he laughs. "It's IMAX, it's various simulators, virtual reality experiences, steam rides… and alongside all of that is Power Up."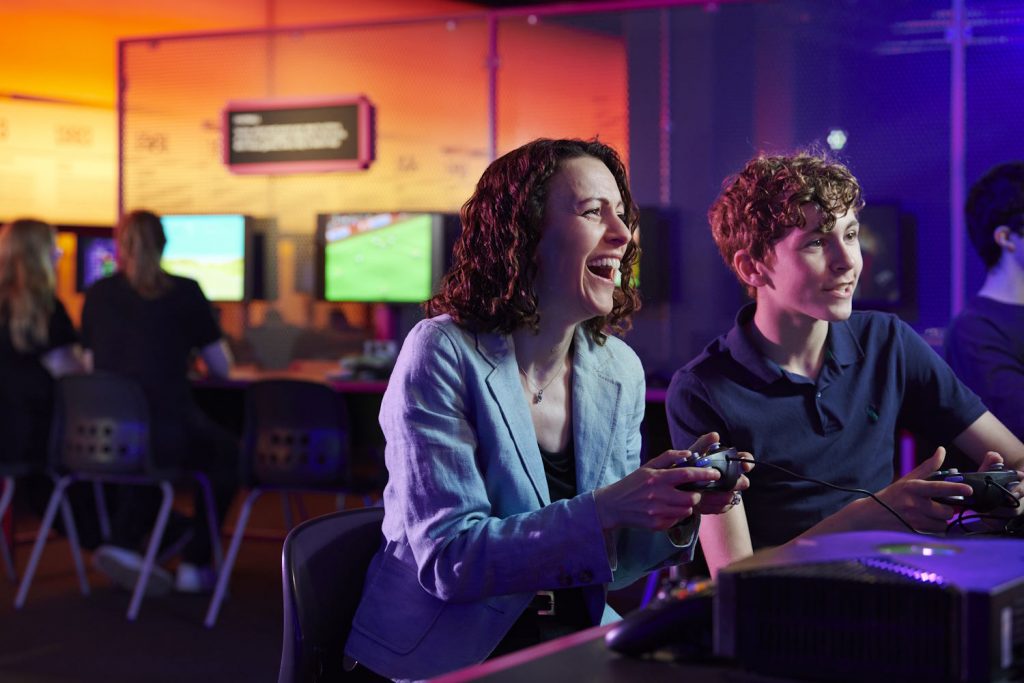 Power Up boasts 14 themes and sections, including a station devoted to Disney and a row of arcade cabinets, as well as a PC area with the likes of Monkey Island and TIE Fighter on display.
We quizzed Mark Cutmore about his philosophy and the Science Museum's hopes and intentions for this celebration of interactive entertainment.
What's the background to this exhibition?
I've always had a love of games. I was very much a child of the late '80s, early '90s, when you were either Sega or Nintendo. I was very much into Sega and the Mega Drive was my first console. So Power Up was a dream come true to be put in charge of.
It's a hands-on gaming experience, which covers five decades of video game history. And you can try every console that's come out

Mark Cutmore, Head of Commercial Experiences at the Science Museum Group
When I joined this department, it had already done a few iterations of Power Up, working with an external company to provide the equipment. It had been in a space taken over temporarily and thematically filled with games consoles.
But I thought we could do it better. I thought we could make it more about the history and the science and technology behind gaming. And I hoped that we could take you on a journey.
We bought our own equipment over time and started delivering it more frequently. That equipment is now all set up in our Museum Of Science And Industry in Manchester, where we also have a semi-permanent version of Power Up. It's a great visitor experience that opened last June and will be there for another two years, at least.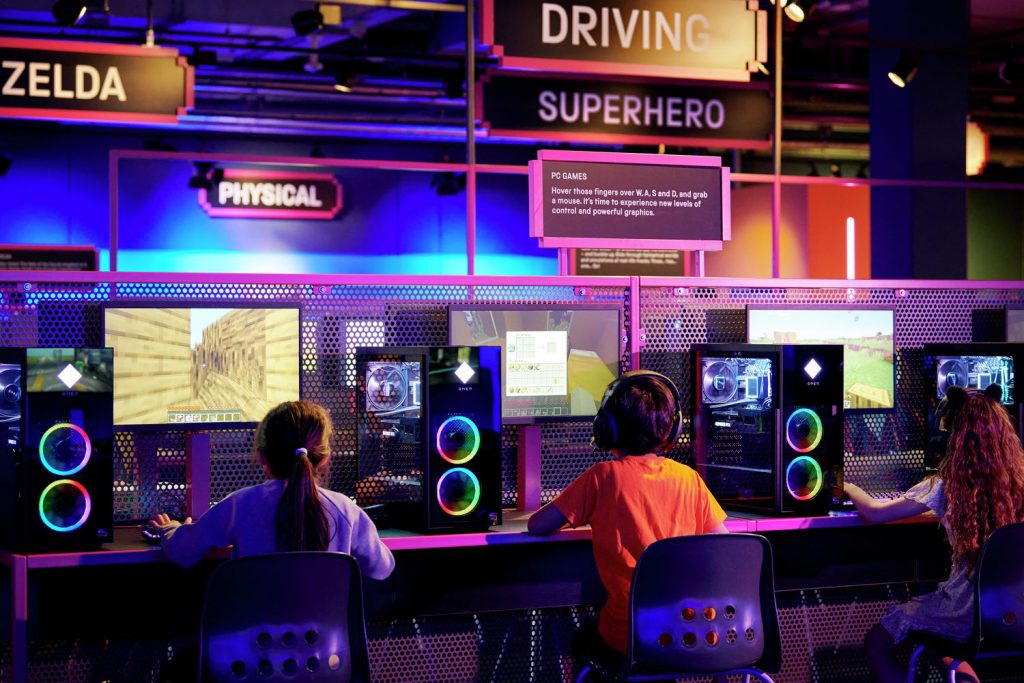 All the while, I've been digging away to get everyone to allow me to take over a space in London's Science Museum to put a permanent version! There were a few speed bumps (like the pandemic), but we've got there.
I truly believe we've made a great value, accessible offering. It's just £10 for a day ticket, and you can stay as long as you want on that day! And you can upgrade to an annual pass, which is £15, and you can come as many times as you want in a year. There are discounts for families on top of that. So Power Up is not only doing something that puts funds back into the museum, which is essential, but it's also an incredibly affordable experience – there aren't many things you can do in the capital for a whole year for £15.
What can visitors expect to see in the permanent exhibit?
The way I like to describe Power Up is that it's a hands-on gaming experience that takes you through the whole history of video games. It covers the five decades of video game history that we have so far. And you can literally try pretty much every console that's come out over those five decades.
We've got 22 thematic areas that show how gaming (and the technology behind gaming) has changed over time, in really fun ways. We have a Mario section, and we have a NES and the original Mario there. And then we have a SNES with Super Mario Brothers, too. And then we jump to a GameCube and then to a Switch. So you can see how that character has evolved over time, in a really hands-on way.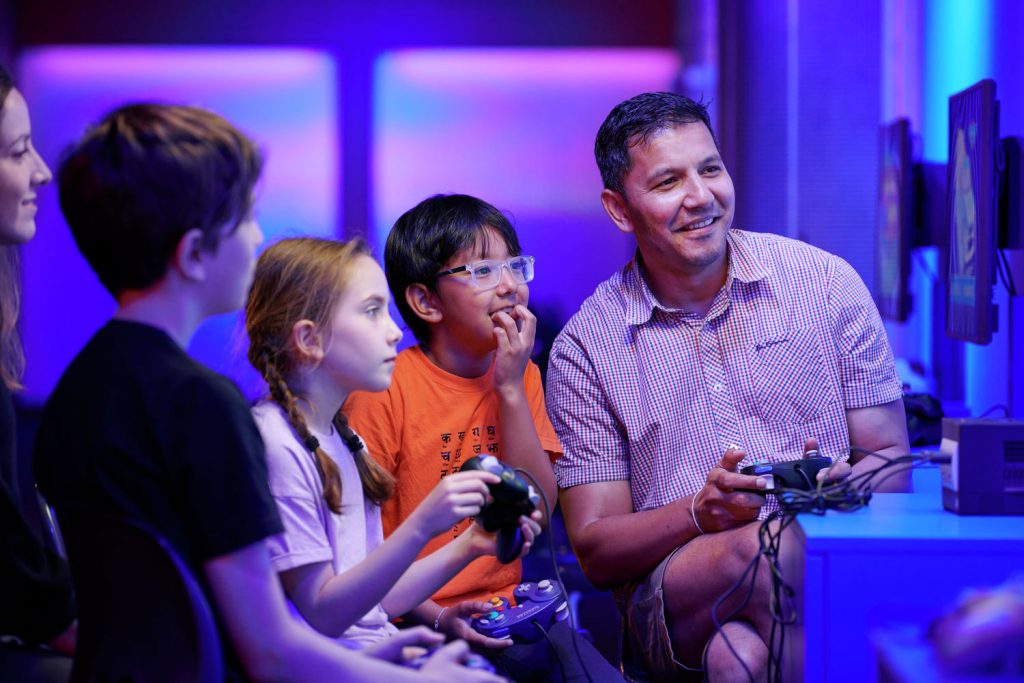 The great thing about Power Up is that it's all there to play. A lot of people's experience of museums is that it's looking at things behind glass and a sign saying 'Don't touch!' and that's the absolute opposite of what we're doing. We're saying, 'Please touch! Please enjoy it!'
And it goes beyond that. Some have said, 'Is it just an arcade?' And it's not, because it's a curated space. There is intent behind everything we've done. One of the centrepieces of the gallery is our timeline. It's a beautiful, illuminated, chronological timeline of video games. It has interpretation. It tells you about consoles in sequential order.
We start with a Binatone TV Master at one end, from 1976. And then we jump to an Atari 2600 and we've got a Vectrex, the BBC Micro… And we keep going all the way through chronologically until we get to the last generation of games.
It's important that we've curated it with our own vision, and that there's no outside influence. We are representing the whole story with no bias

Mark Cutmore, Head of Commercial Experiences at the Science Museum Group
The last one we've got on the timeline is the Xbox One. I've done that very deliberately. It's obviously not the end of the story! But I didn't want to create a gallery about the history of video games that felt outdated in two or three years. We have a new generation area where we then carry on the story. We've got the Xbox Series X, the PlayStation 5, and the Nintendo Switch, and that area will evolve so we always stay contemporary, and people can play whatever is the latest games consoles that come out.
Have the console manufacturers and game makers helped?
It's been done almost entirely independently. We've been running Power Up in event versions since about 2015. And over that time, we've engaged with all the big companies and invited them along. They've seen it and are super excited about it.
But we've wanted it to be something we've curated and created. My interactions with various studios and companies have always been that they're just happy that we've got [them] in the space.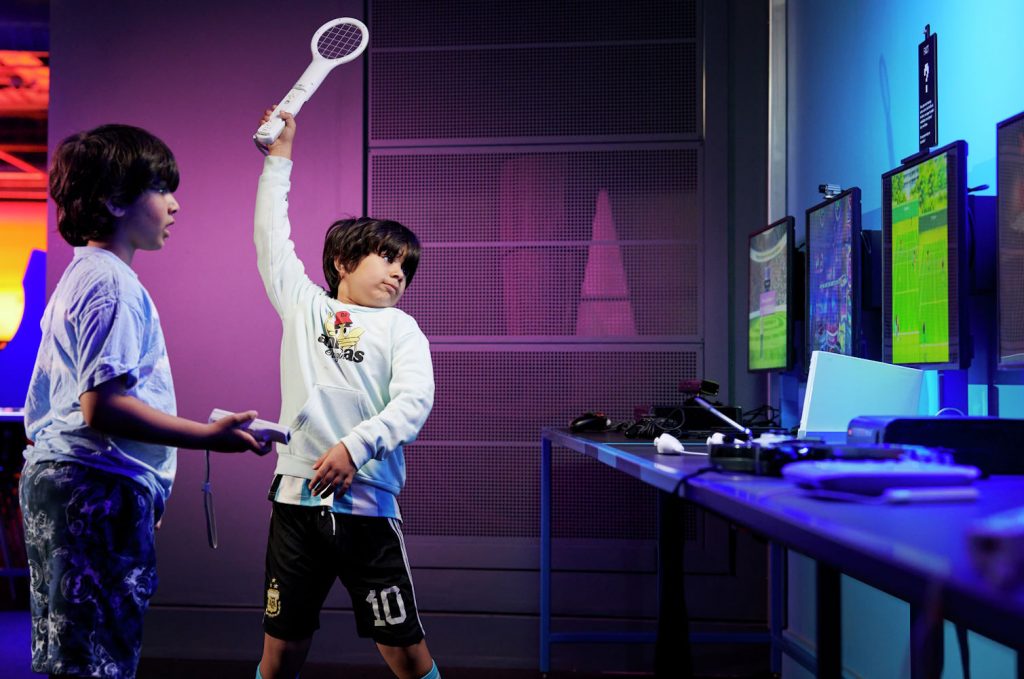 As the Science Museum Group, we always want curatorial control. It's always important to us that we have curated it with our own vision and that there's no real outside influence. So, while we love talking to the companies, it is done independently. And that gives us the flexibility to ensure we represent the whole story with no bias.
Has a focus on the British games scene emerged, given your location?
I've tried to keep it broad and representative of video games as a whole. Naturally, it perhaps leans towards a sort of British representation because there are those consoles that are available to us and that our visitors are most likely to feel an affinity to. But I didn't want to exclude things outside of the UK. The Science Museum has an enormous international audience. Gaming transcends nations. Most of the games are playable, to a degree, by anyone with different language skills.
There were some key principles I stick to, which has led to some deliberate omissions. This is a family space, so there's no gory violence

Mark Cutmore, Head of Commercial Experiences at the Science Museum Group
While I've tried to represent themes outside of things I'm interested in, it's my passion and love there! For me, Sonic the Hedgehog was a big deal growing up, so it's something definitely featured strongly in there. Tony Hawk's Pro Skater is in the timeline because I think it's a great game! We've got things like the Neo Geo CD, which, if you had one in the UK in 1990s, you were in a very small minority.
There's a version in Manchester in the Science And Industry Museum. Last year, I worked with various departments in the organisation, curators and exhibition teams, and we absolutely wanted to tell a local story. We have a thematic section in Manchester called Manchester Made, where we show games from contemporary and former companies that have existed in and around the Manchester area.
On one of the walls in the Manchester set-up, we have some profiles of people in the games industry, and all of them live or work in Manchester-based studios. It's a way to show young people that there are ways into the games industry and that you don't have to be from a particular background. And that was a great way to tell that story.
Do you, as curator, have any particular favourite gaming memories in the showcase?
There are a few that resonated with me. It was a no-brainer to have a Sonic section! It's not like that's just in there because of me, although it definitely resonates. Streets of Rage is probably the first game I ever completed with my sister in the early '90s, and so that holds a special place in my heart.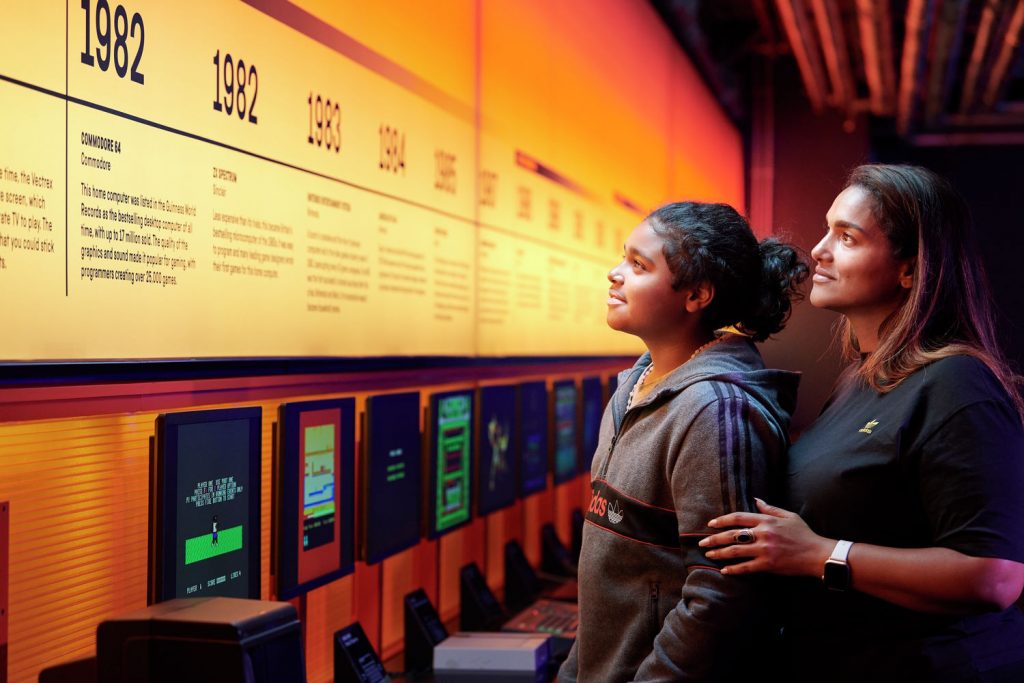 A little later, for the Dreamcast, I've got Crazy Taxi on there, which I still adore. I think that game and Tony Hawk influenced both my love of gaming and my interest in music because they had some of the best soundtracks when companies in the 1990s started licencing music from bands.
We've got four arcade cabinets with emulators – the only things in all the consoles that aren't 'original'. That's really to fill in the gaps. There's limited space even in a gallery as big as ours, so on those arcade cabs, we've got 100 games that we picked from a much bigger list. Many things in there are seminal – and also a few little personal favourites on those machines as well!
There's a big challenge in curating the vast wealth of games. Did you have to make some hard decisions about what to exclude?
It is tough. But we've got experience from our temporary versions over the years. We've iterated, and we've changed, and we've looked at what works and what doesn't work.
There were some key principles I wanted to stick to, which has led to some deliberate omissions. This is the Science Museum; it's a family space and a place to inspire future game makers. So there aren't any BBFC age-restricted games! There's no gory violence, so we are missing a number of big games from history. GTA, for instance, is not there in any guise. That's deliberate, and I'm comfortable with that. The right thing to do is to narrow it down to make this as accessible as possible.
We have a VR section. It is one of the most popular sections, because it's still something most people don't have access to at home

Mark Cutmore, Head of Commercial Experiences at the Science Museum Group
We want everything to be accessible from the off, so it doesn't make sense to put the history of narrative-driven RPG games in there, either. Nobody's going to engage with that. It does mean we are missing a chunk of that part of gaming history. It's deliberate because it just wouldn't work for a museum visit. Our games are more grab-and-get-into-it games. There's no Assassin's Creed or games of that ilk in there. Some [role-playing] games have such lengthy early stages, where you are upping your skill, that they wouldn't work for people here.
Our curation of this space is based on what stories we can tell that fit those principles. This is the Science Museum, so how can we demonstrate and talk about the technology and show how things have moved on? I'm not really into sports games myself, but one of the areas where you can see how games have changed over time is in our football section.
We've got [World Cup] Italia '90 on the Mega Drive. And then we've got [UEFA] Euro 1996. We've got one of the Pro Evo[lution Soccer] games from the early 2000s. And then we've got FIFA 15 or FIFA 16. And to see the genre go from a pixelated, top-down game in 1990 to games where the likes of [Lionel] Messi are rendered perfectly is incredible.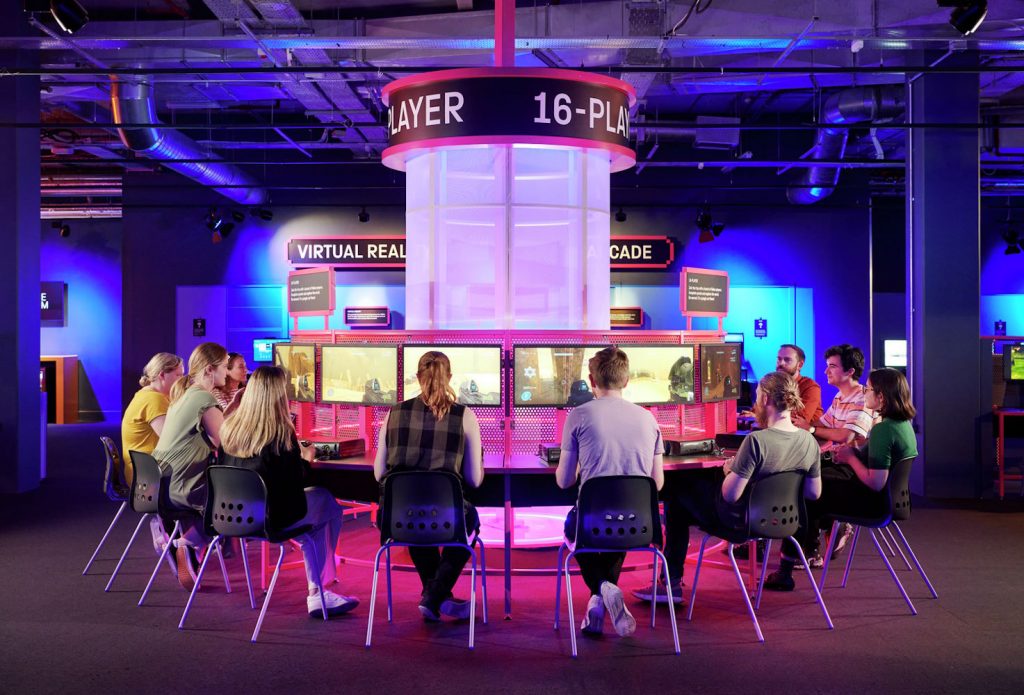 Although we don't have a lot of first-person shooters in the gallery, one of the centrepieces is our 16-player Halo 'ring'. We've got 16 Xbox 360s in a beautiful, illuminated circle, and it's playing a game of Halo 3 deathmatch. One of the narratives I want to pull out in Power Up is how gaming is a shared experience. There are the usual tropes about gamers in their bedrooms, not talking to anyone, which we all know is nonsense!
When you talk to people about their memories of gaming, it's almost always playing with a family member or with a friend, even before the days of online gaming. It's a social exercise. I wanted to show that by having this 16-player LAN match of Halo 3. It's PEGI-rated, so it's not age-restricted in any heavy way, and we've got signs up saying, 'Recommended for 16 and over'. It's down to parental guidance on that front. That area is always full.
Is the Science Museum keeping an eye on the latest disruptive tech, like AI and VR?
We have a VR section in our exhibition. We've got four PlayStation VR consoles, and it is without a doubt one of the most popular sections of Power Up because it's still something most people don't have access to. As well as everything else, Power Up serves as a way for people to engage with technology that they haven't got at home.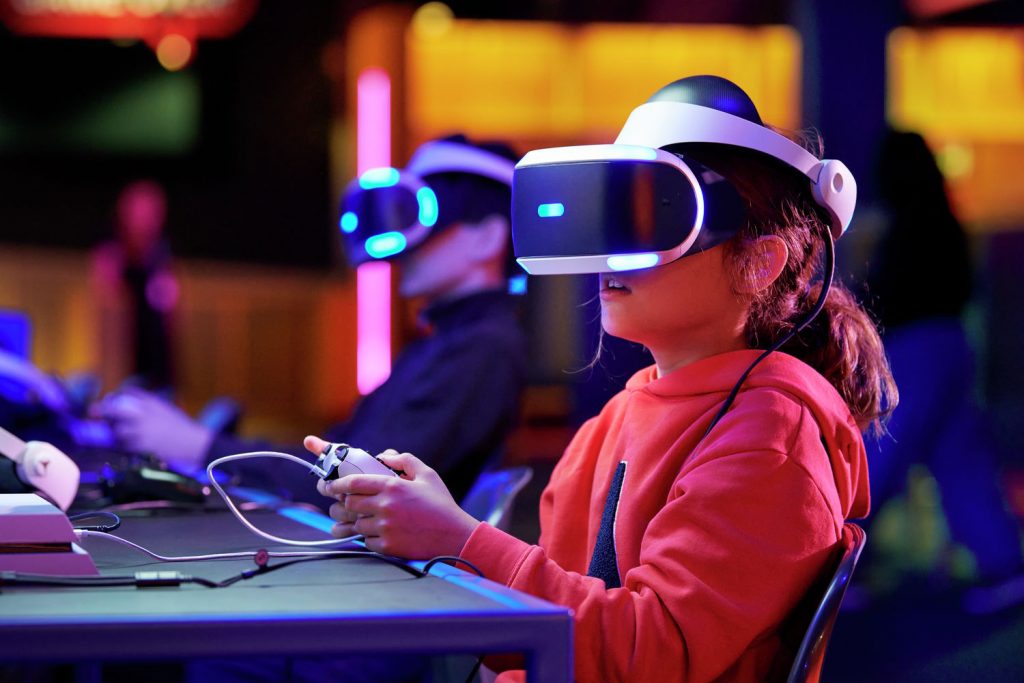 I'm really interested to see where gaming goes and I do hope that I've got scope to continue bringing that into Power Up. Beyond Power Up, the Science Museum Group has a gaming curator based in the museum in Bradford. So, while Power Up is a permanent offering that we've got year-round, in the near future, we want to launch a major blockbuster exhibition, looking at video games technology done in a very Science Museum Group way. And through that work [in Bradford] and what I'm doing in parallel, we're always looking at what emerging technologies are out there.
AI is rarely out of the media at the moment. We'll see where it goes – I absolutely want to tell that story when I think it's the right time to do so and there's something relevant to the narrative of Power Up.
You've also had some evening activities as part of the programme called Gaming Lates?
Last night we held our Gaming Lates evening to coincide with the launch of Power Up. The Science Museum Lates programme is an all-round programme, every couple of months, where we open late for adults only. It has various themes throughout the year, depending on what sort of programming we're doing, what we're focusing on, and what exhibitions have just opened. It's a real festival environment: there are talks, there are demonstrations, there are drinks, there's a silent disco, all under one collective theme.
There are kids from 10 to 18 and their games are in there next to Pac-Man and Mario and Space Invaders! It's inspiring

Mark Cutmore, Head of Commercial Experiences at the Science Museum Group
From now on, visitors to other Lates can buy evening tickets to Power Up at a reduced price. We've done it with our temporary version of Power Up in the past. A few years ago, because it was a late audience, I thought, "Let's put out more adult games! Quake and shooter games we don't put out during the day." But funnily enough, adults want to play the games they played as kids. I've stopped putting out any adult games because Lates visitors just want to play Prince Of Persia and Golden Axe.
Please tell us more about your collaboration with BAFTA's young developers programme.
We've got a section for the BAFTA Young Game Designers awards. That's a year-round initiative by BAFTA to inspire kids to get into the games industry. They can submit their games, and they get reviewed by a panel (I've been lucky enough to be one of the judges on that panel for several years). And then kids can win BAFTAs, which is super inspiring. They then get mentorship and access to the games industry.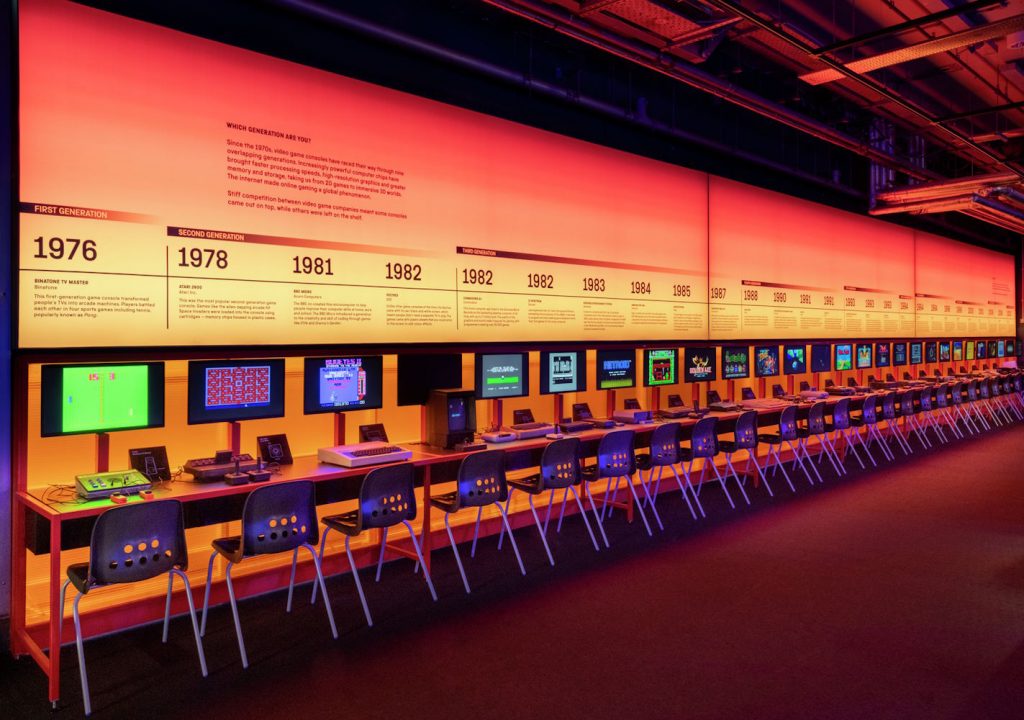 There are loads of stories from former winners and participants going on to have careers in the games industry. I suggested we had a showcase area in Power Up, where every year, the winners get their games put in there. There are kids from 10 to 18, and their games – which are stunning, really clever and creative, some of the best indie games I've played – are in there next to Pac-Man and Mario and Space Invaders! It's inspiring and so on-mission for what we're about here.
---
This is an interview with the curator of the Science Museum's video game gallery, Power Up. The photographs in this feature were supplied by the Science Museum for our use and are © Science Museum Group.
Power Up is open daily from 10:00 to 18:00 (last entry 16:30) at the Science Museum on Exhibition Road in London. Day passes are £10, and annual passes are £15 (further discounts are available for families of four or more). Tickets can be booked in the museum or via the official website.
You can read more about the current mobile and PC gaming markets at our partner sites, PocketGamer.biz and PCGamesInsider.biz. For a celebration of the Sinclair ZX Spectrum (a version of which is available in the museum to play Manic Miner), read last year's feature.