A few days after the Future of Life (FoL) institute released an open letter citing AI as a threat to society, Italy has become the first Western country to ban the use of OpenAI's ChatGPT.
According to Italy's data protection authority, OpenAI uses ChatGPT to collect personal data unlawfully, which is the primary reason that led to the ban.
"There appears to be no legal basis underpinning the massive collection and processing of personal data in order to 'train' the algorithms on which the platform relies," the agency wrote.
"As confirmed by the tests carried out so far, the information made available by ChatGPT does not always match factual circumstances, so that inaccurate personal data are processed."
However, Italy's deputy prime minister took to Instagram to criticise the agency's decision. "I find the decision of the Guarantee of Privacy disproportionate," Matteo Salvini, wrote on Instagram. "[W]e don't need to be hypocrites: privacy issues affect almost all online services, common sense is needed." Before going on to compare such a block to, 'As is the case in China.'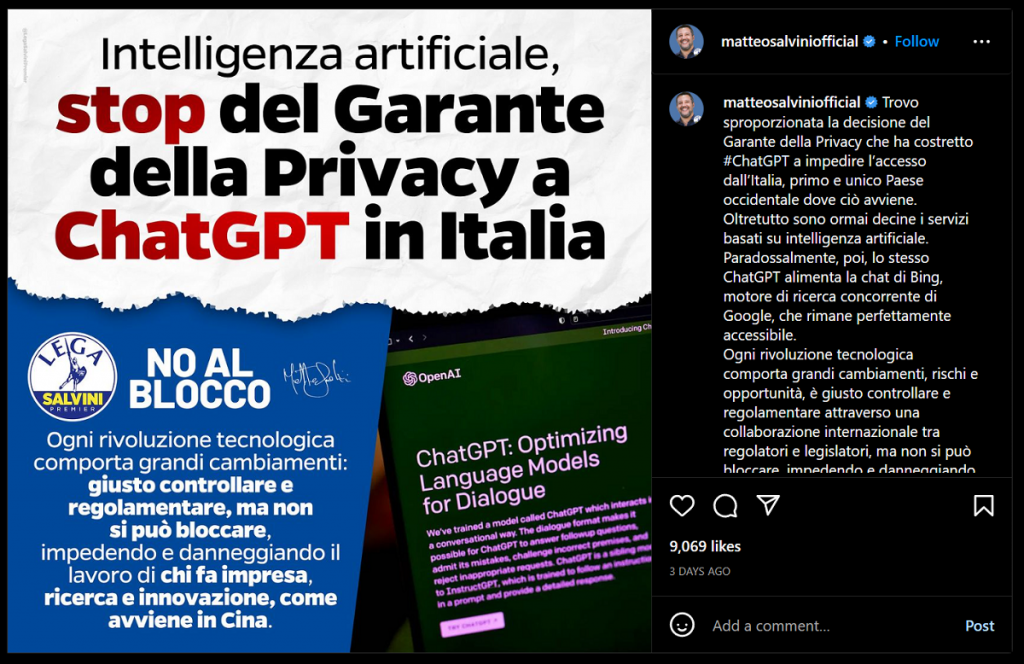 OpenAI has disabled ChatGPT in Italy to comply with the EU's General Data Protection Regulation (GDPR). "We are committed to protecting people's privacy and we believe we comply with GDPR and other privacy laws," said an OpenAI spokesperson as reported by The Guardian. "We actively work to reduce personal data in training our AI systems like ChatGPT because we want our AI to learn about the world, not about private individuals.
Regulating AI is easier said than done
FoL institute's open letter to halt AI development for six months has garnered more than 10,000 signatures so far including that of Tesla CEO Elon Musk and Apple co-founder Steve Wozniak.
The instant frenzy around ChatGPT after it launched five months ago has prompted other companies to launch unsolicited chatbots that have led to a sudden rise in the use of AI.
Ultimately, regulating chatbots is easier said than done and currently it remains unclear if Italy's ban will actually have its intended effect since generative AI feeds into Microsoft Bing's chat and other digital services like Slack and Zoom.
However, Google's Bard, a rival to ChatGPT and Meta's LLaMA does not fall under the ban. So although numerous AI labs are operating currently, Italy has so far only banned the use of OpenAI's ChatGPT.
The company doesn't plan on giving up on Italy either and says, "We look forward to working closely with (the Italian data agency) and educating them on how our systems are built and used," said OpenAI as reported by Reuters.