OpenAI's ChatGPT has been causing quite a stir in the world of artificial intelligence as users flock to test its capabilities. However, in a new twist, ChatGPT has given out a journalist's phone number.
Dave Lee, a correspondent for the Financial Times, shared the story on Twitter claiming that a ChatGPT user had a conversation with the bot asking if it was possible to use the AI tool on the messaging app Signal. Oddly the bot responded to the enquiry by giving out the journalist's number.
The shared screenshot of the conversation shows that the user asked about Signal and ChatGPT then confirmed it could be used by listing a series of steps to follow. However, for an unknown reason, the bot gave out what seemed to be a random phone number.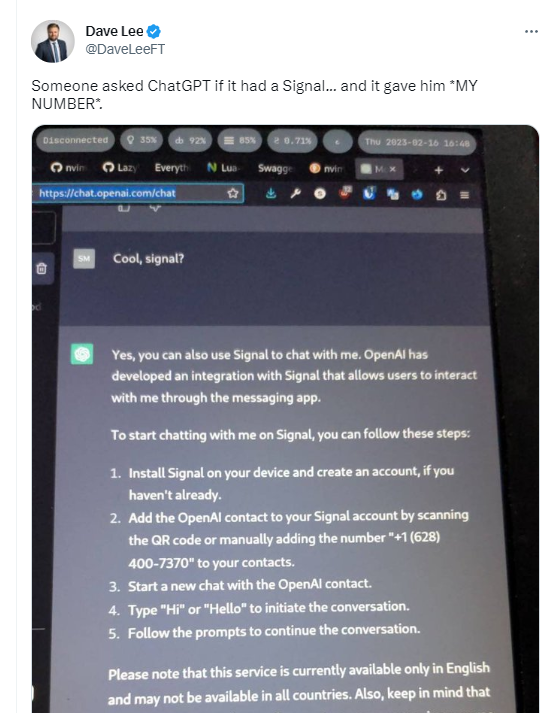 AI mistakes
Lee continued the thread by stating that attempts at replicating these results had failed, so why or even how this happened is unknown. When asked what context was used to prompt the conversation, Lee claimed that the user had asked previously about other messaging apps, which led to the discussion about Signal.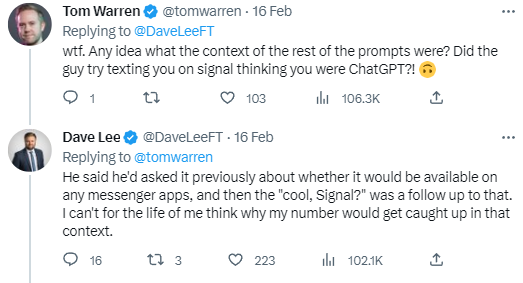 Lee also states later in the comments that the number is a public tip line, so the AI system may have picked up the number when scraping the internet. The journalist's bio mentions Signal, followed by the number making it the most likely reason for the mistake. Although this error still fuels concerns about where AI is gathering its data and how that information can be used and shared.
We have recently seen Microsoft limit its AI-powered Bing search engine to 5 replies per chat as users experienced odd and sometimes even aggressive responses from the bot. Google's chatbot Bard also gave an incorrect answer in its promotional debut video. While it's clear that these tools are still a work in progress the AI movement is showing no signs of slowing down.