Non-fungible tokens are still a complicated subject for some, however one project, World of Women, has been looking to inspire with its diverse collection.
World of Women (WoW) has the vision to build a Web3 platform that is inclusive and makes women in the community feel recognised. WoW states that research published in 2021 showed that female artists accounted for just 5% of all NFT art sales. Part of the brand's mission is to change this.
Back in 2021, the group released its signature NFT collection. This original collection consisted of 10,000 NFTs designed by artist Yam Karkai. This unique collection featured depictions of women in a style similar to pop art. Vibrant colours are used and each NFT represents a unique look, down to skin colour, hair, eyes, tattoos, makeup, and clothing.
Inclusive NFTs
Speaking with CoinDesk, WoW community Manager, Kashvi Parekh commented that. "We're a community and brand that celebrates art, representation, and inclusivity for all. I see WoW as a Web3 legacy brand."
The mission for inclusivity and representing women in the Web3 space has gained speed with a second collection which dropped in March last year. This collection was significantly larger, with the creation of 22,222 NFTS. The drop was named WoW Galaxy. 

This featured further art creations from Yam Karkai. However, it was also accompanied by users receiving cryptic messages which they could then solve in a series of puzzles. In the end, the mystery led to the uncovering of Nova Gaïa. It was then teased that "a new type of WoW Galaxy will be revealed."
Real-world benefits
Owning an NFT is often about the digital ownership of that item, however, these assets don't have to stay connected to just the digital world. The WoW NFTs not only give ownership of the artwork but also various other perks. Monthly art airdrops from NFT artists have been available along with raffles, discounts, and even invitations to events.

One such event was an announcement that WoW would be celebrating Pride in New York City with a Madonna concert. Holders of the NFT were then treated to tickets for the event. Although there has been much controversy concerning some celebrity endorsements of NFTs.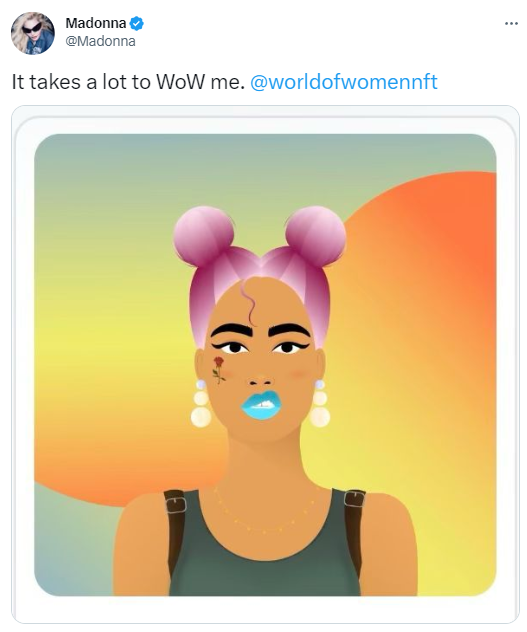 What's next?
Speaking of celebrities. The future of WoW may involve a partnership with one, actress and entrepreneur Reese Witherspoon. Hello Sunshine is a media company that aims to put women at the forefront of stories, the company was founded by Witherspoon so a partnership with a women-focused NFT brand isn't too far of a stretch.
The partnership is intended to involve the development of possible feature films, TV shows, and educational events. In addition, a partnership with toy brand Hasbro will see the release of a limited-edition WoW Monopoly board game.
While the concept of NFTs may still have a way to go in convincing the masses, projects such as this help to diversify the space. Currently, it would seem that NFTs that fall under the category of 'cute' are proving extremely popular.