In a report by William M. Peaster, analysis has shown that the cutest of the NFT projects are taking the lead at the moment, although nobody is really sure why.
Of course, the concept of cuteness is subjective, but in general what they all have in common is colourful design, adorable names and an overall cheerful vibe. The term 'cute NFT' has been on an upward trend across social media channels since October 2022, and although there is no clear reason as to why it started, it's evidently not going away anytime soon.
Pudgy Penguins may have been a catalyst for the movement. It was bought by Luca Netz in April for 750 ETH, and in November, 10 of the NFTs (the Snowed In collection) sold at auction by Sothebys for $129K.
As there is no index of Cute NFTs currently, William Peaster (Metaversal) decided to create a 'Cute15' featuring the collections that are worth keeping an eye on, as follows:
An upward trend
Peaster says "these picks are just my subjective takes on what the top 15 projects are in the cuteness meta right now. Whether you're looking at market cap or trading volume, these collections are all currently in the top 300 NFT projects, so tracking them can give you broad insight into how this cute category of PFPs is faring."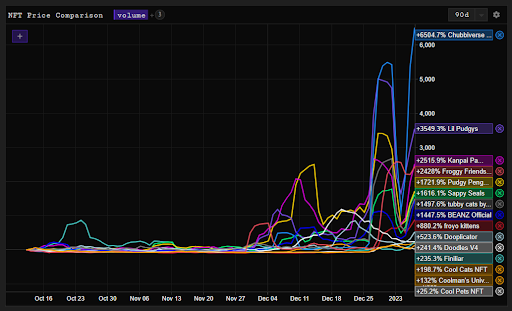 Other cute NFTs doing well in the space currently include Lil Pudgys. These are, of course, in a position to take off given the high profile of its parent project Pudgy Penguins. They are clossely followed by Kanpai Pandas (the most successful omnichain NFT project to date), Chubbiverse Friends and Froggy Friends. All of these have had a floor price increase of over 260 percent in the last quarter. Not too far behind the pack are Froyo Kittens with an increase of 157 percent, Sappy Seals (119 percent) and Finiliar (107 percent.)
There may be some who look down on the idea of cute NFTs being a realistic investment opportunity. However the evidence clearly points to them being a genuine trend right now. Petaverse Network's digital pets are further proof that people just want to be surrounded by joy right now. Given the general state of the world, can anyone really blame them?