UPDATE: See an update story on this article here.
Sure, it feels inevitable, yet the full weight of Bruce Willis' latest appearance in TV adverts for Russian telecoms co. Megafon, still hit harder than Pulp Fiction's deadly Butch Coolidge upper cut.
No, it's not that Willis, a much loved American institution, is shilling for the Russians during such times of international upheaval. It's the fact that this isn't Bruce Willis at all.
This is a Bruce Willis deepfake – a digital likeness trained on hours of footage from classic Willis vehicles Die Hard and The Fifth Element, doing everything that Willis does without the great man having to leave the house, step in front of a camera, or learn Russian.
But this story goes even further than that. This deepfake is no dodgy hijack or attempt to embarrass or humiliate. This is an official, licenced deepfake. This is a fake Bruce Willis, entirely approved by and endorsed by Bruce Willis in a deal that, while the first of its kind, seems certain to rock the world of the moving image from this moment onwards.
The Megafon ad is the product of the company Deepcake. Deepcake are a Russia-based, AI-focused deepfake specialists who have officially licenced the likeness of Bruce Willis to use in projects going forwards.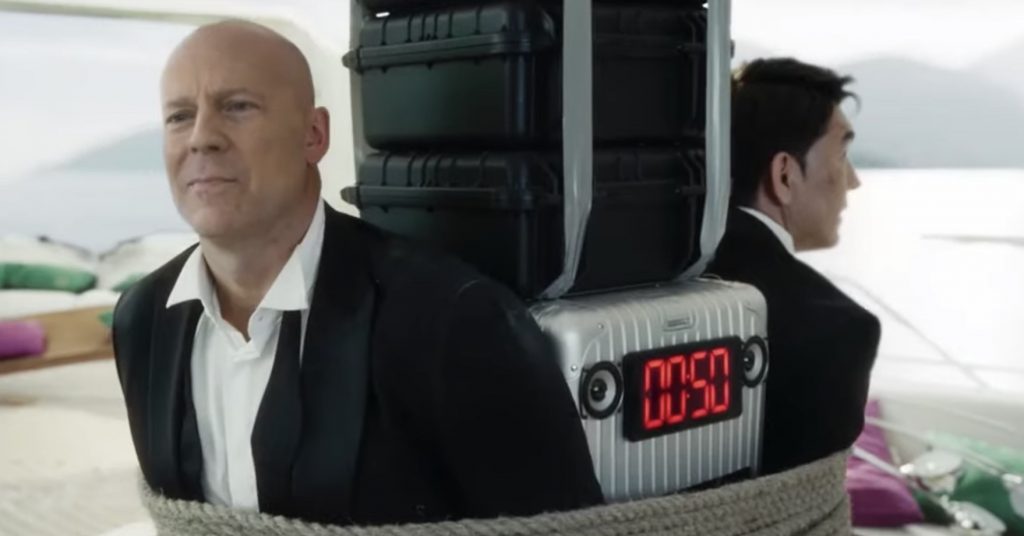 Just as actor James Earl Jones recently gave (read: sold) permission for Lucasfilm to use AI to voice the character Darth Vader going forwards (something the 91-year-old Earl Jones had done in person since 1977), so Willis is taking this licencing lark to the next level.
Full terms of the deal have not been revealed but we'd speculate that it goes something like this: Megafon want Bruce Willis in their ad. They contact the company that owns the rights to his likeness – in this case Deepcake. Deepcake contribute to the ad. Deepcake get paid. Bruce Willis gets paid. Simple. All without Willis lifting a finger, other than to – we assume – sign an approval form or at least click click a checkbox to 'ok'.
And reading between the lines on the Deepcake website, Willis could be just the first star to join their portfolio. The intention for the company to sign more stars and get both them and Deepcake more virtual work seems obvious. It seems that this is just the beginning.
Real versus virtual
But why go to the trouble? Why hire a Russian deepfake specialist rather than the great man himself? Well, two reasons.
Firstly we'd wager that securing a digital Willis works out far cheaper than shipping over and shooting the actual one. Secondly, Willis was tragically diagnosed with the condition aphasia, a language disorder that produces difficulty reading, listening, and speaking. Willis and family made the annoucnement in March this year that the actor would be "stepping away" from acting, effectively bringing to a close his 40-year career in over 70 movies and TV series.
But make no mistake. This ad is all official, all endorsed and Willis is delighted with the results. On the Deepcake website Willis writes "I liked the precision of my character. It's a great opportunity for me to go back in time. The neural network was trained on content of Die Hard and Fifth Element, so my character is similar to the images of that time. With the advent of the modern technology, I could communicate, work and participate in filming, even being on another continent. It's a brand new and interesting experience for me, and I'm grateful to our team."
The implications are – of course – enormous. And we're not just talking about Bruce Willis appearing in more adverts…
What's next?
Identical tech could allow celebrities to save time and effort and let their likeness take the strain and earn the dough. Why not shoot five movies at once? In locations they'd rather not visit. Or step away from a role that they may be deemed too old for, letting their ageless likeness plough on, earning them, and the owners of the franchise, the big bucks forever. No James Bond handover or Dr Who regeneration required.
And of course, sooner or later the spectre of 'raising the dead' raises its head as the owners of rights to likenesses of those long departed could soon be approached to allow our old favourites back onto our screens.
Imagine multi-generational, impossible, time-bending casting as todays stars rub shoulders, trade jokes/kisses/punches/you-name-it, with celebrities who are no longer with us. Imagine sequels to much-loved classic films that never happened at the time finally being realised. And all with the full, original cast, no longer burdened by personality clashes, peccadillos or paycheques…
And after that?
If it's this easy to create a perfect likeness of a human, then why base it on a real person at all? Why not cut out the middleman or woman – i.e. the owner of the likeness – and create your own star, make them as beautiful and talented as you can imagine and pay them precisely zero?
Who needs real actors, singers and performers at all?
The world of the AI influencer is already upon us. The age of the is-it-real, too-good-to-be-true virtual TV, movie and music star starts here.