Want to taste the festival of the future right now? Step right up, there's a metaverse music giant in town. That town being Avakin Life who's virtual world is now playing host to the third annual Solar Sounds Festival.
Currently headlining Solar Sounds is the metaverse manifestation of real-world Italian dance DJ Gabry Ponte. But from tomorrow, the 21st of July, top billing passes to entirely virtual artist Polar who'll continue to headline through to the festival's close on the 28th. 
Virtual artist Polar to headline
Polar, the virtual music artist and influencer, is the product of digital content pioneers TheSoul Publishing, and first came to global attention after her first single, Close To You, debuted at a three-day launch party in Avakin Life in September 2021. The entirely digital celebrity performed the song to a crowd of nearly one million metaverse fans.
Her style – described as 'electro-pop and future bass' – is tailor made for maximum global appeal and at the time of writing she has more than 350,000 subscribers on YouTube and more than 1.5 million followers on TikTok.
The biggest is getting bigger
Last year's Solar Sounds was attended by more than four million unique users, which – to snap things into 2022 perspective – is 20 times the attendance of this year's UK festival giant Glastonbury, and this year Solar Sounds intends to go even bigger, as it continues to deliver complete avatar experience concerts to attendees.
Festival-going Avakins have already been able to enjoy an exclusive listening party with tracks from Nakwon & MRCH and now AdELA has taken the spotlight with her party continuing until the show's end.
When asked about headlining this year's Solar Sounds Festival, Polar commented; "I love my Avakin fans, they've been with me right from the start and I am always super excited to be able to perform for them. What really makes them so special to me is their amazing fan videos and wonderful comments on Instagram. They motivate me to create more new music which is why I am going to be performing two new songs exclusively in Avakin Life. I'll also share some great items from my 3D wardrobe! I can't wait to see you all at the festival."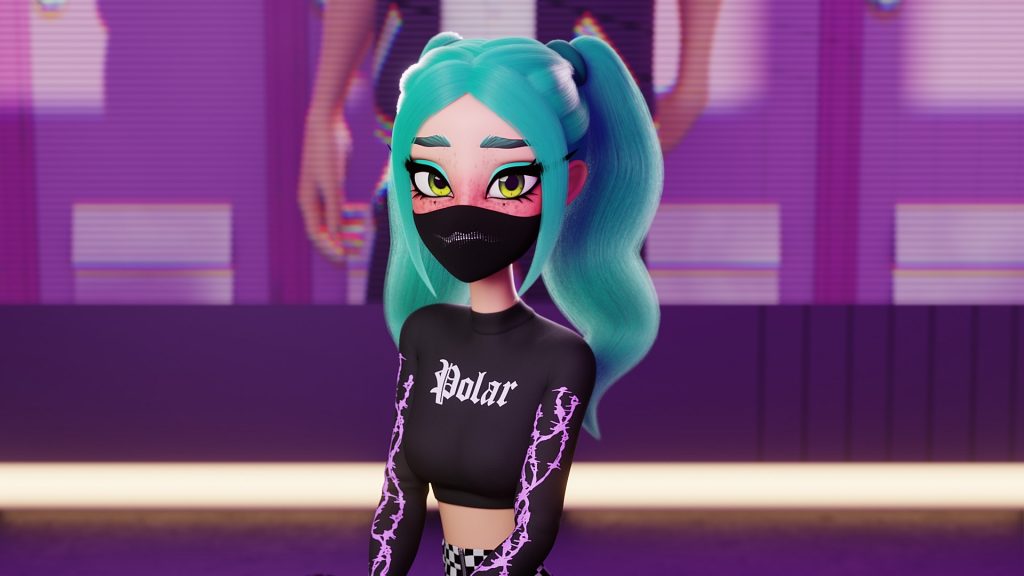 Music, moves and more
Polar fans will be able to wear Polar's fashions, don her signature facemask, and change their Avakins' eyes and hairstyle to that of the virtual pop star. There are also three new dance routines for loyal fans to earn, learn and copy.
And – like any good festival – there's a lot more reasons to be there (and be seen there) beyond simply the music. Solar Sounds features quests for festival goers, profile-related rewards, and the opportunity to help out in designing the cover of the festival's album which will be coming soon to Spotify.
Patrik Wilkens, VP of Operations at TheSoul Publishing, said, "Polar is fast becoming a Gen Z icon. Polar headlining this type of festival offers Avakins a unique experience where they can listen to their favorite music while staying immersed in the metaverse. The new offerings are a result of our learnings from our last collaboration where fans created user-generated videos asking for more opportunities to express themselves and dress like Polar. We always look for opportunities to engage with our fans and improve their experience. Her digital nature allows us to quickly give fans what they want."
Catarina Água-Mel, Business Development and Music Manager at Lockwood Publishing, creators of Avakin Life adds, "We're delighted to welcome Polar back to Avakin Life, this time as the headliner for our Solar Sounds Festival. This year's festival will be out of this world. We want to push the boundaries of music in the metaverse even further by offering different festival experiences than the ones lived in real life. 
"For those Avakins wanting to go full digital luxury, we have also made available a unique VIP Festival pass which grants access to exclusive areas of the festival, prime viewing locations for both concerts, as well as being able to unlock quest-related rewards faster. We have no doubt that this year's festival will be unforgettable and set the stage for future virtual festivals ahead."
How to watch Polar's performances at Solar Sounds
Avakin Life is on iOS and Android and is one of the largest, populated and active virtual metaverse experiences over 220 million Avakins on board and over 1million daily active users. Founded in 2013 it's now home to 30,000 virtual items and accessories, including items from many real-world brands.
Find out more at www.avakin.com or simply search your App Store for Avakin Life. Meet you by the mainstage.