You join us at Part 2 of our look back at 2021. If that's intentional, or you relish reliving a year out of sync, carry on. If you'd rather catch up on Part 1 (Jan-Mar), click here.
April – Dancing To After School
Hello, The Sandbox, we have been waiting for you and we've heard you are awesome. This month was a big mood for The Sandbox's metaverse and not only did it release its own tokens/in-game currency but, also, its beta shop listed over 100 NFTs from 46 artists. By the end of April 2021, Sandbox had sold 45 per cent of its land amongst 5,563 unique landowners, which equated to 40,754,456 in The Sandbox's own currency (SAND).
Epic needed to raise $1 billion to pursue its metaverse vision, and Sony made a strategic investment into Epic's metaverse future to the tune of $200 million.
Nvidia, led by the charismatic hot dad Jensen Huang, said that the company's next step was creating a metaverse. And Omniverse was born. Nvidia wanted to create artificial environments where companies can do business, which is quite refreshing in a world where it's all about a bunch of blokes with folded arms doing corporate photos on a yacht. Of all the metaverses announced during this time, it feels like Nvidia is the sensible uncle, wise sage, or hot dad in this dysfunctional family of egos as it stands.
Meanwhile, Facebook (yes, it was still called that) had just woken up to the possibility that perhaps people are done with poking, throwing sheep and posting on their newsfeeds, and they're thinking about doing something else. We wonder what. I phoned my mum; she knows everything about Facebook.
In Korea, SK Telecom launched a metaverse project which mixed MR with next-generation K-pop stars. And how does it handle? Well, I still have not learned how to dance to After School.
May – What Is The Metaverse, Again?
Everyone from the Financial Times to The Economist was asking the burning question: what is the metaverse? Presumably everyone's grandad had woken up to the prospect of getting a job in Animal Crossing.
Apple's antitrust trial kicked off with a war of words, however, it was nowhere near as exciting as what-is-the-metaverse search results. Trust me, reading the Google search results for what-is-the-metaverse from May 2021 is hilarious. Vogue announced the metaverse's first runway show had happened, but, anybody with a brain knows that Avakin Life has been doing metaverse runways for the LAST SEVEN YEARS. Stick that in your faux fur digital pocket.
I attended the Snap Partner Summit 2021 which was supposedly in the metaverse, but it was mostly awkward and a bit weird. It felt as though I put my keys in a hat and I couldn't find my keys.
South Korea started messing around with the idea that it might launch a metaverse alliance between 17 of the country's top industry leaders. That's big, and yet it slipped under the radar until I wrote about this later in 2021. However, if you went to the first ever Beyond Games event which was held online in May 2021 you would discover that South Korea's big plans were covered, as well as other topics and subjects that we've now come to love. BeyondGames.biz's Dave Bradley asked and explained what the metaverse was. And I'm going with that explanation.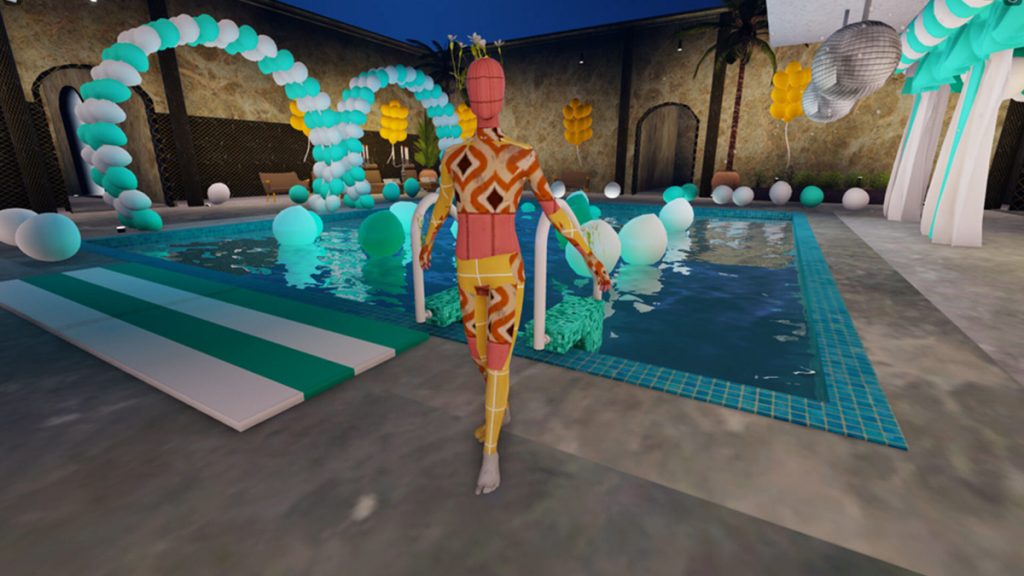 June 2021 – Facebook, Probably Nothing
Gucci teamed up with Roblox to create Gen Z outfits in their virtual world. This is the first big-name fashion collaboration presenting digital fashion as the poster model for the metaverse, and a very clear motivator for how brands might work in this brave new world.
Sotheby's launched its first ever virtual gallery in Decentraland, which is a decentralised virtual reality platform. A kind of metaverse real estate experience where portions of land are tokenised; not as pieces of land but as individual hubs which hold value. So it's a no brainer that the hottest art experience actually isn't Beeple's $66 million JPEG thing, it's actually Sotheby's. Who knew?
School sports day suddenly got way more exciting than watching your brother's left leg tied to your dad's right leg as they drag around a 100-metre grass track, because South Korea produced its first sports day in the metaverse! It happened in a kindergarten with 300 laughing children who screamed for joy as they basically messed about in XR, without a single baggy elastic band in sight.
Facebook bought loads of games, and more importantly games platforms. Wonder what it's up to? Probably something. I'll ask my mum.
Tune in tomorrow for Part 3, which will dial us into the metaversal magic of the July-September quarter.