January – What Is The Metaverse?
Believe it or not, the year 2021 starts with the ghost of Christmas past: the NFT. Tim Sweeney had already started his (what feels like a year-long) diatribe about the metaverse and the amazing positive (financial) impact it will have on the Tech Bros against the puny plebians of the physical realm. 
Piers Kicks had written an essay about digital connectivity and in-game economies, and I had written a few things on the theme of economies for games, fashion, anything really. At the time, my then boss wouldn't let me publish it because he said it was too "out there" a concept. However, Tim Sweeney did not applaud my blog post from way back and instead lauded Blockchain technology and NFT as being the "'most plausible path towards a fully emergent meta verse".
All at once, events started popping up, as well as figureheads and speakers who had all read Snow Crash and Neuromancer and pinpointed games entertainment and technology as being the future of industry.
January also was the jump off point for what feels like a million explanations of what the metaverse actually is. In fact, if you put "what is the metaverse?" into your preferred search engine of choice you possibly find 365 different definitions and examples of the metaverse in action. Pick the bones out of that.
February – DTA Has Nothing To Do With Jersey Shore
Disney threw down its cards, quite literally, about how it was going to develop a brand-new metaverse-type-thing called the Magic Kingdom Universe (MKU), connecting Disney characters inside a world of Disney theme parks. Think Skylanders, but that might survive. This Magic Kingdom Universe promises kiddiwonks the perfect foil to a Covid-infected winter season of what-are-we-going-to-do-next boardroom discussions.
Direct-to-Avatar (DTA or D2A) became the big deal that pretty much everybody in the fashion and tech industries were looking for. Metaversians are hyper-aware, especially about how they look. What is worn in the metaverse is becoming as important as what you wear IRL. Do you like what The Weeknd is wearing in his music videos? Well, they're available in Snap or Zepeto and you can wear them virtually NOW and buy them later. An avatar dress code which looks nothing like the real thing except for a couple of brand logos is a bit of a rub for people who really care about lifting fashion up and out of this direct-to-landfill problem. Still want that thing that The Weeknd is wearing? For some reason, Direct-to-Avatar really is becoming the hottest property for everyone in fashion and it's gonna continue well into 2022. For game devs, especially, we're still wondering why these lot are late to the party. We've been doing DTA for years.
Oh, by the way, MetaHuman launched in February: probably nothing.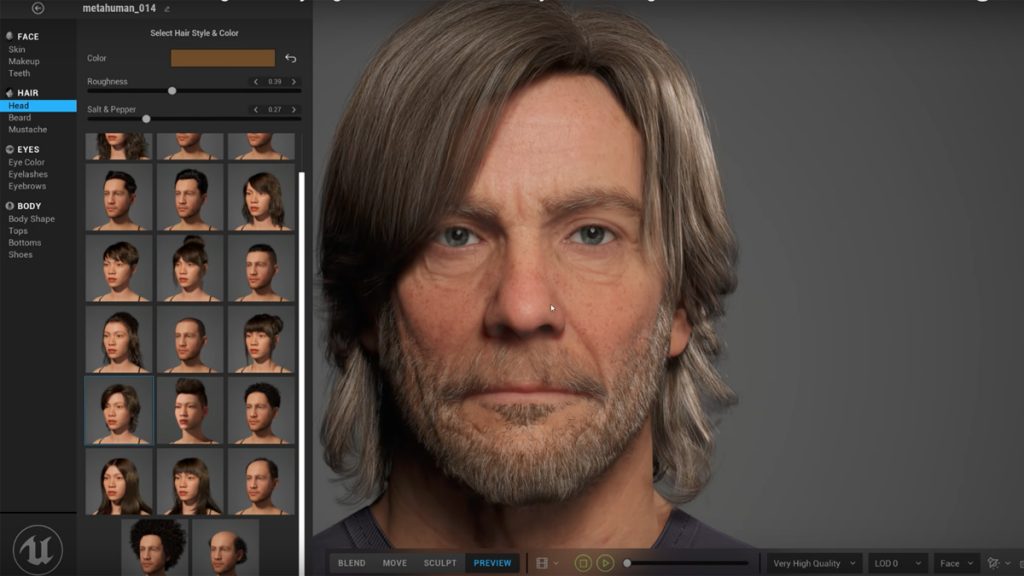 March – The Rise Of The Machines
Manticore Games raised $100 million for user-generated games in the multiverse, which was pretty fantastic considering that user-generated, up to this point in videogames circles especially, has been something more related to the overlord of user-generated content Minecraft.
Cesium for Unreal Engine combined 3D geospatial capability with a realistic rendering capability to create the beginnings of epic (excuse the pun) vision for an open metaverse (with a bit more reality and a bit less Tron). While everybody else was creating the metaverse in some weird Animaniacs cartoon environment (kiddy avatars, bare environments), it's so wonderfully refreshing to see some grown-ups doing something grown-up. I would actually like to see it in Animaniacs metaverse, though.
South Korea popped in to say hello while also announcing that it was seeing a serious trend in stock prices rising on the KOSDAQ off the back of the metaverse. This might be the tipping point from the metaverse being a topic of discussion at the watercooler to being a hot theme that is drawing investors' attention in the boardroom.
Meanwhile, somebody was giving Atari a serious heart massage and some CPR to breathe life into this stalwart of the digital entertainment industry and getting Atari's metaverse up and at 'em with its brand-new token (ATRI). The Atari metaverse, it was promised, would combine music creation, with digital collectibles and entertainment. So, watch this space?
Roblox gets a $38 billion valuation and goes public. That is all.
Check out Part 2, which whirls us through all things metaversal during the April-June quarter.