According to Insider Intelligence's inaugural AI forecast, ChatGPT usage is set to grow by triple digits in 2023. Currently, ChatGPT is the most widely used generative AI platform. 79% of those using such AI utilise ChatGPT. However, the number is expected to drop to 75.2% by 2025 due to the emergence of competitors.
"Generative AI is going to radically alter the search landscape," says forecasting analyst Peter Newman. "Generative AI-powered search will change how consumers get information and how businesses and brands advertise to them. It will require new formats and relationships to place ads, kicking off a race to get into generated responses that will forever change SEO."
Last year ChatGPT had roughly 6.3 million users. Insider Intelligence predicts, however, that the number of users will reach 61.5 million this year. That's 882% growth. Conversely, the growth is likely to slow down significantly in 2024.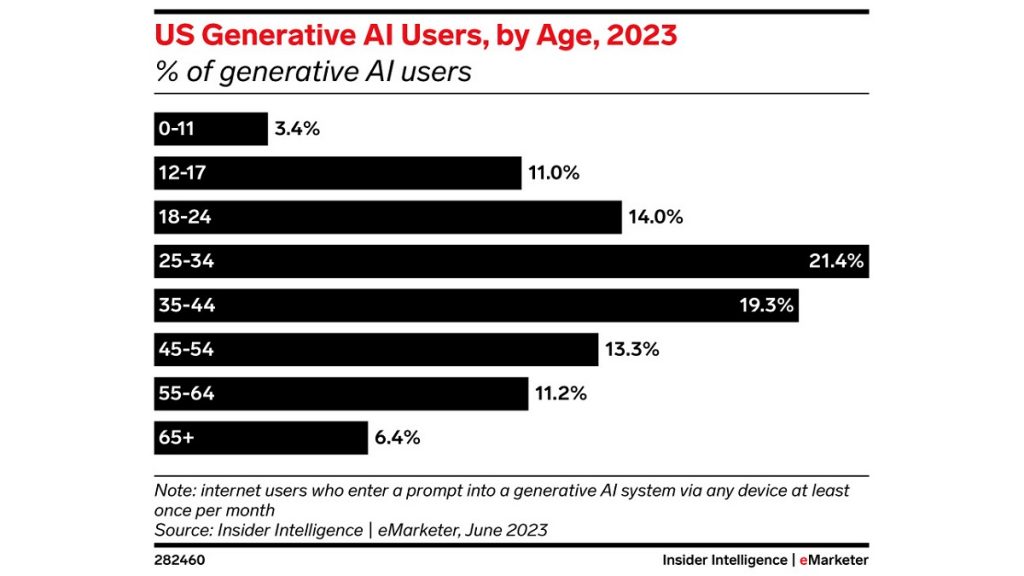 A quarter of the US population will use generative AI by 2025
As of this year, 20% of internet users utilise generative AI at least once a month. By 2025 the figure is expected to be over a third. Likewise, a quarter of the US population will use them by 2025.
According to the report, driving the growth of generative AI use in the US is ChatGPT. Americans between the ages of 25 and 34 use such AI tools the most. The second largest group is 35 to 44-year-olds, with users 18 to 24 coming in third.
"Generative AI systems are going to be used by a broad range of people but most notably by workers in the course of their jobs, across different roles and industries," Newman adds. "They will be utilised especially by less experienced workers, tasked with overseeing large amounts of semi-automated processes. We expect AI tools to quickly move beyond just the tech-savvy and soon to be used by a huge number of workers. For younger users, these tools are proliferating across education with students prompting generative AI to distil topics to their key points or, more problematically, completing assignments for them."