It felt like VR was having a powerful moment at GDC this year. The highest profile stands belonged to companies like Meta and Pico, while Atari demonstrated its first PlayStation VR2 game in an elegant hotel 10 minutes from the conference centre.
On the show floor, we chanced upon many indie companies sharing their VR creations. Next to the Brazil pavilion, one such booth was bustling with players: that of VR Monkey, the São Paulo studio that released Galaxy Kart VR this spring. Galaxy Kart VR is a competitive racing experience in virtual reality.
Pedro Kayatt is a computer engineer by profession and is now CEO and co-founder of VR Monkey. The studio has been around for almost 10 years, focussed entirely on AR/VR/XR experiences, and has grown to some 45 people. About 70% of the company's business is work-for-hire, supporting several top-class VR games worldwide, including Drunkn Bar Fight, Dyschronia and Nock. The rest of the time, VR Monkey develops its own IPs, like Galaxy Kart VR. Kayatt himself has always suffered from motion sickness. So a big part of the development process for this immersive racer was aimed at minimising the problem.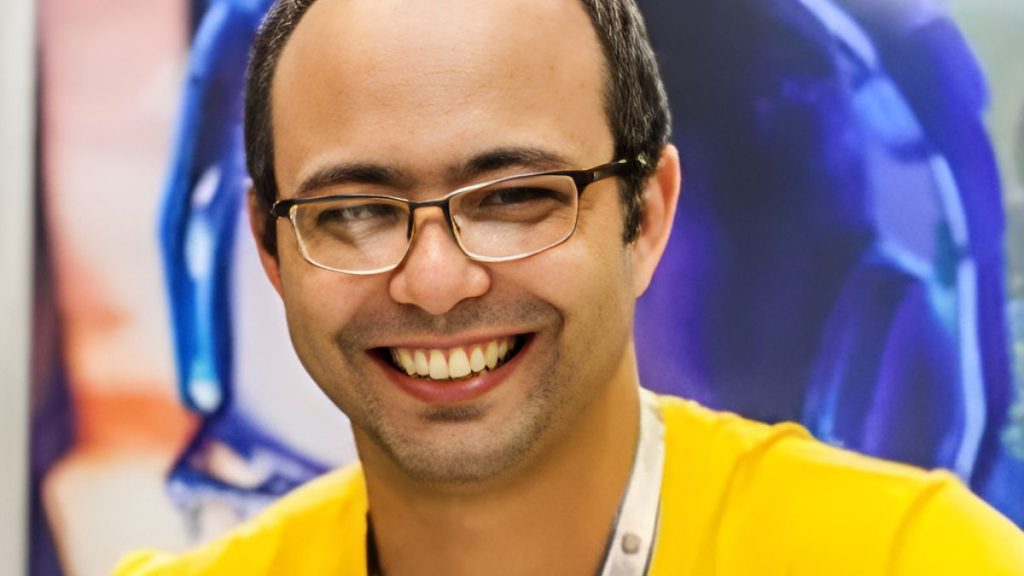 After the hustle and bustle of GDC, BeyondGames.biz grabbed Pedro Kayatt for an exclusive interview:
What was the inspiration behind Galaxy Kart VR and why did you want to make a game in this genre?
There's no denying that Galaxy Kart was very much inspired by Mario Kart. But to be more specific, its counterparts in VR are some location-based entertainment such as the VR Zone in Shinjuku. I had the opportunity to try it when I was visiting Japan back in 2019, and I loved so many aspects of it that it made me sad people couldn't have similar experiences in their homes.
Plus, we also had a big influence from games such as League of Legends. We wanted the characters of our game to be as diverse as possible and give the players a sense of empathy, drawing them close together with their favourite 'heroes'.
How does it differ from other games on the market?
The very first thing we focused on in Galaxy Kart was to have a game that could be played by anyone. So we focused on minimising the cyber-sickness problem that most other racing games have. This was a big challenge and it gave us many directives, like avoiding tracks with hard curves or setting the acceleration and max speed to a precise amount.
The second thing was that this game must be played with a motion controller. We wanted the player to feel like this was a VR-first title and not some kind of loose porting, meaning that all the interaction in the game demands the player move their arms around to grab items, throw things, and even feel like they're steering the wheel with their hands. Of course, we have three driving models, including a virtual joystick, that are meant to minimize the gorilla arm effect. But our idea remains that this is a VR-first title.
Finally, the characters. They are very unique, not only in the design of them but also because they include individual skills that change the way you'll race your opponents.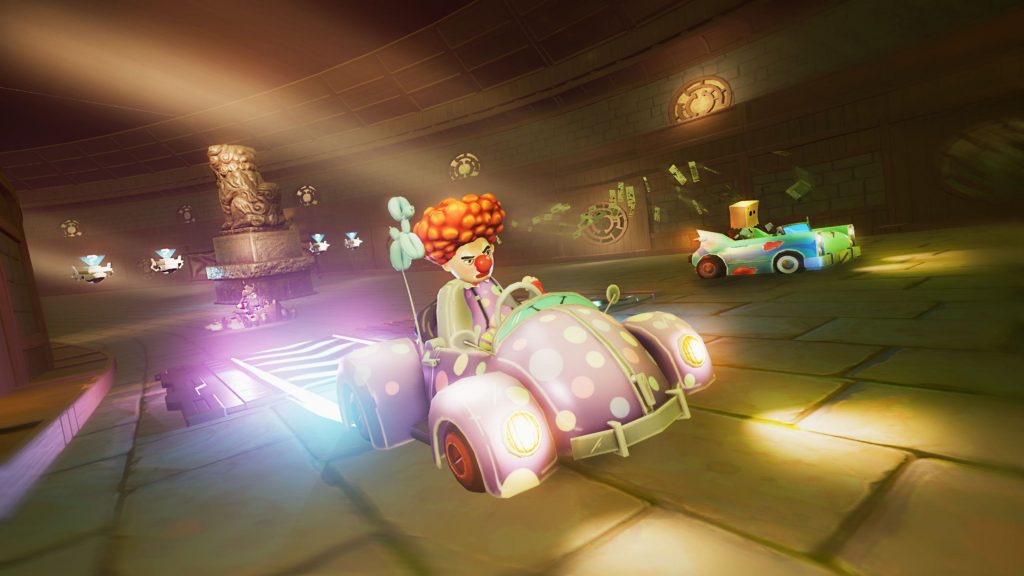 Why is it important that Galaxy Kart is in VR? What does VR add to the experience?
I'm not sure if I can cover everything, to be honest! Let's start with what VR can add to basically any game, and that is the immersion. I loved hearing from people trying our game who said this was the first time they felt transported to a real racing environment, that they were on a mini-kart. It was a unique feeling they'd never felt before.
There's also something special about interacting with others in VR. In my personal opinion, one of the things I love about Mario Kart is having multiplayer matches. But in VR, with Galaxy Kart, everything is just even more amazing. When you point to someone, or throw items at them, it's just like the other player is really alive. It's not just a random reaction or a voice or an animation; you can see the hands and head moving and expressing a feeling.
How did you approach the challenge of designing a game that wouldn't cause motion sickness?
There were many design choices, most of which we learned mid-developing, by trial and error. Some of it is about clarity and curves. We played other VR racing games and realised that if a track has many curves, and they change direction too much, people often get sick very fast.
Another very popular design choice is having a tunnelled view, a practice that decreases the field of view (FOV) of the player to avoid them getting sick. But we understood that works only applied for acceleration and not speed. This means that we change the size of the player's field of view according to their acceleration and not their speed. For instance, if a player hits a wall after using a turbo boost we almost close their eyes.
Jumps, and the way the kart model moves under the player's control, were other objects of attention that we tweaked a lot to aid newcomers or people sensitive to VR.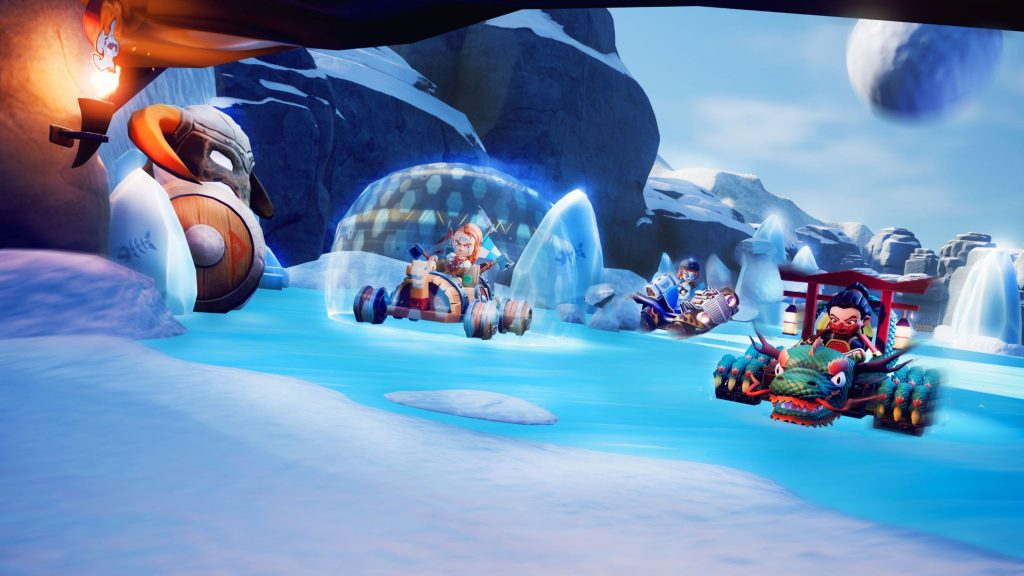 How do you foster the community among your players and what kind of feedback have you received from them?
Since we released a teaser of the game, back in 2019, we've received great support from the community. At first, we had internal pipeline problems, the game was delayed and we decided to put it in the fridge and return to it in 2022.
At the time, we decided we would release it in 2022. We started a Discord to gather alpha players and made an alpha almost six months before launching. After that, we improved the game and made an open beta that had around 300 players and got some amazing feedback. A month before launching the game, we got some extra feedback, listed all the top priorities and tried to work on them to really give back most of what the community complained about before.
At the launch of the game, we got some harsh reviews, in particular asking for more content (tracks) for the game. We take that as a very good point, to be honest! Since this points to the fact that the core mechanics of the game are there. We are developing three more tracks to be delivered in the next two months.
VR has been a promised technology for decades now. Is it about to become mass market?
I think VR has finally got the point of being a stable technology, not only for early adopters but for anyone who wants to have it. We see numbers like 20 million Meta Quest headsets being sold and that's on par with next-gen consoles.
The previous PlayStation VR setup had several steps and cables and peripherals. But now you only need to connect one cable and follow [a few] instructions. To be honest, I'm not sure if it will reach the status of 'mainstream', but I am confident that it is going to be much more popular than most accessories we have available for consoles.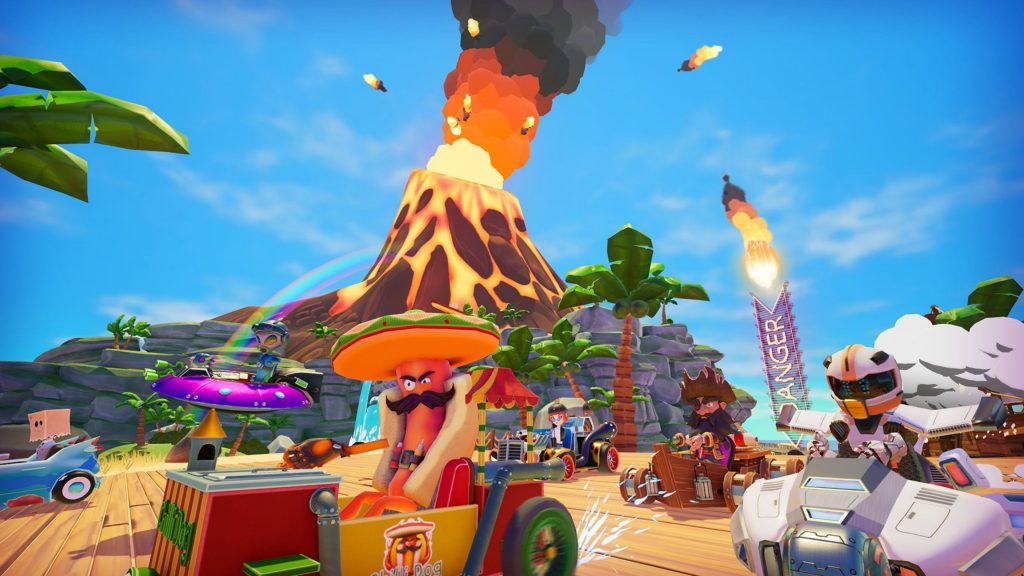 How do you see virtual reality evolving in the coming years and what advice do you have for companies entering the VR space?
VR has come a long way since the 'previous generation', meaning the first Oculus Rift and the launch of PlayStation VR. Resolution is not a problem anymore. The tracking and most of the issues people had at the time were solved.
What I envision for the next years of VR are even lighter, with more FOV headsets, better haptics and lighter controllers. Pancake lenses have made several headsets much thinner, and wireless connection is now a reality.
What I would advise for new VR companies is to check out the things that were well made in the past: games like Job Simulator, Beat Saber, Gorilla Tag. They all have some amazing design choices that paved the way for amazing VR experiences. But (at the same time) never stop trying new things! VR is too young for people to know what works and what doesn't.
What's your take on other hot tech topics right now: blockchain, web3, the metaverse, AI?
There is always room for a new buzzword… They change, and people tend to invest in what they think is hot. But in the end, what has a big impact is entertainment. If work results in making someone's life better, that is the value of it.
In light of this perspective, I do think that AI will bring a lot of innovations and improvements to every market. But still, it's hard to consider the prototypes that are available as [viable alternatives] to the work of real people.
In the future, I expect that metaverse will become something, but it will need to be an open platform with a much bigger audience than what we have now in VR.
What are your plans for future projects or developments at VR Monkey?
Currently, we are working on three titles. One even has an alpha open in our Discord.
Sky Climbers: a platform game that mixes Super Mario Bros with Fall Guys. It has a single-player mode with 10 worlds with 10 levels each and boss fights at the end of each world. And a multiplayer mode to support 20+ players against each other.
Honeypot: a VR multiplayer cooperative tower defence game, where you take the role of a bee defending your hive from bears. You can take several strategies, but collecting honey, building towers and shooting bears are some of the activities you need to do in order to succeed.
Isekai: a VR anime simulator. It's a beat-'em-up first-person VR game where you go through the story of a Japanese student who gets mixed up in an anime invasion of the real world. They start to develop supernatural powers, then go through portals to worlds that parody popular animes.
Our plan is to have VR Monkey grow and build better and better VR games.