Community-focused user-generated content platform Yahaha, recently showcased its code-free capable data-oriented design engine that will allow novice game developers to create games in minutes.
The company also demonstrated its upcoming AI Generated-Content Co-Pilot feature at GDC last month, enabling game developers to streamline the creation process by generating locales, environments and worlds using a few test prompts.
In its mission to bring a Ready Player One type metaverse experience to mobile devices, Yahaha has also revealed its mobile co-creation and B2B metaverse solution to allow developers to create games and experience the metaverse in the palm of their hands.
We spoke to co-founder and CEO of Yahaha, Chris Zhu to learn more about the company's AI-generated Co-pilot and how the company plans to leverage AI within the metaverse.
For audiences who haven't heard of Yahaha, can you describe your company to us?
Chris Zhu: "Founded by ex-Unity veterans, Yahaha Studios aims to democratise 3D games content creation and consumption. We're trying to let more people be game developers. And then we offer a lot of things to the creators who cannot code, who don't have art skills and can't build their 3D art. For example, we provide a much clearer engine that creators can use to build a game without knowing any coding or programming skills.
Yahaha empowers both developers and players at all levels to build, publish, host, and operate multiplayer games. And also we provide a million 3D asset libraries with a million sponsors. We also provide free servers for them to host multiplayer games. And now we hope they can just build games with one or two people together and within several hours. After we launched our Alpha last April, now we have more than 100,000 users on our platform that are creating games."
The company's AI Generated-Content Co-Pilot feature was a standout demonstration at GDC, can you tell us more about that?
"Yes! We released a video demo as a sneak peek at GDC and we think with ChatGPT and some AIGC models, it'll help our creators a lot. You just need some skill to put everything in your game to build a world and with AIGC, it may reduce the cost to build a world as it will generate a world for you and it will be up to you to change some things like decorate the room, change the textures, add a car and so on.
So we have a dedicated team now trying to use mature large language models to integrate into Yahaha's to provide discoverability to all our creators. This is what we are trying to do. Unlike some other companies that use AI for themselves, we are trying to expose other AI capabilities to our UGC creators."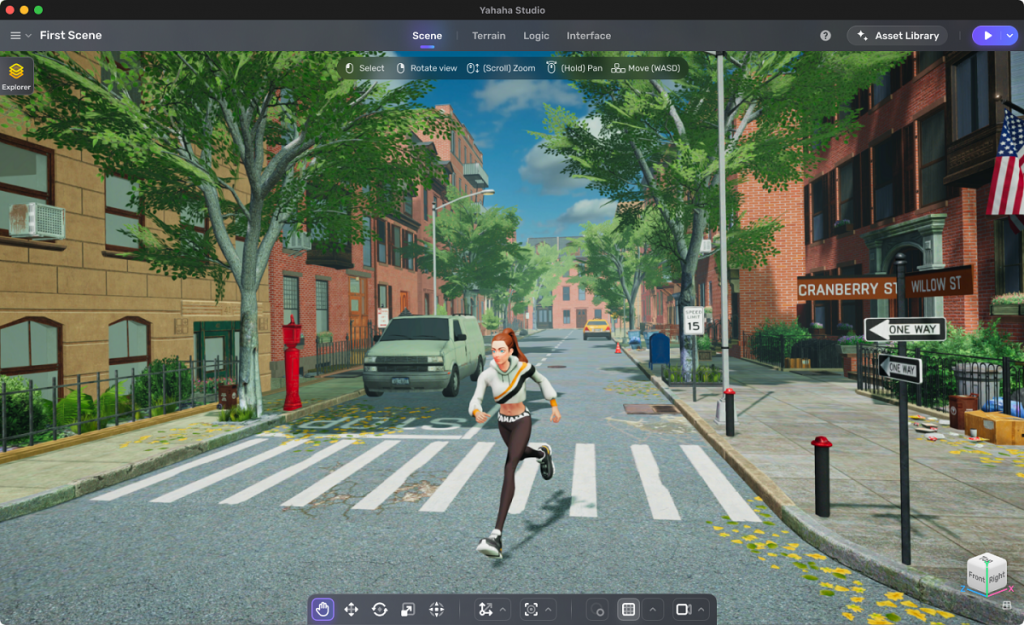 And your AI tool can be used by other creators?
"We focus on game creators because we are trying to give them much more service for them to build better games. But we think not only developers can build the games. For example, writers who want to visualise the setting of their novel, interior designers who want a basis to start from and architects who want to be able to walk around a virtual example of a certain style of location.
It can also be used by YouTubers or anyone who wants to build a 3D virtual space in no time. So we are trying to get the tool to customers who don't have any abilities to do 3D virtual work and let them build an immersive virtual space for any kind of purpose."
How do you see AI reshaping the video games industry?
"AI will make gaming experiences more unique to each individual player. Imagine a game where every choice matters, not just because of branching scripts from your decisions, but because the game itself can change and respond based on how you act. Having worked for Electronic Arts, Microsoft and Unity, I'm very familiar with the traditional video game industry.
So even we have a very big team of companies to build on the contents and then for the traditional pipeline, you will need lots of different people in different roles. For example, you need a designer, a 3D artist, you need an avatar artist and you need a level designer to put the world together. And then each of them doesn't have the skill that the other has.
But it should not be in the very near future because different companies like Nintendo have their own appliance to build the contents. Each company has very different pipelines to build different kinds of games. So companies have to adapt the AI and use it for some special purpose for their own working pipeline."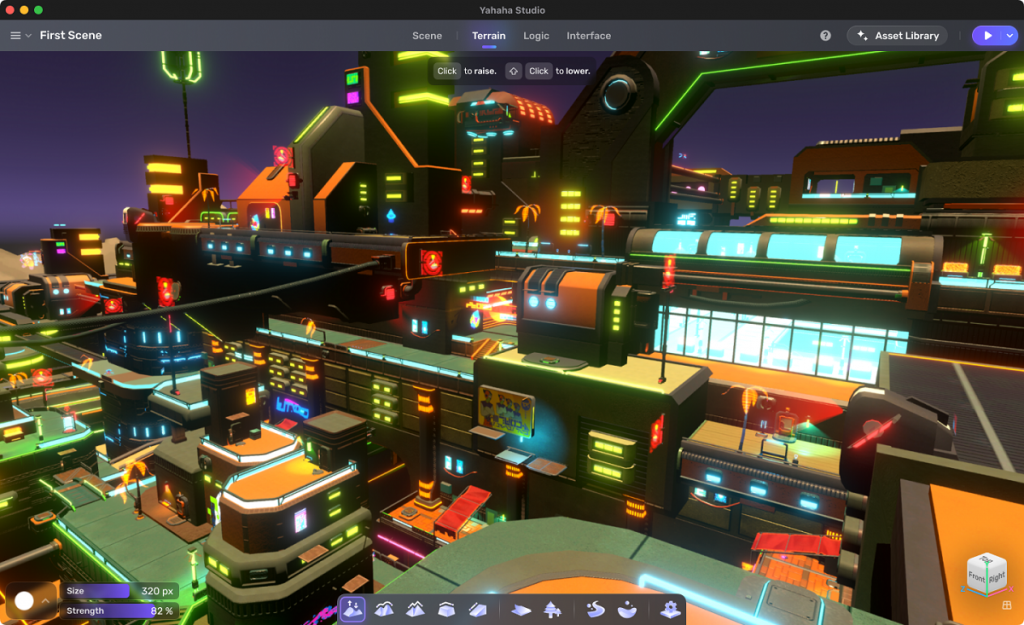 What are your thoughts on AI automating and replacing millions of jobs?
"It will happen, but not in the very near future. So from my perspective about AI, it will reduce the cost a lot and raise efficiency, allowing a lot of people to work better. It can help create better-quality PowerPoint or quality articles, but this does not change the final deliverables I produce. You will still need some people to write and increase their quality of work. So based on this, I don't think in the near future people will lose their jobs because of AI, but AI can help people to be more efficient.
For now, AI can help but maybe in 5 to 20 years, AI may change the industries and everybody I think should be keeping updated on all the AI progress. While AI technology can replace manual jobs – the repetitive aspects of the workplace – it won't be able to replace human creativity. AI can imitate and take inspiration in generating a product, but it cannot fundamentally 'create' in the way a human can."
The metaverse remains a nascent space that hasn't reached global adoption. How would you like to see it change in the next decade?
"Widening access to people all around the world, in a variety of backgrounds and cultures. We focus on the content generation for the metaverse. The more and more people that can create content for the metaverse, there will be more and more business models. Only you have the business models that can be translated from the physical world to our virtual worlds. So we are focusing on producing better qualities where everybody can build their own spaces. The metaverse is owned by everybody, not owned by a company."
The Yahaha mobile app has amassed nearly a million downloads. Do you see it replacing the traditional mobile game experience?
"Yes – the next step for mobile gaming is to create a more immersive experience than the average app and the metaverse will serve to do that. We focused on the mobile experience from the first day we founded this company actually. We think that to reduce the friction for the player to get into the metaverse is much more important, that's why we focus on mobile.
And every game on the Yahaha platform can be published on mobile and is mobile-friendly. So we think in the future with more and more people jumping to our platform, there is more business model, not around the traditional game industries only."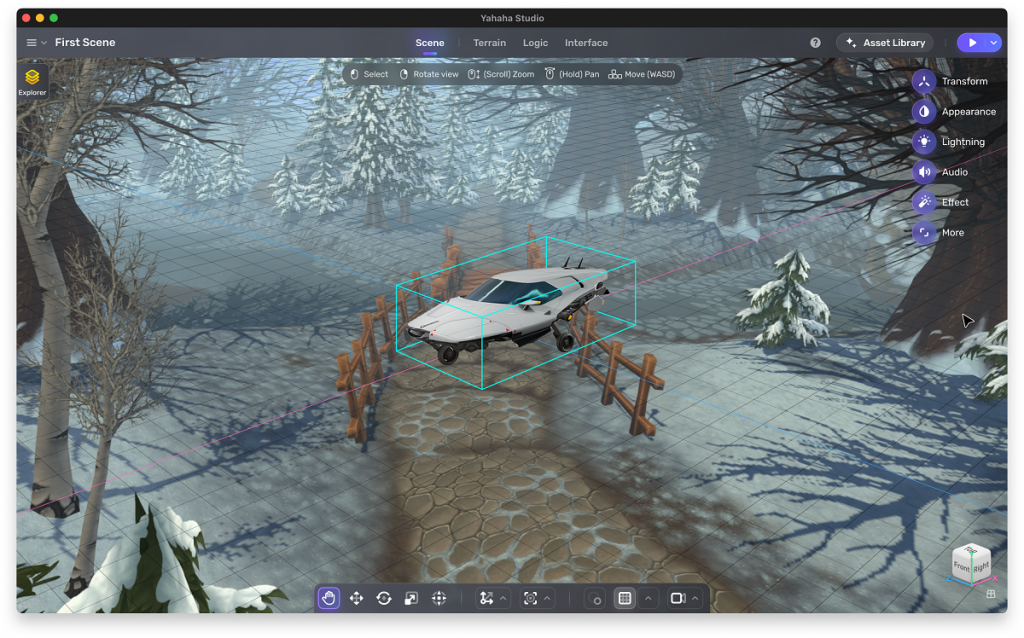 Your company also announced a VR device adaptation. What's that about?
"So we released a demo for the VR at GDC that can adapt any game created on Yahaha platform for VR devices at no extra cost to developers. Not only will this allow developers to reach an even wider audience, but all of these features will work in tandem with Yahaha's new industry solutions, incorporating educational and metaverse initiatives, to form a seamless B2B, B2C and commercial experience for all.
When the VR is ready, we hope all our contents on the Yahaha platform can be published on VR devices. So if you build a game, it will be very easy to change it to VR compatible. We hope that maybe two or three years or even sometime next year, VR will have more and more players."
Is there a launch date for Yahaha's AIGC?
"Not yet. Actually, we are trying to adapt more and more different models and capabilities. We will try to release more demos to see whether this is what our creators want and get more feedback from them. And also before the public release, we will have some trial among our communities."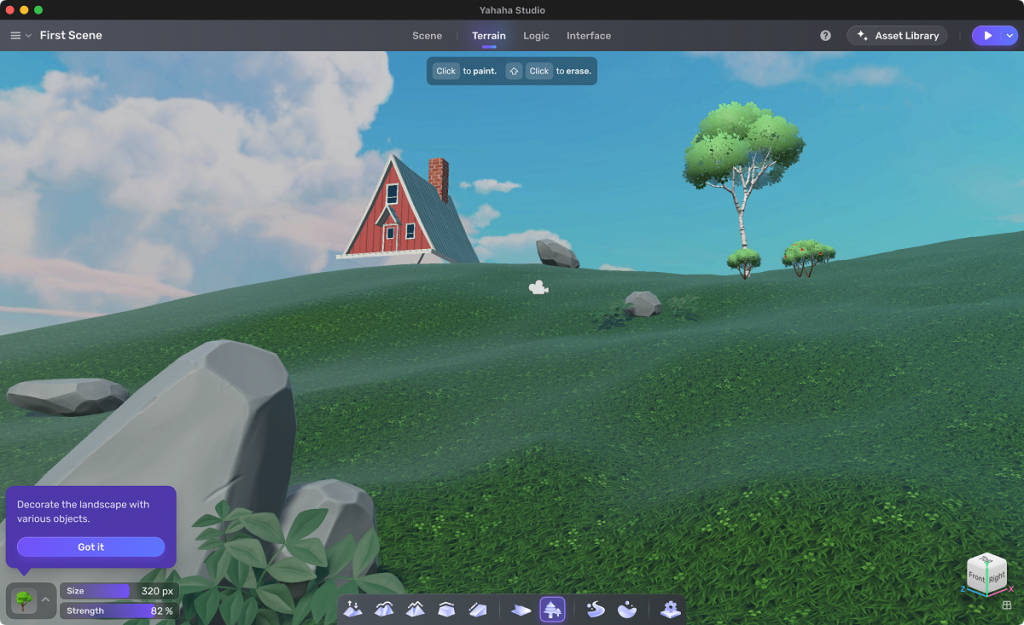 What's next for the Yahaha team?
"First is to leverage AI. Also for our user targets, we are trying to hit a million creators; a million users to use our tool in building better games. And also, maybe later this year we are trying to open our modulation plans to all the creators so they can earn money from all the content they're building."
You can find out more about Yahaha's AIGC from its official website and join the company's Discord server and follow on Twitter to stay up-to-date on upcoming features and updates.