Internet search engine DuckDuckGo is stepping into the world of artificial intelligence with its new AI-assistance feature that generates answers for users using Wikipedia.
Generative AI has been taking the tech industry by storm this year, with the likes of ChatGPT sparking innovation. Microsoft is already well onboard with a multi-billion dollar commitment to OpenAI and we are seeing chatbot services implemented into the likes of the Bing search engine.
However, DuckDuckGo's new DuckAssist is not a chatbot but instead acts to help provide a user with answers to simple search queries. DuckAssist will be available to all users of DDG's browsing apps and browser extensions. The first public look at the tool will be with beta Instant Answer in search results.
AI capabilities
DuckAssist will use AI natural language technology to anonymously generate a short-sourced summary of what it discovers on Wikipedia. The response will then appear above the browser's regular private search results. DDG says that it draws on language technology from ChatGPT-maker OpenAI and AI startup Anthropic.
DuckDuckGo states that, "Generative AI technology is designed to generate text in response to any prompt, regardless of whether it 'knows' the answer or not. However, by asking DuckAssist to only summarise information from Wikipedia and related sources, the probability that it will 'hallucinate' — that is, just make something up — is greatly diminished."
Any information the AI tool presents to the user will be accompanied by a source link, which will usually be a Wikipedia article. In some instances, the source may be the encyclopedia Britannica. The company notes, "DuckAssist won't generate accurate answers all of the time. We fully expect it to make mistakes." Mistakes may be more likely when complex questions are asked and DDG encourages users to share their feedback.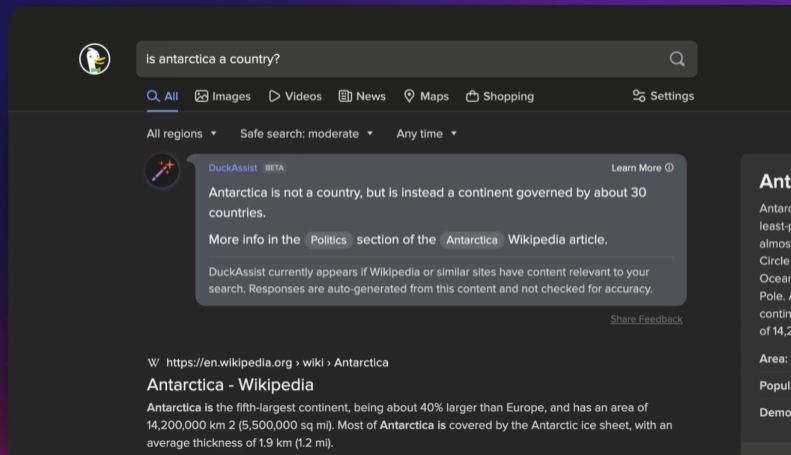 Using DuckAssist
The team opted to use Wikipedia to deliver its answers as, "We've used Wikipedia for many years as the primary source for our 'knowledge graph' Instant Answers, and, while we know it isn't perfect, Wikipedia is relatively reliable across a wide variety of subjects." However, the issue with Wikipedia is that entries are open and can be modified by anyone. While some pages are protected, many can be edited with false information. Since DuckAssist provides sources, users can at least investigate an answer's legitimacy.
DDG states that the AI assistant is more likely to appear in searches when users ask questions with straightforward answers in Wikipedia. DuckAssist is not a chatbot, so there is no back-and-forth between the user and AI. Since this is the first AI-assisted feature update from DDG, the system will likely evolve in the future.
DDG states that they do not save or share search or browsing history and searches using DuckAssist are no exception. Search and browsing history is anonymous to DDG search content partners, such as OpenAI and Anthropic. In addition, queries will not be used to train their AI models.