Liithos Entertainment is preparing to build interest in its upcoming game Ashfall through TikTok and NFTs.
Liithos Entertainment is made up of some familiar names. Days Gone director John Garvin is vice president at the studio and The Last of Us veteran Michael Mumbauer founded and leads Liithos. Both of these previous titles created loyal fanbases. So much so that The Last of Us has gone on to be a growing hit show on HBO. There is even talk that Days Gone may be turned into a movie.
Leaving those projects in the past, the pair have moved onto a new adventure in Ashfall. The title is a sci-fi game and comic book project. In addition to a game and comic book series, the developers have now partnered with influencer Michael Le to build a TikTok series based on the new IP.
TikTok series
As part of the cross-promotion, TikTok star Michael Le will be promoting the game to his 5.2 million followers. It's an interesting approach and with the massive popularity of TikTok it's a sure way to at least get eyes on the project. The team at Liithos is creating the narrative series which will introduce Ashfall with supporting partners of Web3 marketplace CoinZoom and HBAR Foundation.

The TikTok series will also feature a second influencer, Slider Jesus who has accumulated 257,000 Instagram followers. The first episode of the series was released on January 29, 2023. New episodes will now be scattered across weekly releases each Sunday. In addition, digital collectables will be released alongside the launch of the series.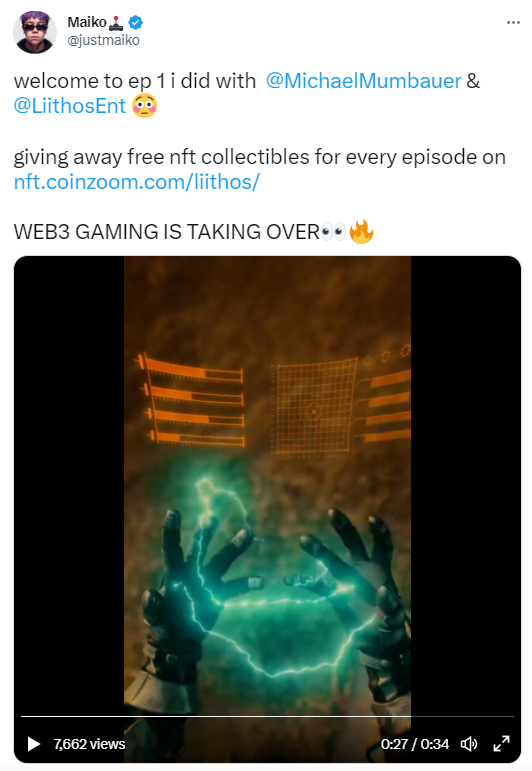 Each of the NFT releases is intended to be inspired by the episodes and features artwork from comic book artists. This includes art from Coran Stone and Fico Ossio. These NFT assets will also give holders hints about the Ashfall comic series which is set to release in March.
Transmedia approach for Ashfall
Vice president of Liithos, John Garvin spoke with ComicBookMovie regarding the transmedia approach to Ashfall stating. "I'm trying to create a "next-gen" experience, which to me is more than just the ever-improving technology that drives resolution, frame rate and fidelity. To me it is also about transmedia – reaching a wide audience of gamers, readers, viewers by creating a world rich enough that we can do comics, TV, movies, a multiplayer online game, a AAA open-world game, motion comics, digital collectables, and more."