HBO has announced The Last of Us has been renewed for a second season after only two episodes.
The third episode of the show aired last night but after two episodes, it seems HBO was confident enough to green-light a second season. The first episode was watched by 4.7 million people, which marked HBO's second-biggest premiere show.
However, those numbers have now increased to over 22 million viewers for the first episode. Word of mouth is a powerful thing. Episode 2 was originally watched by 5.7 million viewers, which highlights a 22% increase in the initial episode one views. Therefore it's easy to see why HBO would snap up a second season. Not only is the show doing well, but more people are hearing about it and coming along for the journey.
The Last of Us season two
The announcement for season two quickly spread after HBO posted "The Last of Us will return for another season." Some speculation then circled as to the contents of the second season. Some wondered if it would follow the storyline of The Last of Us Part 2 game. Others felt it may deviate to fill in the missing years between those two stories.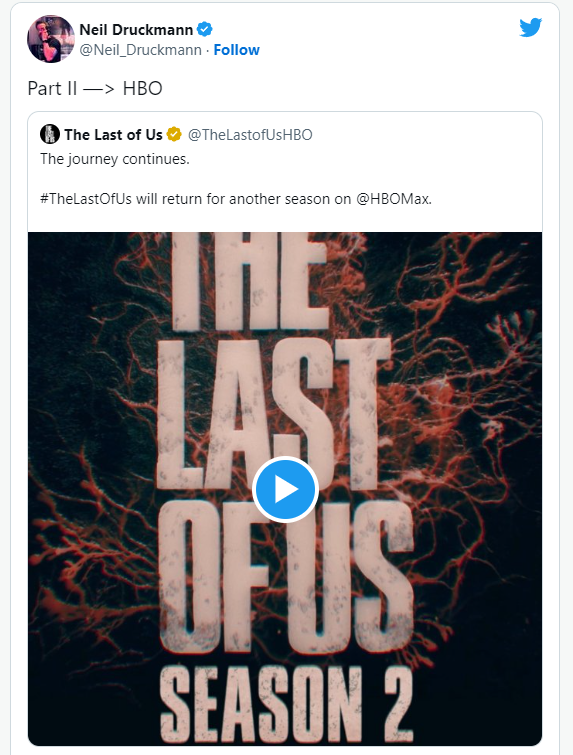 Executive producer and Naughty Dog co-president Neil Druckmann then tweeted that the second season would follow the second game. It seems that Craig Mazin had already been thinking about how the second game could be adapted in an interview with IGN. Mazin noted in the interview that "It's more than a season's worth of television, for sure."
Part two is lengthier so it would make sense that it could take more than one season to cover. One thing is for sure, fans will have The Last of Us on their screens for some time. Not only is this great news for the show but its popularity has also seen game sales spike. It's likely that whenever season two launches it could have the same impact on the second game. For those who are yet to see the show, the first episode has been made free to watch on YouTube.
Some sad news
While for the most part, The Last of Us franchise has much to celebrate, there has also been a loss. Yesterday it was announced that the American actress, Annie Wersching had passed away at age 45 after a battle with cancer.
Wersching was known for her work on shows such as 24 where she played FBI agent Renee Walker. However many gamers will know her as the original voice actress of Tess, from The Last of Us. Her performance as the character was a popular one within the gaming community for her ability to make the player connect to the character in just a short amount of playtime.

Many have been sharing their fond memories of the actress and tributes have been posted on social media to share heartfelt sentiments. Wersching was married with three children. A go fund me has been shared to help support the family in this difficult time.