Gaming isn't a hobby typically associated with fitness. But in some great news for sofa warriors, it turns out that you're actually burning through calories even while gaming [picks up pasty AND joypad].
An experiment conducted by Betway online casino calculated how many calories players burn during 90-minute video game sessions compared to working out. 
Seventeen players were tasked with playing 90-minute sessions of seven popular video games to determine how many calories a player can expect to burn. According to the results, Fortnite sessions burn the most calories at an average of 194. At the same time, GTA V comes in last place, with gamers burning roughly 164 calories per session  Players burned approximately 189 calories playing Fifa and 188 during Call of Duty sessions.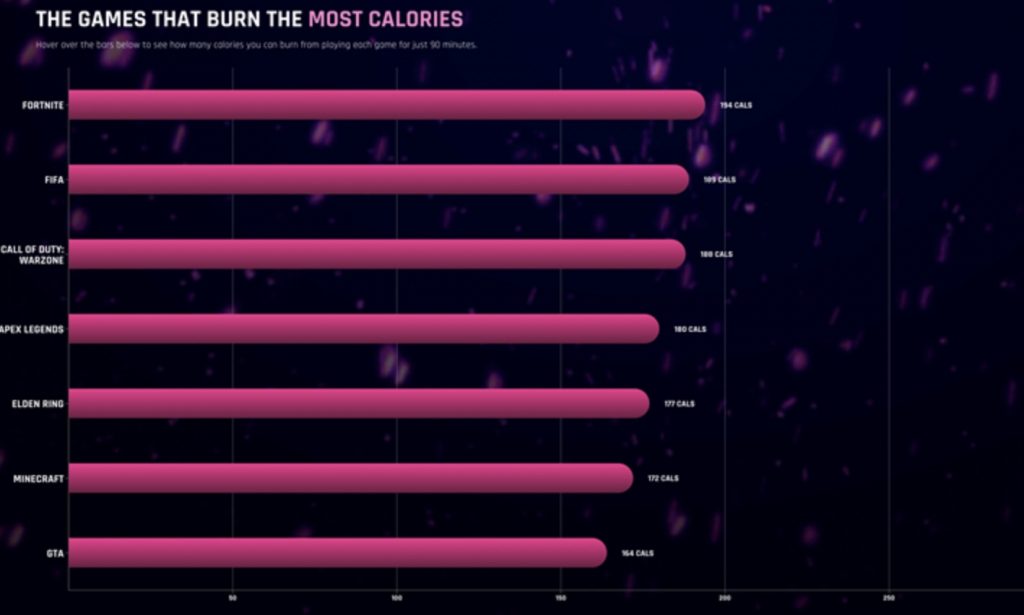 Video games get intense, whether it's duking it out with the barest shred of health left or completing a harrowing quest. These intense moments cause increased heart rates which in turn burns calories. While Fortnite burns the most calories, players had the most accelerated heart rates when playing Call of Duty: Warzone, with some having heart rates reaching 119BPM. On average, player heart rates increased to 89 BPM during Fortnite sessions. Of the games surveyed, players had the slowest heart rates when playing Minecraft.
Betway also had those participating measure their heart rates while performing crunches, squats and push-ups to determine how much exercise it takes to burn the same number of calories as in a typical 90-minute gaming session. Results showed that it would take either 353 squats, 239 crunches or 162 push-ups to burn the same amount of calories as participants burned playing Fortnite.
Video Game Adaptations
While video games can get your heart pumping, so can action-packed series and movies and luckily for gaming fans, tons of video games are being adapted for the screen. HBO Max plans to release a live-action series adaptation of The Last of Us next year, while Netflix is working on a Bioshock film Conversely Netflix is making mobile games for its hit shows The Queen's Gambit and Shadow and Bone.