Yes. A university study has gone out of its way to prove that while VR DOES completely ACE the wielding of a pair of Beat Sabers in order to TOTALLY slash up blocks in time to an all-star soundtrack, when it comes to putting invoices into a spreadsheet?… Not so much.
In the research, entitled Quantifying the Effects of Working in VR for One Week and carried out by the Coburg University of Applied Sciences in Germany, 16 volunteers were made to wear VR headsets for their full working week and perform a series of office tasks comparable to those more usually performed using mouse, keyboard and monitor.
And the results are surprising…
Who are we kidding? Of course they're not surprising. Imagine being told to wear a VR headset for eight hours a day. For a week…
The research sought to prove (or disprove) theories that working in VR could be a calming, more soothing environment.
The theory goes that rather than being trapped in a gloomy dank office with that guy sat opposite you, you could instead be nudging numbers by a Nordic fjord. Or correcting grammar while rocking in a Bahamian hammock.
And virtual space facilitates impossibly cool new ways of looking at data. Facts and figures line up left and right, up and down and in and out. Graphs exist in a space so real that this week's sales uptick will almost have your eye out.
And kiss goodbye to squinting into your loo-seat laptop. Instead you'll have a screen as big as a house. Where emails and VCs dance around you and your boss delivers your P45 by sky-writing it from a biplane. Sounds like heaven, yes?
Nope
Instead the study found that VR decreased productivity and induced migraine and nausea in the 10 men and six women initially chosen to take part. (We say 'initially' because two of the group quit on the first day.)
Using Meta's Quest 2 headsets and working in Google's Chrome Remote Desktop for eight hours a day, for five full days (with a merciful 45 minutes for lunch) the group were regularly asked to mark their experience out of 10 for factors such as 'task load', 'frustration', 'anxiety', 'eye strain', 'perceived productivity' and 'wellbeing'.
Short version is that productivity scored a 14% drop compared to 'normal' office working, frustration was up by 40%, anxiety up 19% and eyestrain up 48%. Meanwhile all of the subjects reported combinations of visual fatigue, nausea, and migraines as a result of spending what is – let's face it – an inordinate amount of time in VR.
Hey, Meta. Y'know how you'd nearly made it through this week without any bad news?
All of this, of course, throws a witheringly bright light on Meta's first move advantage metaverse pitch, which shows all kinds of cool people having fun and achieving greatness via the medium of VR.
Work, play, and… Um… All those other things that normals do… Meta has got you covered! Unfortunately, eager to play the long game and reap the wins awaiting them at TBC-time in the future, they're also steadfastly refusing to engage in discussion about the lumpy, grumpy and most likely expensive early-gen hardware that we're all going to have to wear in order to play ball in their walled garden.
In fact the Meta metaverse movies we've seen so far very rarely even show or acknowledge the wearing of any kind of headset at all.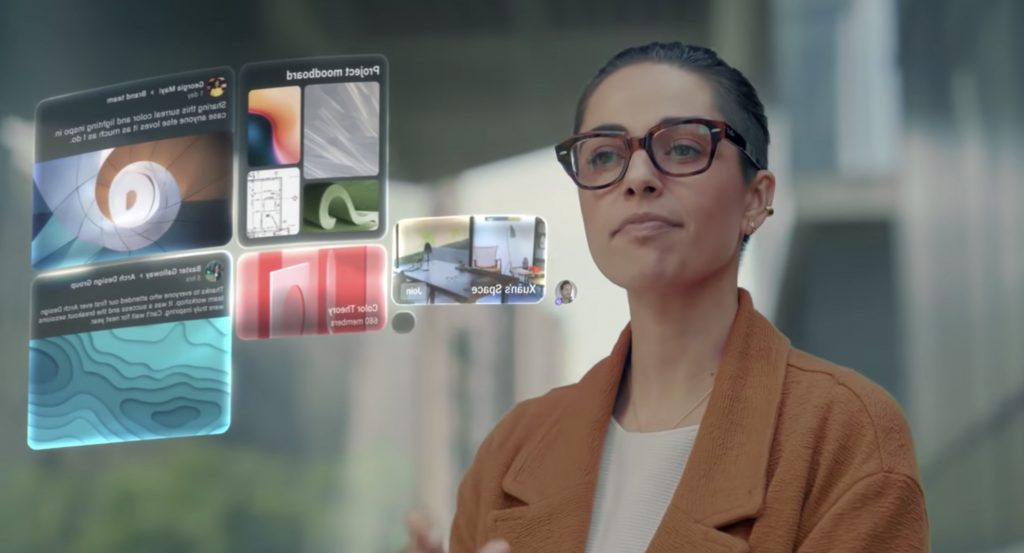 BUT to throw the likes of Meta etc a bone here, the report goes as far as to say that they "deliberately opted to design [the] conditions [of the side-by-side tests] to be as similar as possible to allow as many quantitative comparisons as possible. Therefore, the study did not present the participants with the best possible VR system but instead a setup that delivered a comparable experience to working in a physical desktop environment."
Steve Takle, Managing Editor at our partner site TheVirtualReport.biz said, "I'm a huge advocate for virtual reality, but I would balk at the prospect of working in today's VR hardware. I've tried, but it's just too cumbersome to be practical.
"No doubt it will be a different matter when we have augmented reality glasses that weigh no more than a pair of sunglasses and don't isolate the user from their surroundings. That's Mark Zuckerberg's dream for portable infinite workspaces – but we're not there yet."
I.e. Had the lucky test participants (imagine being trapped in VR for a WEEK?…) been using the headsets that the likes of Meta, HTC and – rumoured – Apple have planned for us all very shortly then it might have been a very different story.
As to the real future for working in VR, only time will tell… [Dons headset. Initiates crystal ball simulator].