As part of his keynote address at Nvidia GPU Technology Conference (GTC) this week, CEO Jensen Huang took the opportunity to bring its Ominverse back to front of stage. This is the project that makes Meta CEO Mark Zuckerberg look like he just isn't thinking big enough with a mere metaverse…
Entering open beta a little more than a year ago, Omniverse – capital 'O', no 'the' – is a framework of tools that Nvidia hopes will ultimately create a digital twin of planet Earth. Setting the scene, Huang explained that, "The Internet changed everything is surely an understatement. We are always connected now. The Internet is essentially a digital overlay on the world". See where this is going, metaverse fans?
"The overlay's largely 2D information, but that's about to change. We now have the technology to create new 3D virtual worlds or model our physical world. These virtual worlds will obey the laws of physics – or not". Speaking to the ubiquity of the internet in 2021, Huang said that in this new digital realm, "Virtual worlds will crop up like websites today," and, "We will jump from one world to another like we do on the web with hypertext".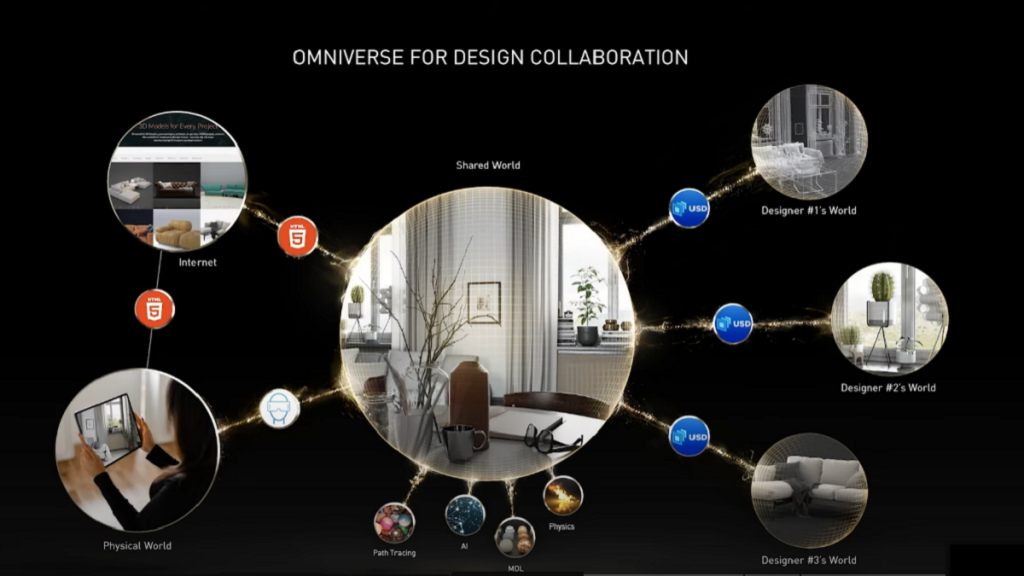 A revolution for 40 million designers
The intent is that Omniverse, "Will revolutionise how the 40 million 3D designers in the world collaborate". Huang further explained that, "We built Omniverse for builders of these virtual worlds.
"Some worlds will be built for gathering in games, but a great many will be built by scientists, creators and companies". Some of those companies already include BMW, Bentley and Siemens, with Erickson even recreating an entire city in Omniverse. "Digital twins are where we will design, train and continuously monitor robotics, factories and buildings, warehouses and cars of the future.
"We will buy and own 3D things like we buy 2D songs and books today. We will buy, own, and sell homes, furniture, cars, luxury goods and art in this world. Creators will make more things in virtual worlds than they do in the physical world".
Since launch last year, Omniverse has been downloaded 70,000 times by designers in 500 companies. To facilitate their work Huang said, "Along with us, the community, companies and tool providers are building Omniverse connectors. There are 14 available now and 15 more coming soon".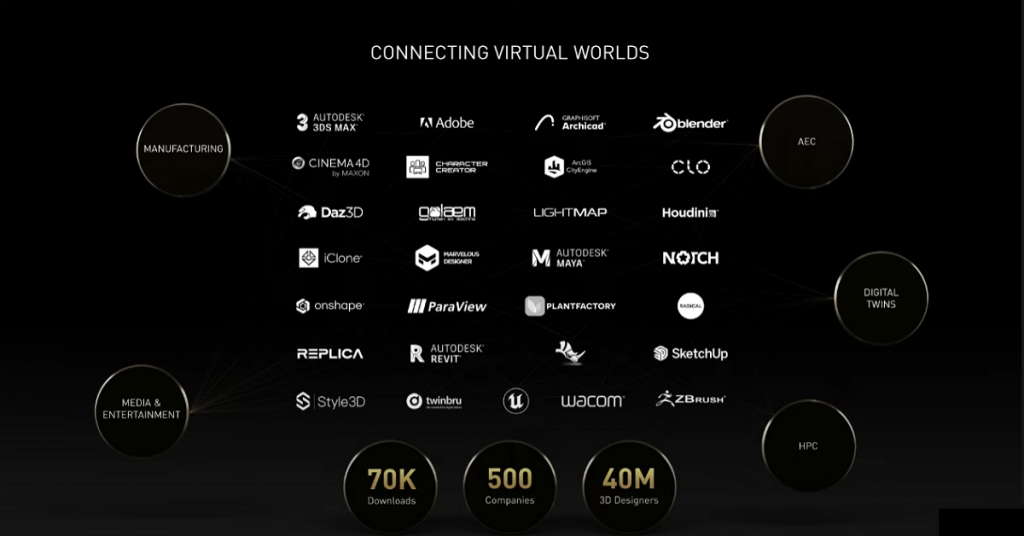 A digital wormhole
Omniverse is based around Universal Scene Description (USD), which Huang described as a 'portal' (lower case 'p', no relation to Facebook's video conferencing hardware as we covered here). It's, "Essentially a digital wormhole that connects people and computers to omniverse and for one omniverse world to connect to another. USD is to Omniverse what HTML is to websites".
Detailing this week's new update to Omniverse, Huang highlighted Showroom for demos and samples; the Farm systems layer for batch processing and more; AR for mobile phones and glasses; as well as VR for, "The world's first full-frame, interactive ray traced VR".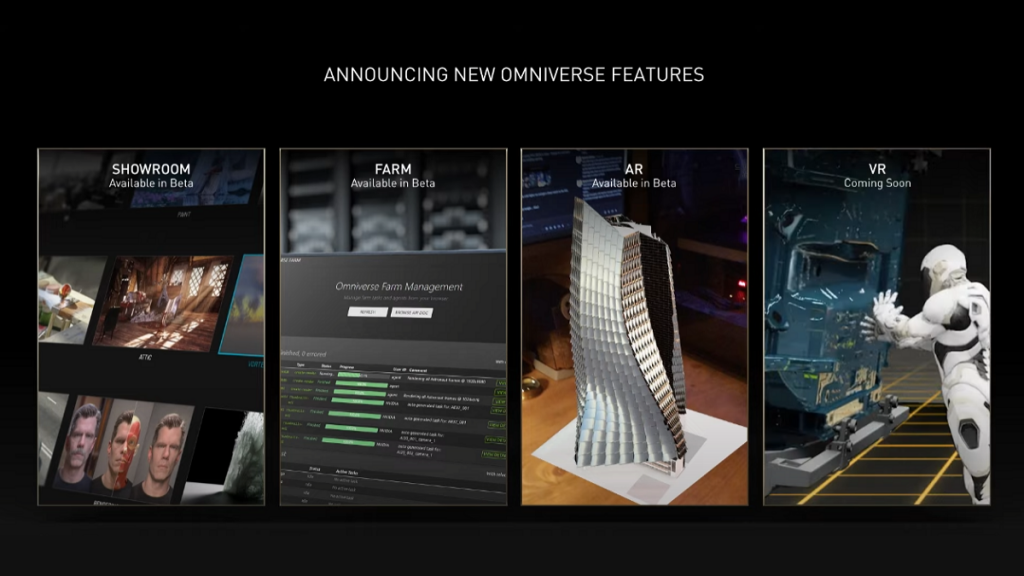 Headlines vs frontlines
Facebook might be grabbing all the metaverse headlines at the moment with its very high profile rebranding to Meta – could they be any more on the nose? – but let's not overlook the companies on the frontline that don't feel the need to beat their chests and rattle their sabres.
Companies like Unity and its acquisition of Weta Digital. Companies like Microsoft and Mesh for Teams. And yes, companies like Nvidia and Omniverse…
You can read more about Omniverse Avatars specifically in our latest report.