Generative AI is seemingly here to stay and it looks set to play a vital role in the future of video games. A new report from consulting firm Bain & Company shows that more than half of the video game development process will be supported by generative AI in the next five to 10 years.
In the study titled, 'How will Generative AI Change the Video Game Industry,' up to 25 gaming executives from different parts of the world were asked about their thoughts on generative AI in the gaming industry. The results showed that the majority of respondents believe that generative AI will not only enhance game quality but also expedite the game development process.
Generative AI may not impact jobs
A small percentage of executives (20%) hold the belief that it will lead to a reduction in development costs. In addition, a majority of respondents (60%) expressed their lack of expectation that generative AI would have a substantial influence on talent in the games industry. 
As a result, these respondents do not believe that the nascent technology will assist in addressing the current talent shortage within the industry.
Andre James, global head of Bain's Media and Entertainment practice says, "Although most executives we spoke with believe generative AI may free developers from mundane work, they do not believe it will replace the creative spark necessary for game development, emphasizing the importance of human oversight." 
A bigger impact!
Despite implementation challenges, most respondents expect generative AI will affect gaming in ways that are far greater than impacts felt by other technologies such as virtual reality (VR) and cloud gaming," James added.
According to Bain's findings, the majority of executives predict that within a decade, the majority of applications for generative AI will emerge during the production stage of the game development process. This marks a deviation from the current pattern of generative AI being commonly used during pre-production.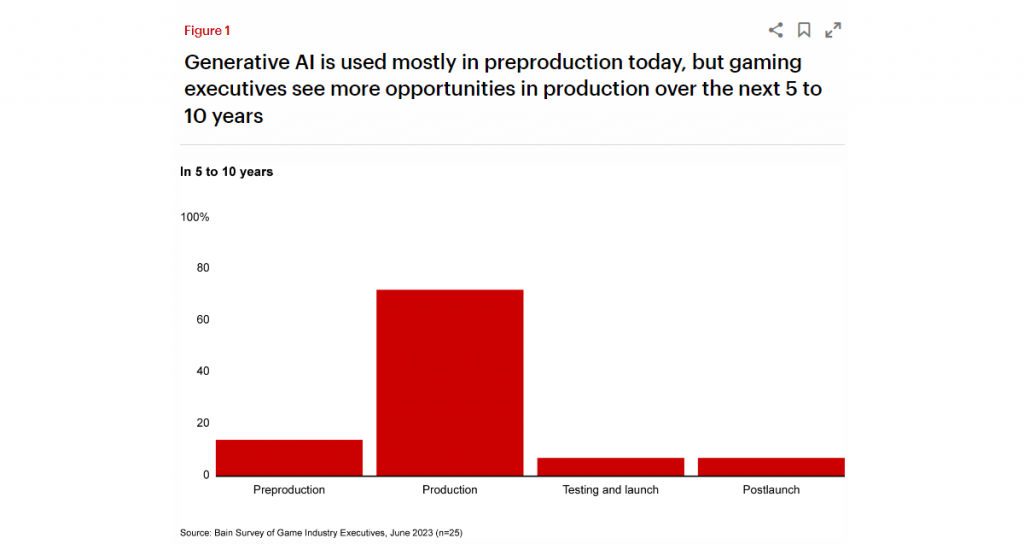 Bain went on to identify several key areas where generative AI is expected to play a bigger role in the near future. These areas include story generation, NPCs, game assets, live game operations, and user-generated content.
Barriers to consider
Bain's study shows that these executives believe that system integration is the primary obstacle to implementing generative AI in the gaming industry. The survey respondents highlighted several other challenges to adopting generative AI, including data training, limited technical capabilities, lack of regulatory and legal oversight, and the costs associated with implementation.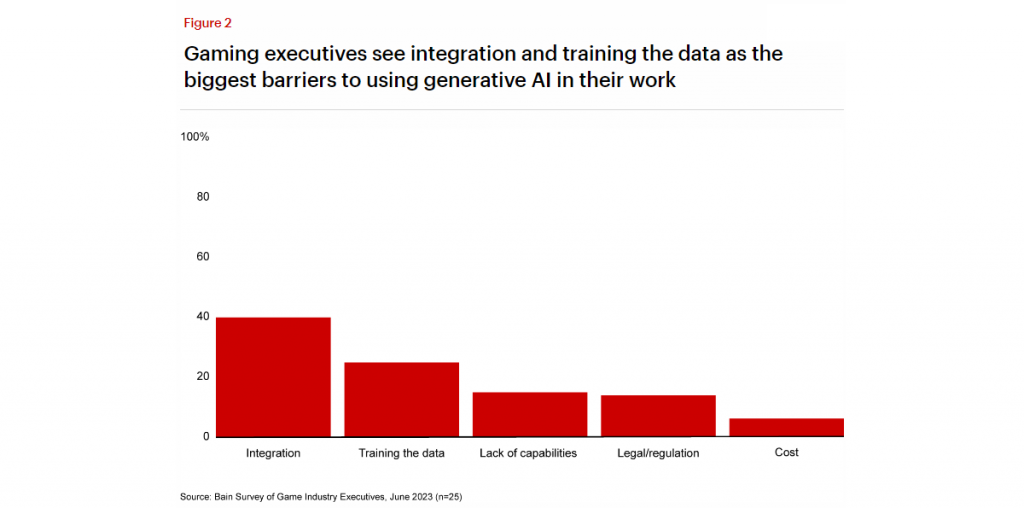 Some of the long-term challenges that gaming companies could face with generative AI include a lack of AI strategy, navigating a complex and evolving landscape, implementing AI with potential implications, and retaining talented individuals within the field.
"While it's an exciting time for the industry, games are growing in size and development costs are ballooning," said Anders Christofferson, gaming expert and partner within Bain's Media & Entertainment practice. "Enter generative AI, which, if harnessed properly, has incredible potential in addressing industry hurdles while at the same time provides capabilities that can benefit creators, publishers, and consumers."
Key steps in adopting generative AI
In the same study, Bain has outlined four key steps that video game companies can take to ensure that generative AI is implemented and maximised at its full value:
Companies should adopt a disciplined and deliberate approach. This involves reaching a consensus on goals and strategies, as well as implementing appropriate measures for oversight and control. Such an approach not only enhances return on investment but also minimises potential risks.
Decisions should be based on what will benefit the player above all. While generative AI offers numerous advantages, it's important to avoid overreliance as it can become a hindrance. Companies need to remember that simply increasing content and engagement in a game does not automatically guarantee an improved player experience.
Both game developers and publishers need to strategically evaluate their options when it comes to building, buying, or partnering with other players. It is crucial to consider whether it is better to develop players in-house, collaborate with established players in the industry, or form partnerships with smaller, specialised players.
And lastly, Bain urges companies to understand that this goes beyond a technological transformation. Companies must also establish a new operating model by redesigning existing work processes, establishing new processes, addressing ripple effects, and formulating a strategy for generative AI enterprise architecture.