According to new data from research provider Insider Intelligence, OpenAI's ChatGPT usage will grow nearly 900% this year, but this growth is expected to decline over the next few years.
ChatGPT usage in the US is projected to spike from 6.3 million last year to 61.5 million in 2023, experiencing an impressive increase of 882.0%. However, growth is expected to decelerate to double-digit in 2024.
However, before this slowdown commences, generative AI usage will surpass multiple milestones starting this year. Currently, more than 20% of internet users utilise generative AI for various tasks and that number is set to increase to one-quarter by 2024. Come 2025, about 25.5% of the US population will be using ChatGPT. 
Altering the search landscape
Peter Newman, forecasting analyst at Insider Intelligence commented, "Generative AI is going to radically alter the search landscape. Generative AI-powered search will change how consumers get information and how businesses and brands advertise to them. It will require new formats and relationships to place ads, kicking off a race to get into generated responses that will forever change SEO."
Since its release in November last year, ChatGPT has remained the most popular chatbot, with about 79.0% of generative AI users utilising it this year. However, it is worth noting that as new competitors emerge in the market, ChatGPT's market share is gradually declining. By the year 2025, it is estimated that its share of users will reduce to 75.2%.
The OpenAI chatbot still serves as the primary catalyst for the growth of generative AI usage in the US. The entire category is expected to experience a remarkable growth rate of 894.4% this year, reaching 77.8 million users. However, growth is projected to decelerate to double-digit figures in 2024, surpassing the milestone of 100 million users.
Generative AI adoption
"The launch of ChatGPT in November 2022 brought generative AI into the mainstream and also shook some of the leading tech companies," said Yory Wurmser, principal analyst at Insider Intelligence.
"Most had generative AI initiatives in development, but they've spent the last half year rushing these into limited releases, including Google Bard, Microsoft Bing, and Meta's open-source foundational model LLaMA. OpenAI itself has created plugins and APIs for ChatGPT. That's increased the number of generative AI users nearly tenfold this year compared to last," added Wurmser.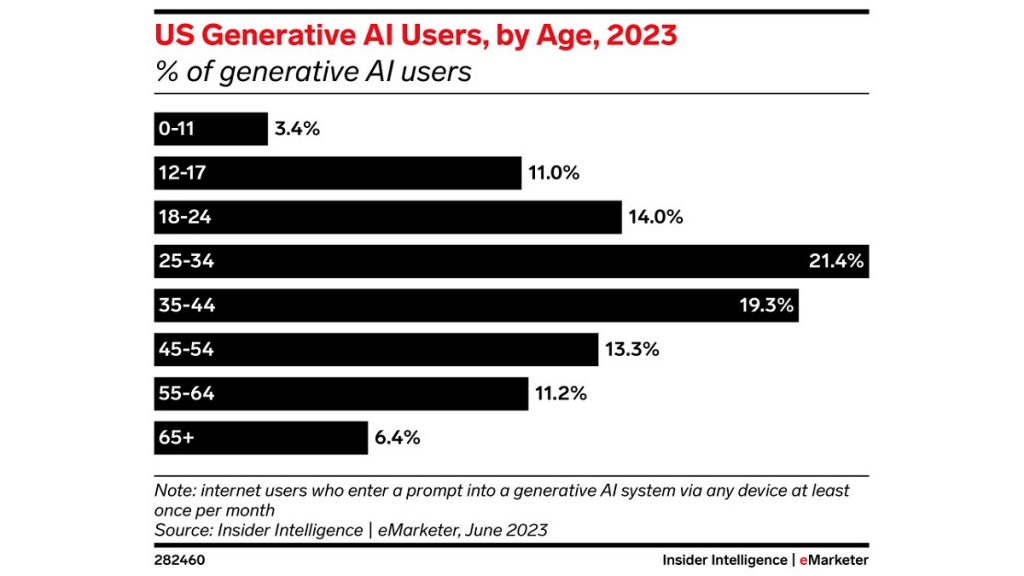 When examining usage patterns by age, Americans aged between 25 and 34 form the largest group of users, followed by individuals aged between 35 and 44. Users aged between 18 and 24 are the third-biggest, closely followed by users aged between 45 and 54.
"Generative AI systems are going to be used by a broad range of people but most notably by workers in the course of their jobs, across different roles and industries," Newman said. "They will be utilised especially by less experienced workers, tasked with overseeing large amounts of semi-automated processes."