In yesterday's media briefing (Thursday, July 13th), 160,000 union members made the decision to join the Writers Guild of America (WGA) union on the picket lines after failing to secure a new contract with movie studio and streaming service executives.
After a month of negotiations between the Screen Actors Guild and American Federation of Television and Radio Artists (SAG-AFTRA) and the Alliance of Motion Pictures and Television Producers (AMPTP), the deadline, which had already been extended, finally lapsed late on Wednesday night.
In a passionate address, Fran Drescher, president of SAG-AFTRA, calls the AMPTP's treatment of the union "shameful" and "disgusting". Drescher adds that, "The entire business module has changed by streaming, digital, AI. This is a moment of history, a moment of truth.
"I cannot believe it, quite frankly, how far apart we are on so many things. How they plead poverty, that they're losing money left and right when giving hundreds of millions of dollars to their CEOs. It is disgusting. Shame on them. They stand on the wrong side of history."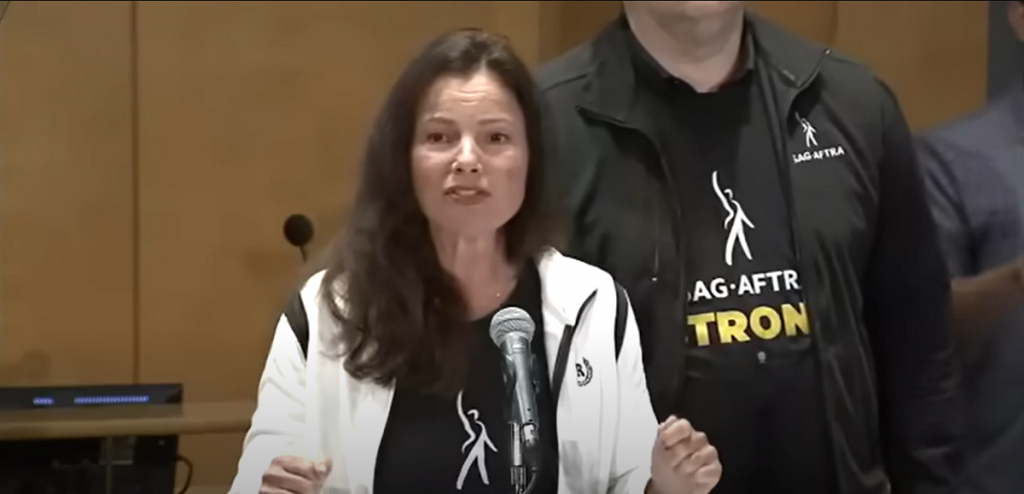 AI threatens the future of background acting
A key issue that has sparked significant disagreement for both organisations pertains to the rapid progress and adoption of AI, which has raised concerns about potentially replacing writers and actors.
During the press conference, Duncan Crabtree-Ireland, the chief negotiator of SAG-AFTRA revealed a, "Groundbreaking AI proposal" put forward by Hollywood studios that sounds almost like a plotline from an episode of the famously dystopian Black Mirror series.
When asked about the proposal during the press conference, Crabtree-Ireland said, "This 'groundbreaking' AI proposal that they gave us yesterday, they proposed that our background performers should be able to be scanned, get one day's pay and their companies should own that scan, their image, their likeness and should be able to use it for the rest of eternity on any project they want, with no consent and no compensation. So if you think that's a groundbreaking proposal, I suggest you think again."
Replacing background actors with AI would have a significant impact on the film and television industry as these actors play an essential role in creating the illusion of a bustling world, and their absence would be noticeable.
Background work can also be a stepping stone for actors to break into the industry. It allows them to learn how a set operates, meet other actors and industry professionals, and eventually qualify for SAG-AFTRA membership. This can help them land bigger roles in the future.
The use of generative AI has been a major obstacle in the negotiations between the two sides, and it is also one of the main reasons for the writers strike.
"If we don't stand tall right now, we're all going to be in trouble. We're all going to be in jeopardy of being replaced by machines," said Drescher.