South Korean video game company Krafton has declared esports team 17Gaming as champions of the PUBG Global Series 1 (PGS 1) after the grand finals that took place from May 5th to 7th as an offline event in Malaysia.
Following 18 intense matches over three days of competition, the Global Partner Team 17Gaming from China, consisting of Shengjun "Lilghost" Luo, Zhanya "Xbei" Tu, Bo "xwudd" Wu, and Lin "SuJiu" Yu, emerged victorious as the inaugural PGS champions, earning $80,000 in prize money.
EMEA's Acend took home second place, while China's Tianba Esports was placed third. Other EMEA teams, Twisted Minds, Natus Vincere and HOWL, took 5th, 10th, and 11th places respectively.
Commendable performances
Despite having a slow start to PGS 1, 17Gaming surprised fans by finishing 19th in the Group Stage and falling to the Losers Bracket.
And although they had a quiet comeback in the Losers Bracket, they delivered an impressive and well-balanced performance with smart tactical decisions from the beginning of Day 2 in the Grand Finals, climbing to the top spot and holding on to it until the last moments of the tournament.
Acend also performed exceptionally well in the Grand Finals and managed to secure five podium finishes as well as the highest number of total kills, earning them a well-deserved second place – their best performance yet in the global PUBG Esports arena.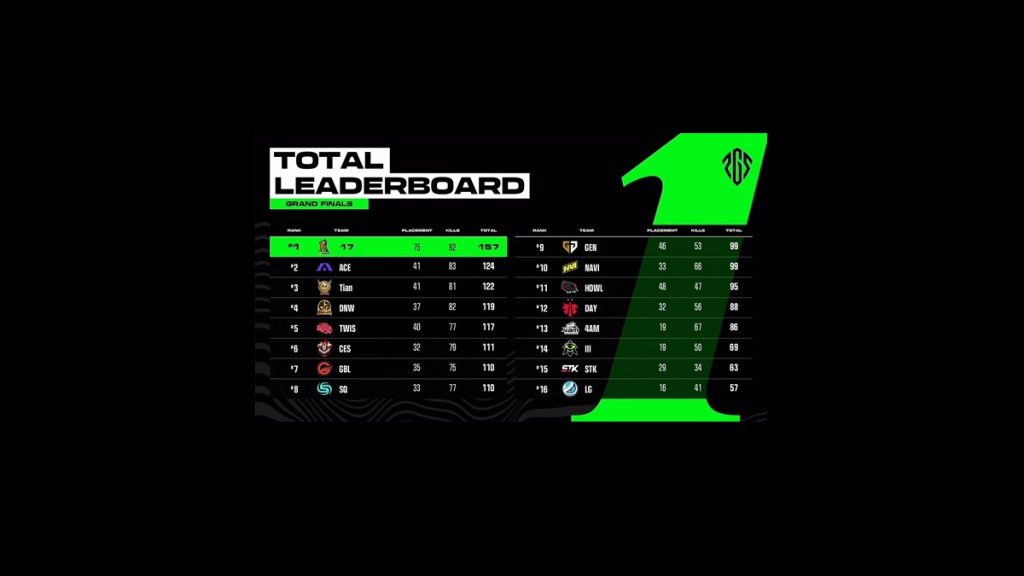 Danawa e-sports' team leader, "seoul," was awarded the PGS 1 MVP title for his performance, which included almost two kills per match and inflicting significant damage on his opponents. Additionally, his impressive contributions helped his team secure a fourth-place finish.
Krafton announced details of the upcoming PUBG Global Series 2 (PGS 2) on the last day of PGS 1. The event is powered by Gamers8 and will take place in Riyadh, Saudi Arabia from 10th to 20th August featuring 24 top teams competing for a prize pool of $2,000,000.
PGS 2 will also introduce the updated ruleset, with Taego being added to the map pool among other changes, making it the first global PUBG Esports event to do so.