A new report from Deloitte suggests that the increasing popularity of user-generated content in games, watching shows while on the go, and the current trend of turning video games adaptations into movies and TV shows is a clear indication of the changing media consumption habits of younger generations.
In its 17th annual Digital Media Trends survey, Deloitte finds that young people find happiness and meaning in creating their own content and playing games. They like to use different types of media in ways that are fun and social. In turn, companies can learn from this and make better plans to create things that young people will like.
The report also mentioned that younger people are no longer spending most of their time watching TV shows and movies at home. Instead, they spend their time more evenly between watching shows and movies, making their own content on social media and playing video games. It found that the majority of young people are seeking entertainment, social interaction and immersion.
"Younger generations like Gen Zs and Millennials play video games and watch UGC to be entertained but also for social connection and a sense of immersion." Reads the report. "Gen X and older generations are likely to feel most immersed while watching TV shows and movies and are less likely to feel a sense of community from any of these options."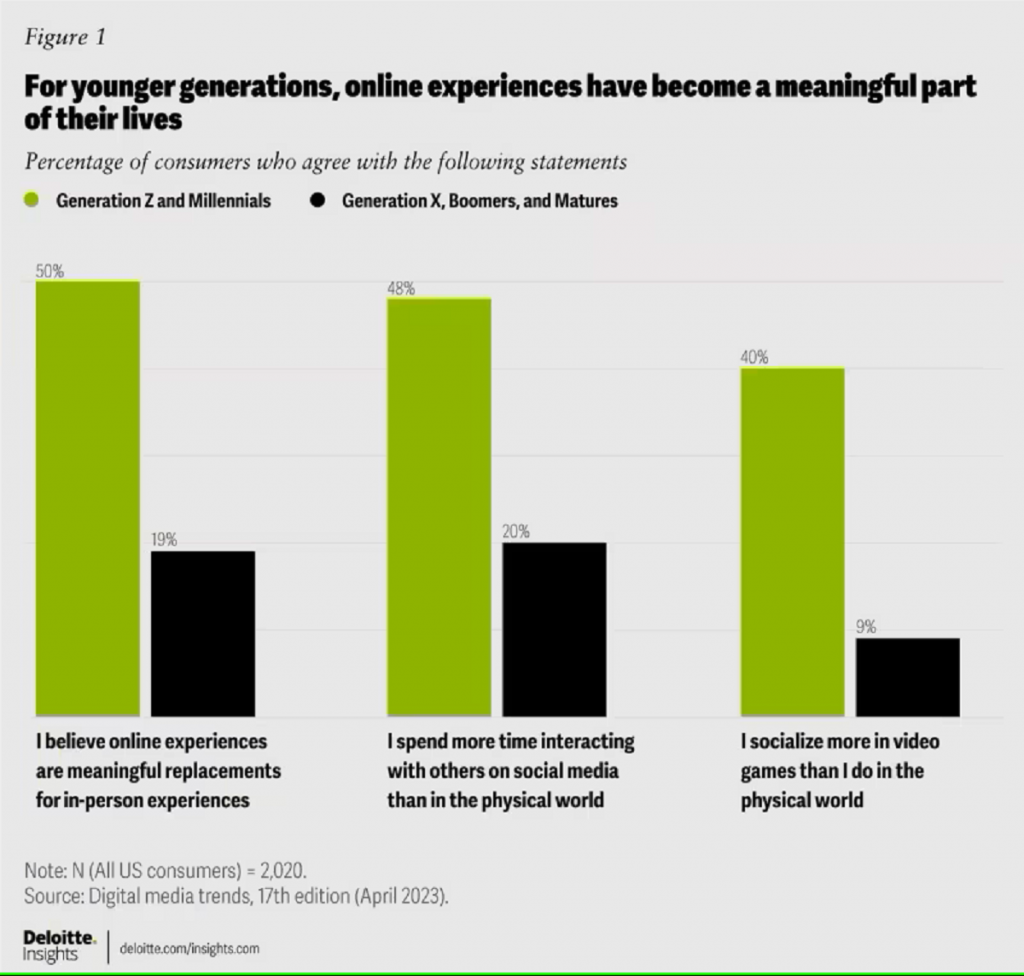 An interconnected digital media
While TV shows and movies have their unique immersive experiences and fan communities, they are now existing alongside – and even within – social media and gaming platforms.
According to Deloitte, different types of digital media are merging. More than half of the people surveyed – especially those in the Gen Z and Millennial age groups – watch TV shows or movies on streaming services after seeing them advertised on social media.
More than half of GenZ video game players choose to play a particular game after watching a specific TV show or movie. Approximately 45% of gamers said they would like to play games based on their favourite movies and TV shows.
Instead of being separate, streaming videos, social media, music and gaming are blending to form a more reliant and interconnected "tapestry". The notable aspect is that younger generations divide their digital entertainment time more evenly among TV shows, movies, video games, music and user-generated content, rather than favouring just one medium.
Instead of being separate, streaming videos, social media, music and gaming are blending to form a more reliant and interconnected "tapestry"
A divide in SVOD services
The survey results found that, "Watching TV shows or movies at home remains dominant for the Gen X-and-older set, but across generations there are mounting frustrations." Total subscriber decline for paid SVOD services over a six-month period is 44% according to Deloitte's report. For Gen Z and Millennial consumers, those numbers jump to 57% and 62%, respectively.
The report shows that people in the US are finding it frustrating to keep track of content across different subscription services, and losing content when they cancel or when the rights expire. But now, economic pressures are making the situation worse.
Almost half of the people (47%) have changed their entertainment subscriptions due to economic difficulties. This can mean cancelling a subscription to save money, switching to a free version of a service with ads, or bundling services.
About 60% of households in the US use a free streaming video service with ads, and around 40% of them watch a more ad-supported streaming video than they did a year ago, whether they pay for it or not. Deloitte predicts that by the end of 2023, most people in developed countries are expected to have a video service subscription with ads.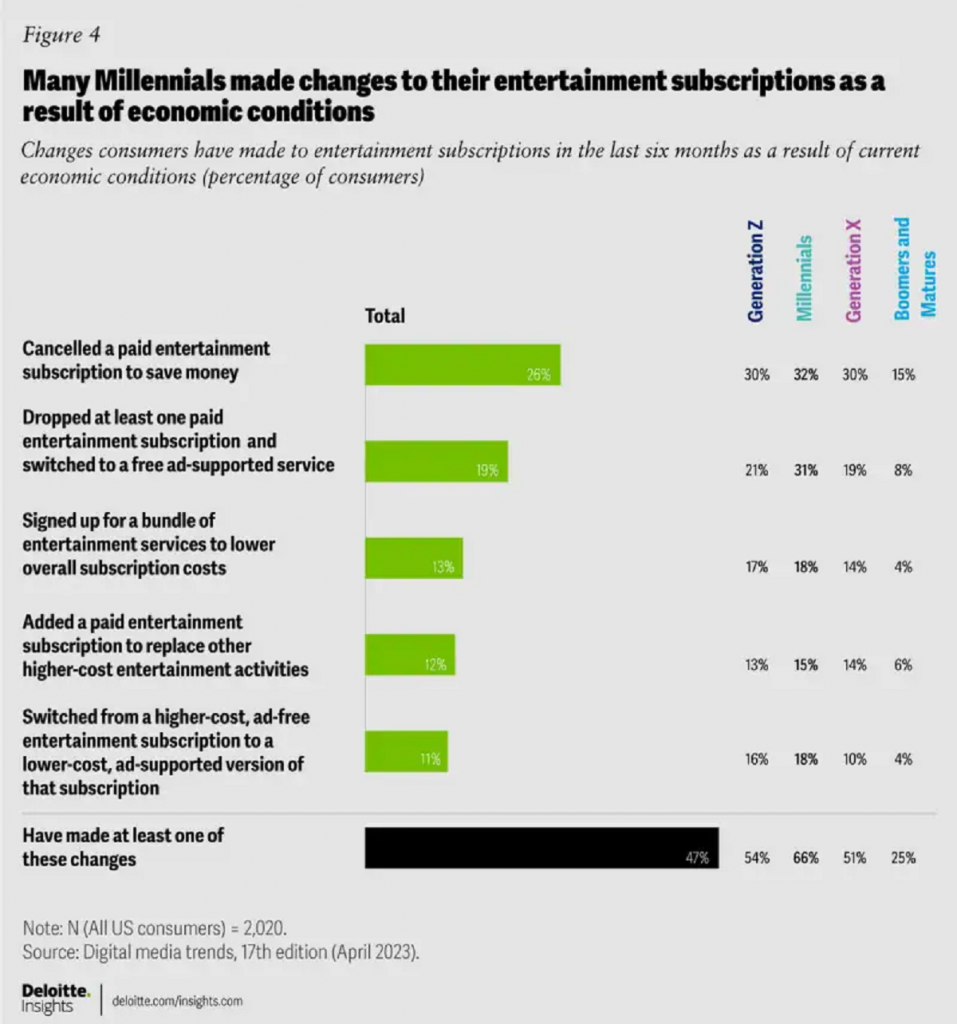 In-person experience vs digital experience
According to Deloitte, younger generations like Gen Zs and Millennials are spending their time on various digital entertainment experiences like TV shows, movies, video games, music and user-generated content. They find these experiences meaningful and valuable substitutes for physical encounters. This is different from before when TV shows and movies were more popular across all age groups.
The report shows that 32% of people surveyed in the US believe that online experiences can replace in-person experiences. However, for Gen Zs and Millennials, this percentage is higher at 50%.
Deloitte reports that younger generations such as Gen Zs and Millennials crave more immersion, which is why they spend time playing video games and watching user-generated content. In fact, 48% of these generations spend more time interacting with others on social media than in the physical world, while 40% socialise more through video games than in the physical world.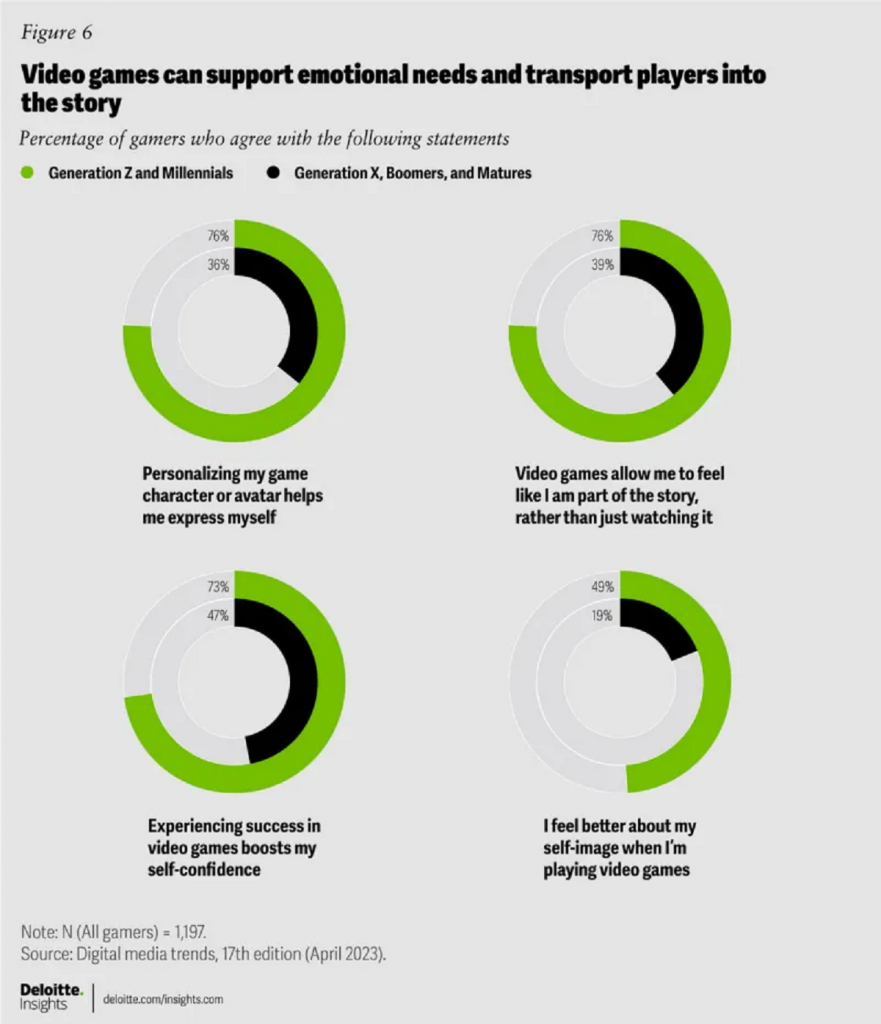 Gaming as a new form of value
According to Deloitte, "It's not that SVOD experiences are in decline and social, user-generated videos are taking over. But watching TV shows and movies at home may not be the dominant, 'go-to' activity it once was – especially for younger generations."
As people have more options for digital entertainment, they are dividing their time more evenly based on what they find valuable. Digital media is not only for entertainment, but also offers utility and emotional support, as well as fostering a sense of community for many people.
"Most gamers, for example, say that succeeding in a video game boosts their self-confidence. About a third of gamers say they feel better about their self-image when they're playing video games, and many gamers agree that video games allow them to feel like they are part of the story rather than just watching it."
These gamers are willing to spend money on virtual enhancements and upgrades that help them succeed and personalise their in-game appearances. This will further enhance their experience while playing as the hero of their own adventures.
Deloitte's report shows that people who play games occasionally are more likely to be females and older individuals. They tend to play puzzle games that are designed for single players.
On the other hand, people who play games more frequently tend to use consoles, computers and smartphones to play games. Made up of younger males, this set of people prefers sports and racing games, competitive multiplayer games and games with engaging stories.
You can view the full report on Deloitte's website.