"Our vision is that a new form of storytelling is enabled with AI," explains CEO Guy Gadney when we sit down at GDC in San Francisco to discuss Charisma's adaptation of The Kraken Wakes. Thanks to the likes of ChatGPT, AI is currently the hottest topic in tech. But Charisma, which Gadney co-founded with Annette Parry and Ben Salili-James, has been exploring the space since 2015.
At the heart of the Oxford-based company's philosophy is the desire to give writers new tools that "place the player inside a story." As well as platforms for writing interactive stories and publishing digital comics, plus the Steppenwolf interactive experience with Warner Bros/DC and plenty more, Charisma recently launched Project Electric Sheep and today (March 29th) takes The Kraken Wakes to the London Games Festival.
"We're incredibly excited that The Kraken Wakes has been selected by the London Games Festival as Best Of British," Gadney tells us. Showcased this week is an immersive adaptation of John Wyndham's classic tale, with characters powered by AI so that you can interrogate them, learn from them, and shape the story as you play. "This has been a mammoth effort by the team, not only to do one of the hardest creative things you can do, which is adapt a novel, but also pioneer a new form of storytelling at the same time. And that storytelling is both narrative and visual and animated and soundscape. There are so many components which came together on this."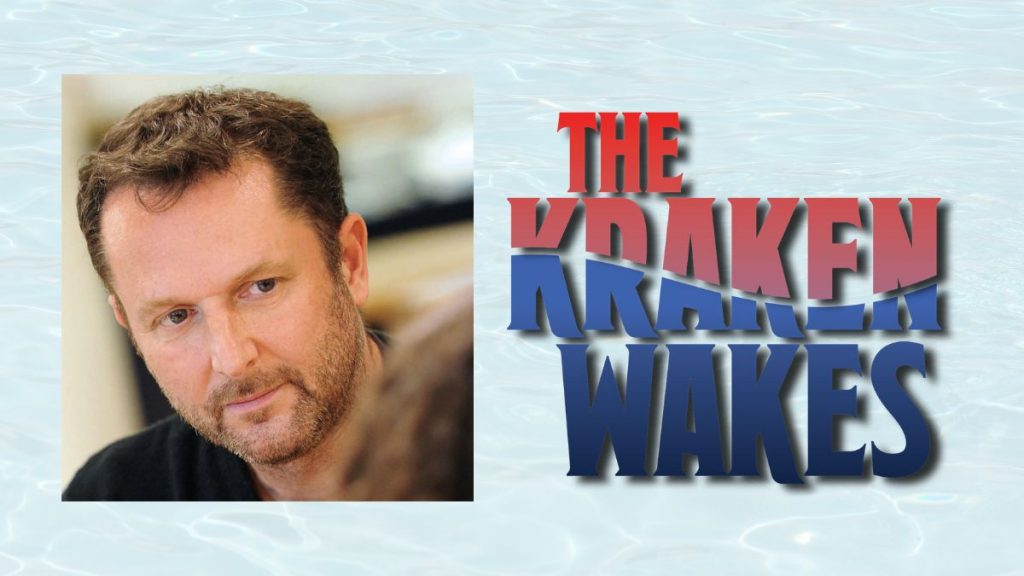 First published in 1953, The Kraken Wakes is a novel by John Wyndham, the celebrated science fiction author perhaps best known for The Day of the Triffids and The Midwich Cuckoos. The story is structured as a book within a book, as radio reporters (and married couple) Phyllis and Mike Watson chronicle events that unfold as creatures rise from the ocean to attack humanity. As well as following the catastrophic circumstances, they also witness attempts by the authorities to cover up or control the situation.
Charisma's PC adaptation, currently available on Steam, invites you to use natural language to interact with characters to shape the story, devise headlines, give press conferences, and negotiate with governments to uncover the truth. The game uses an AI-powered conversation engine, so characters have personalities, opinions, and emotions that respond to the player's actions.
In this interview, Guy Gadney tells us about the possible impact of AI, its role as a tool for games writers, and what we can expect from both Project Electric Sheep and The Kraken Wakes…
What are the principles that guide your work with AI?
With AI – specifically natural language processing – players can now talk to characters in natural language. Those characters can talk back in natural language. That then influences the emotions of the characters, their motivations, and ultimately the story in the game itself.
We believe this is a natural next step and a perfect marriage. Fundamentally, we also want Charisma to be a platform that makes it very easy for writers to create these sorts of experiences without having technical knowledge. They can focus on the story.
What makes The Kraken Wakes a perfect story for this interactive experience? And how did you come to be working on this adaptation?
I loved John Wyndham when I was growing up. I love organic sci-fi. Wyndham's sci-fi is about plants and the oceans, and psychology. It's not "tech". In some ways, that makes it timeless, and the themes are very much about the human condition, as is a lot of sci-fi.
I got in touch with the Wyndham estate. We were talking about a couple of titles. But what I loved about Kraken specifically is the female lead. I was looking for a title where the characters are very strong, and the interrelationship between the characters is strong.
The book was written originally in 1952. There were two versions. So, funnily enough, it did have multiple endings from the day it was published – one for the US market and one for the UK market!
For me, it was about the characters and then what happens to those characters. The leader Phyllis, and her story, were what attracted me. But the evolution of this production has been very fateful, actually. When we started thinking about this, Barack Obama was President of the United States; David Attenborough had yet to do his episode saying that climate change existed, so controversially; migration hadn't really hit the headlines around Europe in the way that it has.
Over the course of our work on this, those themes have come to the fore. In The Kraken Wakes, there's a militaristic American government. The ice caps melt – spoiler alert – and the ocean levels rise. There are huge migration issues. And these themes suddenly became prominent as we were writing it.
That led to one of the key decisions creatively that we had with the title, which was when to set it. Do we put it in 1952 or put it in the present day?
There was a recent radio adaptation that Val McDermid did of The Kraken Wakes, which was updated, set in Scotland, and had Nicola Sturgeon doing a cameo.
We felt that setting all of these in the modern day could feel tokenistic, and we were just playing to current themes. I think it's a lot more powerful to stay true to the book and set it in the 1950s, with the underlying message that these issues have been going on for decades.
What's the player's experience of the game?
You are cast as a new journalist, working for the 'EBC', a British institution in The Kraken Wakes. The first thing your slightly bossy editor gives you is an overseas mission to interview a fisherman in the Indonesian Sea who's been catching crazy-large fish. And while you are there, you witness fireballs arriving – that is how the story kicks off.
You find yourself right at the heart of this event, reporting on it. When you get back to London, it's up to you to write those stories, to communicate. And you find yourself in the middle of a firestorm as other people are interested in the story. We put you, for example, in the middle of a press conference. You're behind a desk. You've got journalists in front of you, all firing questions at you. And those are questions which are formed out of what you have done in the game so far. And you should feel a little bit under pressure, as one would. Everything in the game is managed by Charisma.
How does the AI work? Are you using something similar to ChatGPT?
AI is a really broad umbrella. It's a catch-all term. Charisma is a platform that has existed since before GPT. We are very strong on the fact that we built our own dataset. That is important both in terms of the ethics that sit behind it and the specificity for entertainment, as distinct from call centres, Q&A, chatbots and all of that.
That is the core of what we are as a platform. The natural language processing is the ability to understand natural language, to pick up sentiment. And I often describe Charisma as a listening engine as much as anything else. It's our ability to listen to, and understand, what the players are saying that then allows the responses to be contextual.
Context is an obsession to me because you have to say the right thing at the right time. You can't blow a story by saying something out of context. You can't reveal the Darth Vader twist in the Star Wars saga too early – or, indeed, too late. It's critical that it happens at the right time.
We've always seen Charisma as having that as a focus. We have been experimenting with generative AI since before GPT2 in a number of different projects. And GPT4 is threaded in Charisma. But it's threaded in a way that makes sense to games writers. For me, and for many writers who use it in Charisma, it's 'improv'. It's an improv mode. And you can't improv an entire game. You can't improv a movie. You can't improv a story because, at some point, the improv will finish, which is why improv theatre is quite short-form.
But to improv at certain moments around certain things, using generative AI, is very impactful. So you use it as a paintbrush.
We're very familiar with the conversation options in roleplaying games. Does natural language AI mean the death of the traditional dialogue tree in games?
You traditionally have those 'Who Wants to Be a Millionaire' four options! That, to me, has never been an attractive option, and I've never enjoyed that. It's been a problem because I don't want my character to say one of those things, I want to try something else, and I can't, so I'm frustrated.
That was also one of the limitations of Netflix's Bandersnatch. There was a room with four doors at one point, but I was only allowed to go through one. Well, I don't want to go through that one! If the door's locked, there must be a reason why it's locked. Otherwise, don't have it.
What we absolutely want is conversation. And the sense that you are in a real-life conversation. I don't know any real-life conversations that just have four options.
How do you ensure that the game unfolds in an enjoyable way for the player, if there's so much possible variation?
I think the whole point of Charisma is to stop things from going off-vision. An increasing number of companies are doing storytelling built solely on OpenAI and GPT text. I just don't buy that model. I think it's OK for a very short-term interaction. You can have a quick chat with a famous person. But, really, that's the beginning and the end. There's hardly any medium I can think of – ever – where that is an interesting or sustainable thing to do. For us, again, it's about weaving in the technology in an appropriate way for storytellers.
Please tell us about the Charisma platform and how it can be used by anyone making games.
Charisma is a two-sided coin. The first side is that it makes it very easy for writers to write dialogue and story – critically, their story.
We ran four writers' rooms as we were developing the title, with the BBC, with Story Futures in Bristol and Bath, with a very diverse group of writers from AAA games writers, through to poets, though to theatre writers. We discussed how to design according to that workflow. It's an easy-to-use writing tool, and fun.
The second side is that it powers that engine. It's an engine in its own right. So that means as the writer is writing the script, unlike Word or Final Draft, you see your results happening in real-time.
If I see a chance and say, "Good morning, isn't it a lovely day?" that can be reflected in the engine in real-time. And by the way, it can be reflected in real-time after the game is launched as well. You're able to make changes to the narrative based on the analytics that we have! We've got natural language analytics. You can see what players are saying, and you can see whether they're going down certain pathways, and which stories are working, in the chart.
As a platform, we think of ourselves as this layer that sits in the middle of a developer's workflow that can be integrated into Unreal, into Unity, into the web or mobile. We've got all of those SDKs out there. From a gaming developer and producer perspective, it's about making NPCs better and making that production process much, much faster.
You also recently released a dream simulator. What was the thinking there, and how has it been received?
Project Electric Sheep is a '3D dream simulator' where you type in the dream you might have had, and, in essence, it creates a version of that dream in 3D. All the architecture, all the buildings, the characters, the dialogue, the weather system, the terrain, everything is generated in real-time.
For us, it's an art project. I gave a couple of presentations at GDC on generative AI in games and showcased that project. The consensus was: no one's taken it as far as we have. We've done something quite unique. It is meant to feel dreamlike, and it is meant to feel surreal. And I love that.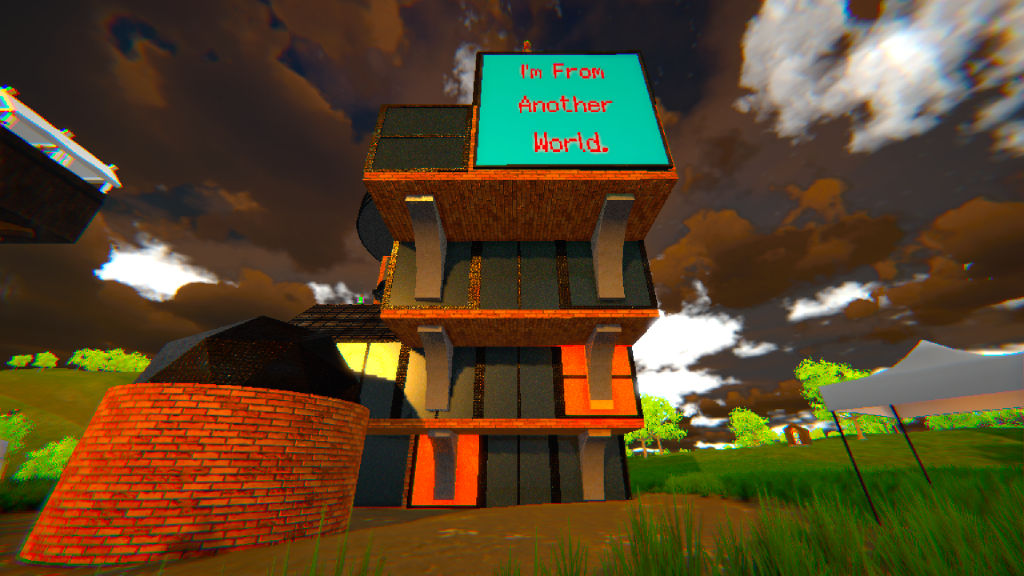 Technically what we're doing is combining generative AI (GPT, specifically) with a creative engine – a programmatic engine – that allows for tile assets to be created as buildings.
The reception's been great. I'm delighted with it. Like many of our projects, it'll be one of those things that people discover and think, "This is cool. This is new."
Electric Sheep and Kraken are two very different projects, but they both have a common area: if you were to think creatively about how to use AI, what can you do? That's the bit that our team loves thinking about.
Recently AI has been a hot topic at conferences like GDC and PG Connects. Have you observed that too?
Yes. I've been at both SXSW and GDC this month. If you look at the trends, whereas in the last couple of years, the hype has been around metaverses, NFTs, blockchain, and so forth, it's now AI. In some ways, those other technologies are quite singular trends. You know, the metaverse is a metaverse thing. But what we saw eight or nine years ago when we started looking at this was that the impact of AI is not singular. It's a tsunami of impact across every industry. I struggle to think of an industry that does not get impacted by AI.
The phase we're in at the moment is very hype-y. ChatGPT and GPT4 launched as SXSW and GDC were on. And so every social media post and every presentation starts with: "I typed 'x' into ChatGPT, and look what it said." That's a bit like saying, "I put my foot on the accelerator. Look, I went forward." There's a lot more to it!
I was talking to someone the other day and saying that if we fast-forward to 2030, I would say that where we are now, we're at about 5% of the impact of AI. Now, do we go to 100%? I don't know. But I think where we are now, we're just starting the journey.
People are worried about losing their jobs to AI, or the ethical concerns of the datasets companies use. What's your comment on that?
We are very strong about the value of creativity. At Charisma, we are creating an enabling tool for writers to do something that is not possible in another medium. That is exciting, and it is creative. Our starting point and our DNA have always been in storytelling.
It's not a technology that sees art as a problem to solve, which I DESPISE in capital letters! I think there are a number of companies that feel that by putting in a tag saying "Rembrandt", they feel that they've painted a Rembrandt, which is just clearly not true.
Our view is that AI will not steal your jobs, but people who know how to use AI might. It's a transitional technology. It is a significant technology. It is an incredibly positive technology. But like any new technology, there's a sense of fear around it, as there was around mobile phones for some people.
As regards the ethics of it, Charisma has won awards for responsible and ethical technology. We published a paper back in 2017 on unconscious bias in AI datasets. We tuned to that market very early on.
I have long held a concern about the usage of copyrighted artistic material in datasets. I think there needs to be a legal framework that counters that.
It's a complex issue. In some ways, this generative AI movement is a massive question mark over traditional copyright law. The arguments get heated around what should be allowed and what shouldn't.
One argument goes: if I read all of the books of a particular author, and therefore I'm inspired to write my own book influenced by that – do I pay that author a royalty?
Well, bang goes education!
But at the same time, the redistribution of wealth from the creative industries to the technology industries, and the technology industries using that creative industry for its own purposes, strikes me as morally incorrect.
What are you looking for next? What's your mission as you attend conferences and festivals?
We're looking for partners who can accelerate our growth. We're in an enviable position where we have proven technology and a great team, and we can partner up. Whether that's on a financial basis or a license basis for people to use Charisma or, indeed, as creative partnerships, this is an incredibly fast-moving and creative moment. If we can use Charisma to advance other companies, then that's what I'm here to do.
I used to always say that what motivated me was the last scene in the credits of The X-Files. Right at the end, there was a hand-drawn typewriter and a kid's voice saying, "I made this!" What's increasingly motivating me now is seeing other people's work in Charisma, and going, "They made that!"
It's a subtle distinction. Some stories have been created recently that I've seen on Charisma that I go "Wow!" in admiration about how they've done. Partnerships for us are important.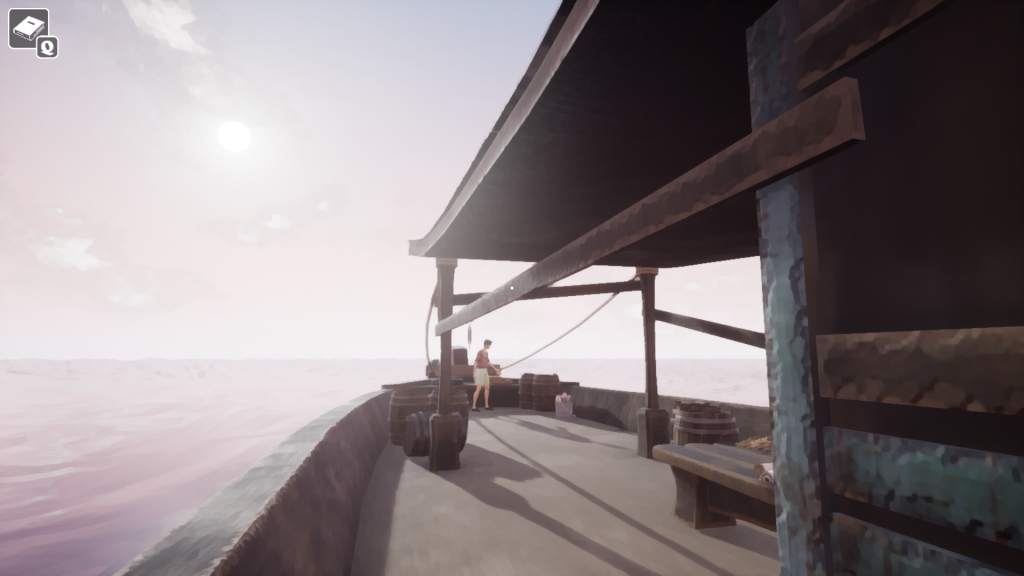 You can find out more about Charisma at its official website. Charisma's adaptation of The Kraken Wakes is available on Steam. London Games Festival runs from Wednesday, 29th March, to Saturday, 8th April. There will be more AI talks and panels at PG Connects in Seattle in May.