Popular social platform Discord will now use AI ChatGPT technology to alter its pre-existing Clyde bot, turning it into a chatbot service.
The company claims that 150 million users are choosing Discord as a social space, and AI will "enhance the overall experience." It also claims that Discord users have generated over 1 billion unique images through AI apps and 3 million Discord servers support some type of AI experience.
In addition, over 30 million Discord users are said to be experiencing AI apps on the platform every month. Discord shared that more than 10% of new users are joining specifically to access AI interest-based communities on the platform. This makes it a fitting time for Discord to announce its new AI-focused updates, which will roll out as free public experiments.
AI updates for Discord
First up is Discord's Clyde bot, which is being updated with OpenAI's ChatGPT technology, allowing users to have conversations with the bot. This service will begin next week and users can interact with the bot by typing '@Clyde' in a server where the bot is enabled. Users will then be able to chat with Clyde and have the bot start a thread or access GIFs and emojis.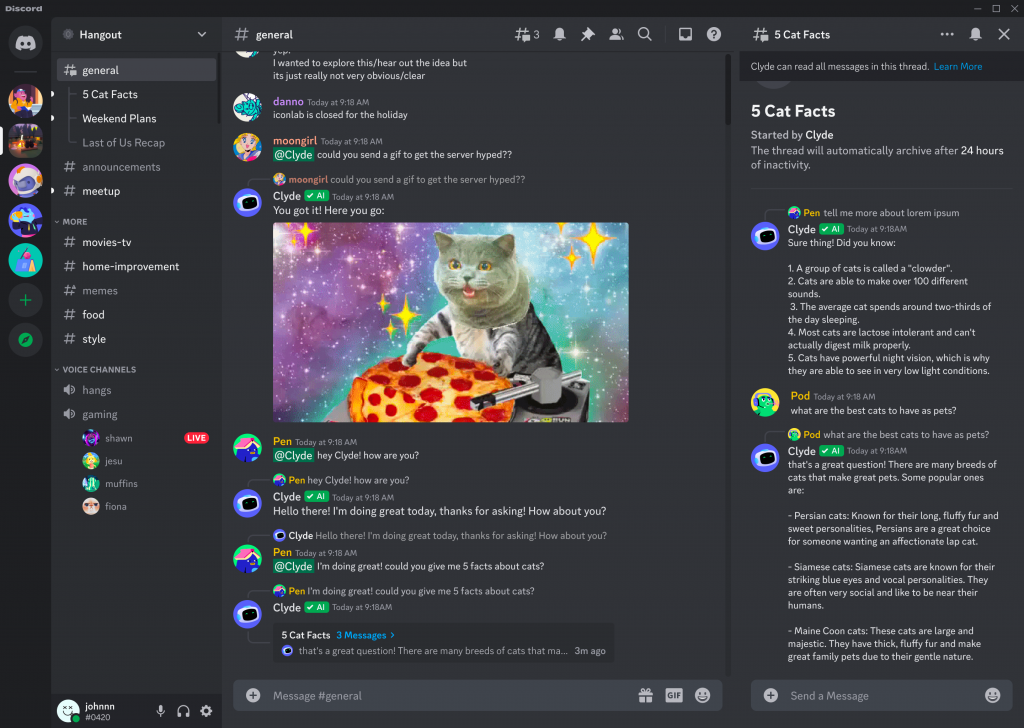 Users will also get access to AutoMod AI, where moderators taking part in the experiment can use the power of the AutoMod AI to find and alert the moderator when server rules may have been broken. Again using OpenAI technology, the AI moderators are intended to help monitor the context of Discord conversations. A recent survey showed that gamers found voice chat was the primary source of toxic behaviour in video games, with some stating they would like to see more significant moderation of chats. Tools such as AutoMod may be an avenue that more online gaming communities start looking towards.
The final update will be Conversation Summaries, an AI-powered summary that can bundle streams of messages into topics that users can use to quickly catch up on what is happening in a server. This is expected to launch next week. As Discord states, these systems will all be experimental and may not always work as intended. The testing phase will act as a way to learn and adapt before rolling the tools out to everyone.