The world-renowned Disney company is turning 100 this year and as part of the milestone, Walt Disney himself makes an appearance.
Pioneer of the animation industry Walt Disney passed away in 1966, so fans were surprised to see the entrepreneur appear for anniversary celebrations. The studio released a teaser video that featured a life-like projection of "an authentic re-creation of Walt Disney."
The projection will greet visitors to Disney 100: The Exhibition, an event created to celebrate 100 years of Disney. The show features special behind-the-scenes moments of how some of the company's most popular characters were created.
Walt Disney projection
In the teaser video, the iconic character of Mickey Mouse casts a spell that makes Walt Disney appear. The Disney founder appears wearing a grey suit and can be seen smiling, he then goes on to speak on how Disney is "developing ideas into reality" and how "curiosity keeps leading us down new paths." The projection then ends with Disney snapping his fingers and disappearing.
The company used a combination of archived footage, audio and artificial intelligence to create the projection. Disney shared that "Tapping the vast resources of the Walt Disney Archives, two separate audio recordings of Walt were assembled, creating his vocal script. The Disney Archives also provided footage of 1960s-era Walt to DisneyResearch Studios, who used their super-resolution A.I. upscaled to convert the archival footage to high definition."
Internet users expressed their opinions, with some stating that it was amazing to see Walt Disney in the 100-year celebration. However, others noted that the projection was slightly off as Disney seemed "out of character." Others didn't like the projection at all and found it to be too life-like, making them uncomfortable.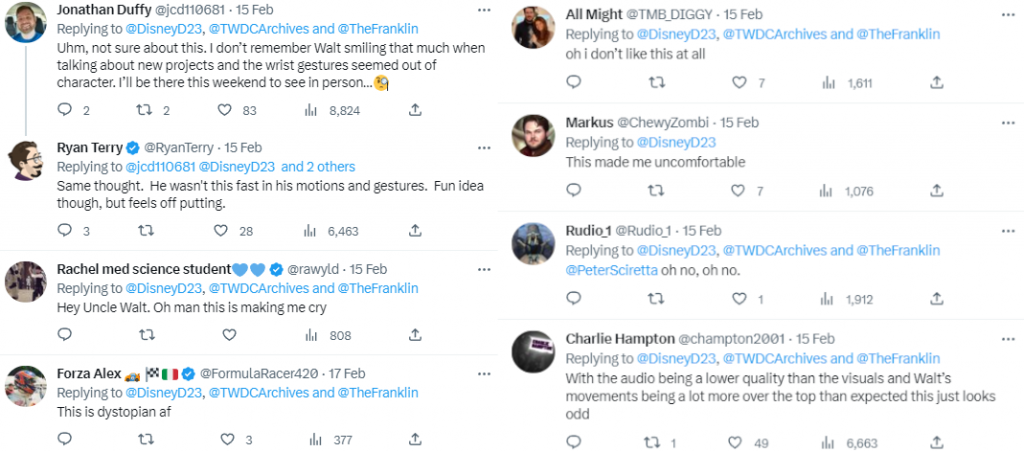 Holographic performances
In recent years we have seen holograms of other celebrities who have passed away. We have seen various instances of these hologram performances, such as Tupac and Michael Jackson. There is a divide in opinion regarding this technology as some find it a homage to the individual and others find it a morally grey area. We recently saw technology allowing individuals to relive old memories through virtual and augmented reality.