The Centre Pompidou, home to the National Museum of Modern Art, has acquired a series of NFTs from international digital artists.
The Centre Pompidou is an architectural marvel designed in the 20th century by Renzo Piano. The NFT pieces will join France's national collection of modern and contemporary art, showcasing the way art has merged with blockchain technology to form the creation of non-fungible tokens.
The exhibition will feature NFTs from the likes of CryptoPunks and Autoglyphs projects. CryptoPunk #110 and Autoglyph #25 were donated to the Centre Pompidou and will appear alongside 16 other NFT artworks in the museum.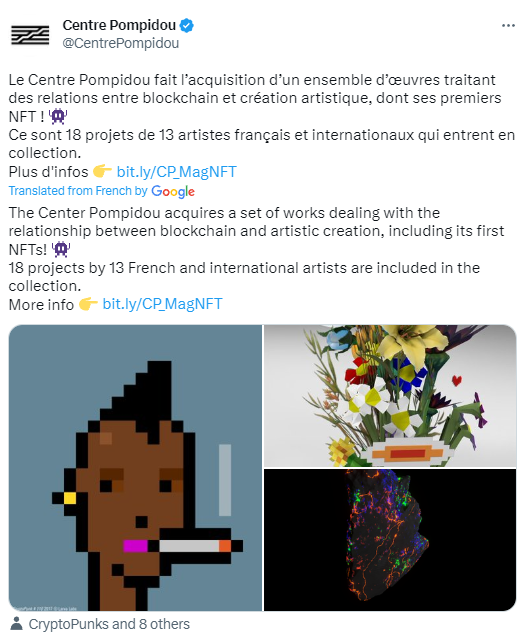 NFT exhibition
The exhibition is scheduled for this spring and will mark the first time the renowned Centre Pompidou has allowed NFTs into its collection. The building itself is a marvel with a unique design intended to be fully accessible and open to the general public. It is currently the largest modern art museum in Europe.
Yuga Labs co-founder Greg Solano stated that "Seeing CryptoPunk #110 displayed in the Centre Pompidou, arguably the world's most prestigious contemporary art museum, is a great moment for the Web 3 and NFT ecosystem, and we're honoured to help drive this cultural conversation."
The donation from Yuga Labs expands on the Punks Legacy project, which aims to bring CryptoPunks to prominent museums around the world. Recently Yuga has fallen into some hot water with its Bored Ape Kennel Club logo raising intellectual property rights controversy.
Director of the National Museum of Modern Art, Xavier Rey commented on the exhibition saying, "Web3 is an innovative territory that artists have now seized upon to create original and daring work, and this collection reaffirms our support for artists in their conquest of new means of expression, which is the foundation of modern art."