Industry analyst Gartner has identified 25 key emerging technologies to watch as part of its latest report, Hype Cycle for Emerging Technologies 2022.
The report identifies key insights from over 2,000 technologies and applied frameworks that Gartner profiles each year into a succinct set of trends. These technologies and trends have the potential to deliver a high degree of competitive advantage over the next two to 10 years.
As Gartner says, 'These companies are enabling the evolution and expansion of immersive experiences, optimising technologist delivery and accelerating artificial intelligence (AI) automation'.
Three Themes of Emerging Technology Trends
The report specifies three main trends within emerging technology:
1) Evolving and Expanding Immersive Experiences: The metaverse, non-fungible tokens (NFTs), super apps and Web3, decentralized identity, digital humans, digital twin of the customer and internal talent marketplaces.
2) Accelerated AI Automation: Autonomic systems, causal AI, foundation models, generative design AI and machine learning code generation.
3) Optimized Technologist Delivery: Augmented FinOps, cloud data ecosystems, cloud sustainability, computational storage, cybersecurity mesh architecture, data observability, dynamic risk governance, and industry cloud platforms amongst others.
Top 25 key emerging technologies
With the tech arranged along a graph of the hype cycle, we note that the metaverse and digital humans – the two entries that are of most interest to us here at BeyondGames.biz – are both listed as not reaching their plateaus for more than 10 years.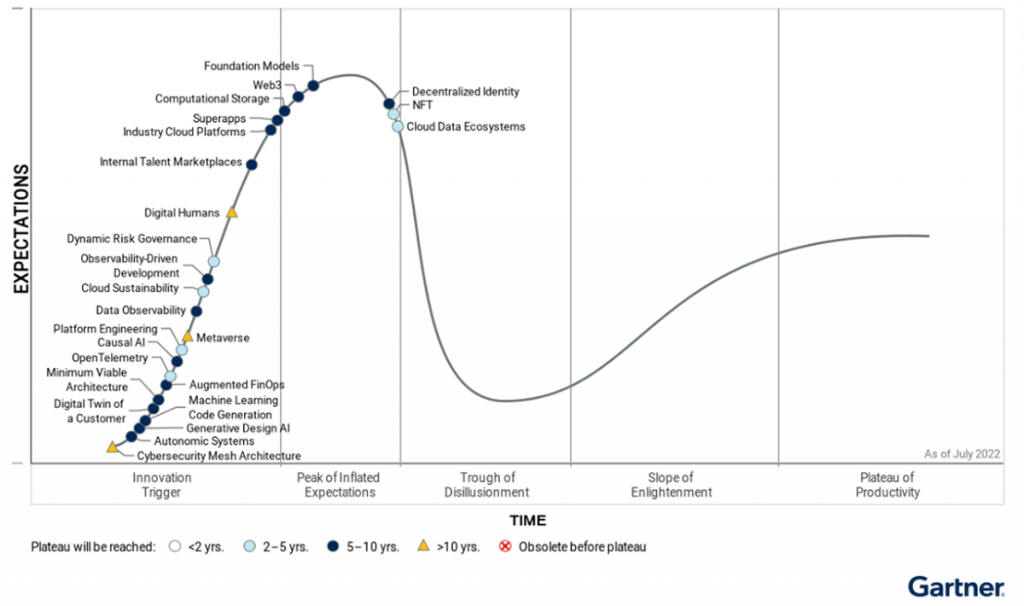 The 25 key emerging technologies as identified by Gartner in the Hype Cycle for Emerging Technologies, 2022 are (in alphabetical order):
Augmented FinOps
Autonomic systems
Causal AI
Cloud data ecosystems
Cloud sustainability
Computational storage
Cybersecurity mesh architecture
Data observability
Decentralised identity
Digital humans
Digital twin of a customer
Dynamic risk governance
Foundation models
Generative design AI
Industry cloud platforms
Internal talent marketplaces.
Machine learning code generation
Metaverse
Minimum viable architecture
NFT
Observability driven development
OpenTelemetry
Platform engineering
Superapps
Web3
Greater risk with greater benefits
Gary Olliffe, VP analyst at Gartner commented, "All technologies on this Hype Cycle are at an early stage, but some are nascent and great uncertainty exists about how they will evolve. Such technologies present greater risks for deployment, but potentially greater benefits for early adopters who can assess and exploit them in line with their organisation's ability to handle unproven technologies."
Gartner clients can read more by logging in to the website.
Lead image by Rob Martin on Unsplash.