Just in time for the UK roll-out of Meta's Horizon Worlds social VR platform on Quest headsets (and coming to a desktop soon), Meta have introduced a feature – so far unique to the UK – aimed to promote peace and harmony in the new World.
UK users (and we assume the R.O.T.W soon after) are being treated to a new selective 'mute' button that magically, and comically renders bad actors' words harmless. The feature is present for UK users of Horizon Worlds right now.
(As a UK-based website we're not sure why the UK is getting the special treatment… Are the UK's residents notoriously argumentative and bothersome and are Meta envisioning that it's all going to – as we say – 'kick off'? Anyway…)
First find 'Voice Mode'…
The new feature is hidden – confusingly – under a 'Voice Mode' setting and it's basically a hi-tech version of your parent's advice that 'the best way to deal with bullies is to ignore them'. Engage 'Voice Mode' and select 'Garble Voices' and strangers words are not muted, but rendered into "unintelligible friendly sounds" akin to the Simlish used in social gaming pre-cursor, The Sims.
Meta say: "Today, we're announcing a new setting known as Voice Mode that will give people more control over their Horizon Worlds experience. When this feature begins rolling out in the next few weeks, it will allow you to choose how you hear people who aren't on your friends list, including the option to not hear unwanted conversations at all. By default, you'll hear all nearby users at the same volume, but with Voice Mode, you can easily switch to Garbled Voices, in which non-friends' voices come across as unintelligible, friendly sounds."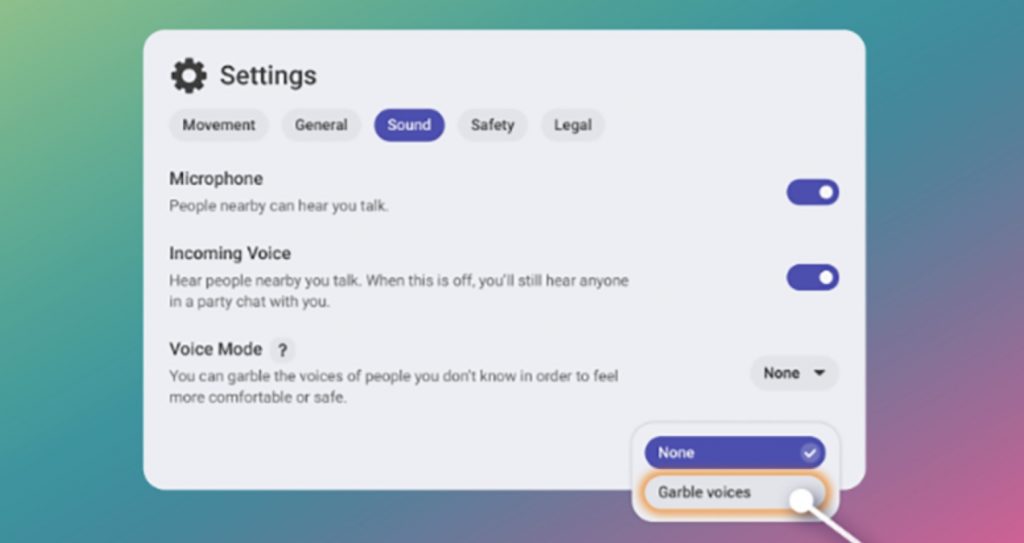 And should you decide to engage with an unknown party you can raise your hand to your ear to disable the feature temporarily without having to add them as a friend, while a new 'ear with a line through it' flag as part of your online tag when you have the feature switched on, visually lets potential bullies know that they'd be wasting their time.
Clever stuff, but given that this is – ingeniously – not a simple mute button (or anything to do with the 'Voice Mode' of the user who engages it) perhaps a better name for would have been 'Arsehole Converter' or 'Pest Transform'?
It's a high-tech solution to a low-tech problem. Surely the real goal is to prevent, discourage or flat-out ban bad actors rather than simply providing a disguise for whatever they want to spew? That said, we do envision that it will successfully prevent the lion's share of unfortunate situations that right-thinking Horizon World's occupants have so far had to endure.
Cautionary tales from the past
It's obviously here to help smooth the platform's sensitive first few weeks of life under new media scrutiny and follows a feature introduced in March which prevented other occupants from coming within four feet of your virtual presence. After [cough] the obvious happened…
We approve, Meta… Now, imagine being able to instantly flip what anyone is saying into "unintelligable friendly sounds" instead of that familiar day-in-day-out tirade. Nagging parents or spouses… Overbearing and demanding bosses… Petulant online children of all varieties and ages… Virtual reality is sounding more appealing every minute.
Pass me the headset.