While Horizon and its hit sequel Forbidden West are no slouches in the gameplay and game design fronts, it's perhaps the game's remarkable, original looks and art concepts that have given the game such a unique personality.
Set in a seemingly prehistoric, post-apocalyptic world, the remaining tribes on Earth eke out a basic and savage existence all the while waging war with the robotic wildlife that filled the void when the humans moved out.
At GDC Lead Concept Artist Roland IJzermans took us behind the scenes on the game's creation and its distinctive look and feel, beginning by posing the question "What if San Francisco had been flooded 5000 years ago?…"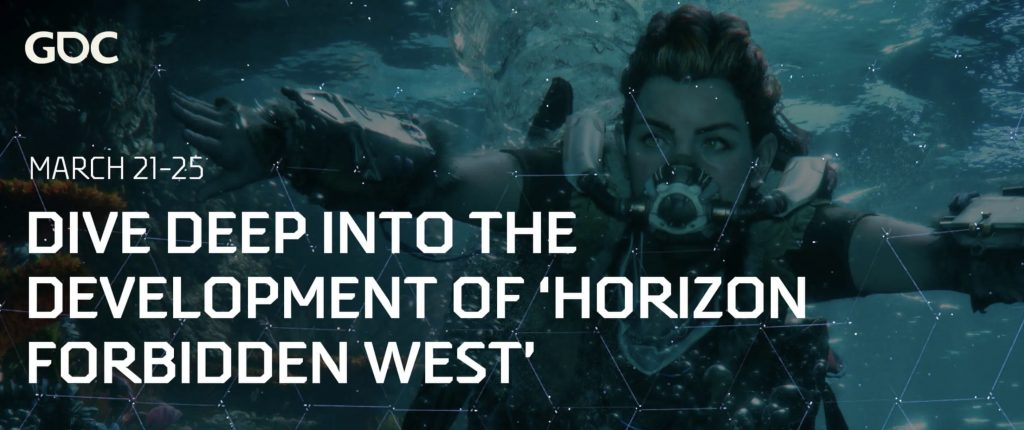 The end of the world as we know it
IJzewrmans continues. "What would happen if it kept rising? San Francisco would turn into a group of islands… The buildings would have collapsed, creating pillars of vertical jungle. And where the waves hit, would be reduced to skeletons."
It's easy to see via the wealth of concept art that IJzermans has on hand the origins of the gameworld which, while at first appearing completely natural, have the ruins of 21st century cityscapes at their core.
"Corals would grow on the buildings and they would start to look like underwater caves," he continues. "Rounding the corners and blurring the lines. The Palace of Fine Arts would still be standing due to the use of rock… But The Ferry building's metal interiors would collapse. All these buildings would collapse, and form the new shoreline of San Francisco. Covering the busy streets with a pearly layer of fine white sands."
It's all particularly poignant as IJzermans speaks to us at the Games Developers Conference in San Francisco… Inside one of the concrete and metal buildings who's destruction he's describing.
Horizon's tribes in depth
"Horizon set a stage for two of the settlements in the world of Horizon: Forbidden West," he explains. "This is a post-apocalyptic world where nature has reclaimed the land. For centuries uninhabited by humans, who have returned without the knowledge of their past. Life is made difficult through the presence of robotic machines. All extremely violent against humans."
In order to give us as much detail, IJzermans focuses on just two of the world's stunning creations and ways of life.
"Let's look at Utaru with its capital, Plainsong. The machines are extremely dangerous wildlife, but for Utaru we wanted to try something different. Rather than hunt them, the society grows dependent on them," he explains.
Man and machine in perfect harmony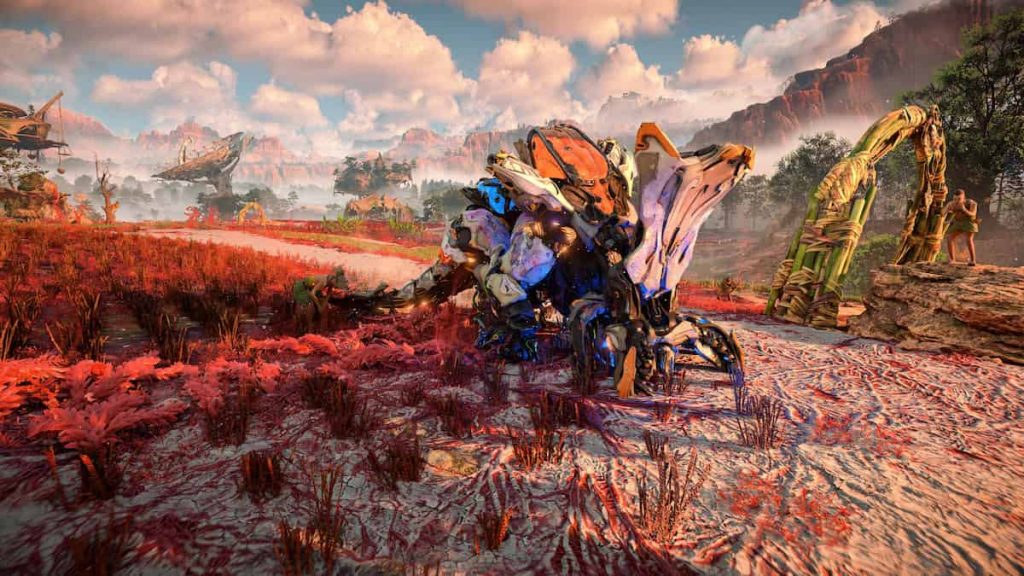 "The Ploughhorn animal plants seeds and grows edible crops. Over time this has created an ideal location for the Utaru to settle in. Bamboo is a natural resource and great natural construction material and using bamboo we explored base shapes as a basis to layer on top the external parts of the hut…"
IJzermans shows us real-world photography and concept art that show the level of research undertaken by he and his team, studying weaving techniques from around the world and implementing the same textures and looks into the game.
"Imagine the Ikebana baskets of Japan but applied on a larger scale to an entire hut… Long curved lines make it feel grown rather than constructed. These are giant baskets for people to live in that are grown rather than constructed." He dials through real world images and in-game likenesses.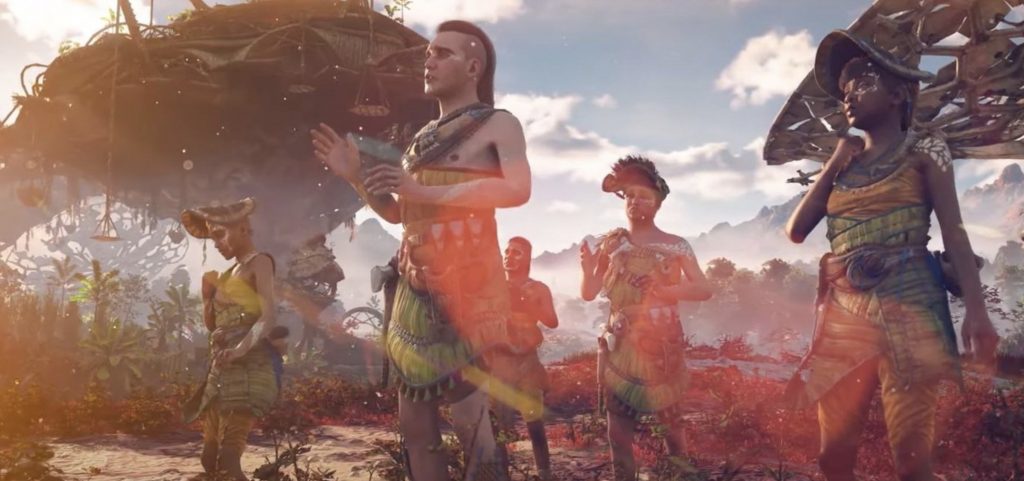 "Each is unique and distinctive in its own way and all are unique to the Utaru." He shows us a brilliantly lit nighttime scene. "The texture allows for light to play at night through the holes in the weave." We take a step back from the close-up to reveal the location of the Utaru settlement.
"These were placed in the location of an old satellite array," he explains. "With each providing the society with a unique purpose, from storing food… to homes and places to live… With pathways linking the different dishes. All designed to look grown rather than constructed."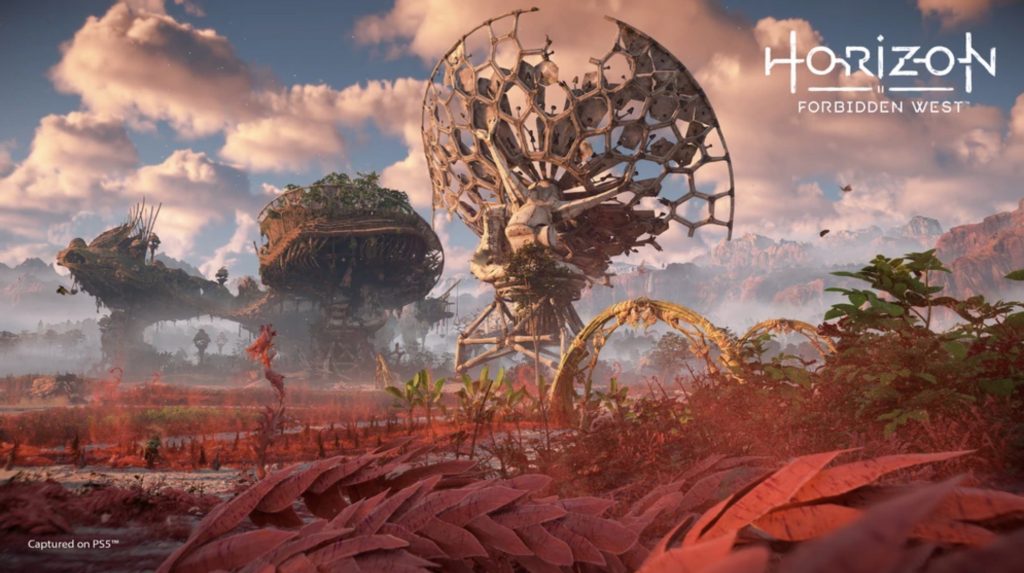 And the use of real-world, natural substances to create other-worldly alternative takes on the future didn't just end with the Utaru settlements. "Using the same bamboo characteristics they created their props and lights and weapons and tools from the fields, all with bamboo woven onto the handles," he goes on.
"We created hats and sandals using the same technique… Bamboo is good for hard things, but it's hard for wardrobe and clothing that is comfortable to wear, so they made togas from leaves and cables from the machines." IJzermans speaks as if the Utaru are entirely real and their world, and the decisions they make within it are entirely obvious and natural. "They wear clothes that wrap around the body which means avoiding parallel lines and symmetry. With the ploughhorn seeds as a motif." He draws our attention to an ornate broach on the front of an outfit, holding the layered wrapping together.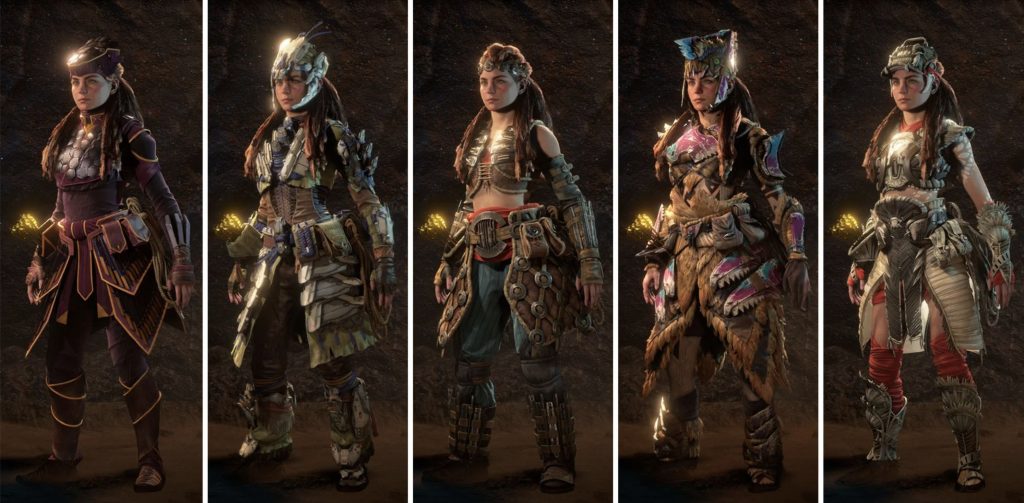 Time to take a look at the second of today's subjects.
From Plainsong to Scalding Spear
We travel to Scalding Spear, a Desert Tenakth settlement located at the southern edge of the tribe's territory, the Clan Lands. "The Desert Tenakth live in a world without any resources," IJzermans begins. "They have a more combative lifestyle, fighting settlements as well as the robots and they have their origins in the ruins that they discovered."
"Their settlement is built around a military memorial to those that had fought the machines and it became an influence on the Tenakth…" He shows us concept art of holographic projections of famous future soldiers and their futuristic armour and weapons… "But the data projection had become corrupt…" Now the projections appear distorted with straight lines bent at sharp angles and sleek outlines becoming pointed and exaggerated. "How could we shape these patterns and play with colour distortion, pulling at the different angles?" he asks.
"As if looking through a distorted piece of glass…"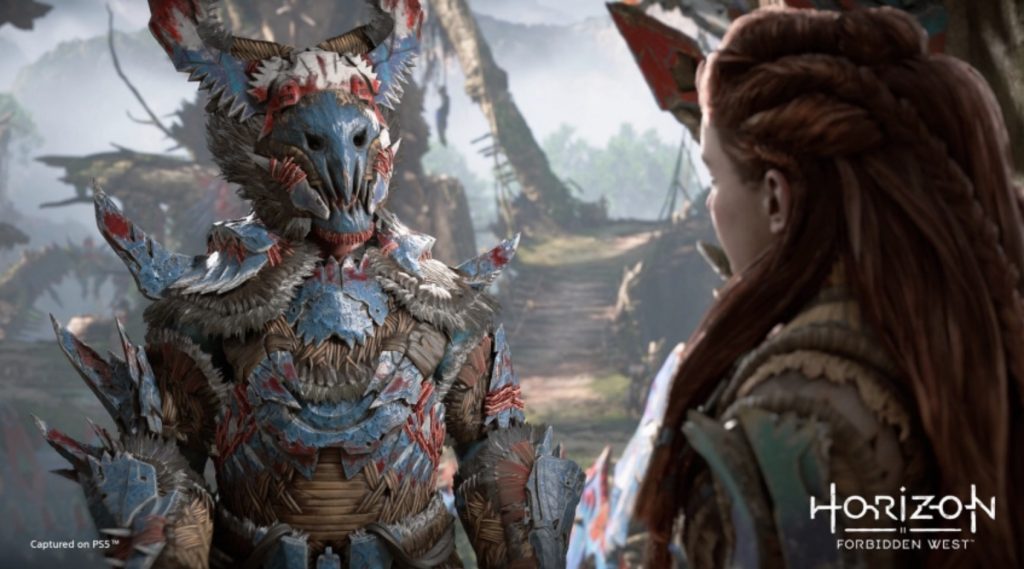 He shows us experiments digitally distorting the original artwork to form extreme alternative digital-inspired shapes and new textures.
"From here we took our colour palette and created a pattern style for each of the Tenakth tribes – Desert, Jungle and Mountain – each inspired by a military figure that they had seen in the museum… There's an amazing level of thought and detail required by a modern triple A game," he reminds us.
"These people are fierce warriors rather than architects and as they are in the desert there's not a lot of inherent architecture that you can lean into… So we thought this solar power plant would suit them." He shows us a wide-shot of concept art: A ruined desert solar power array with concentric circles of mirrors all aimed towards a tall tower in the centre. "The solar panels act as shields and the central tower means that they can see the world around them."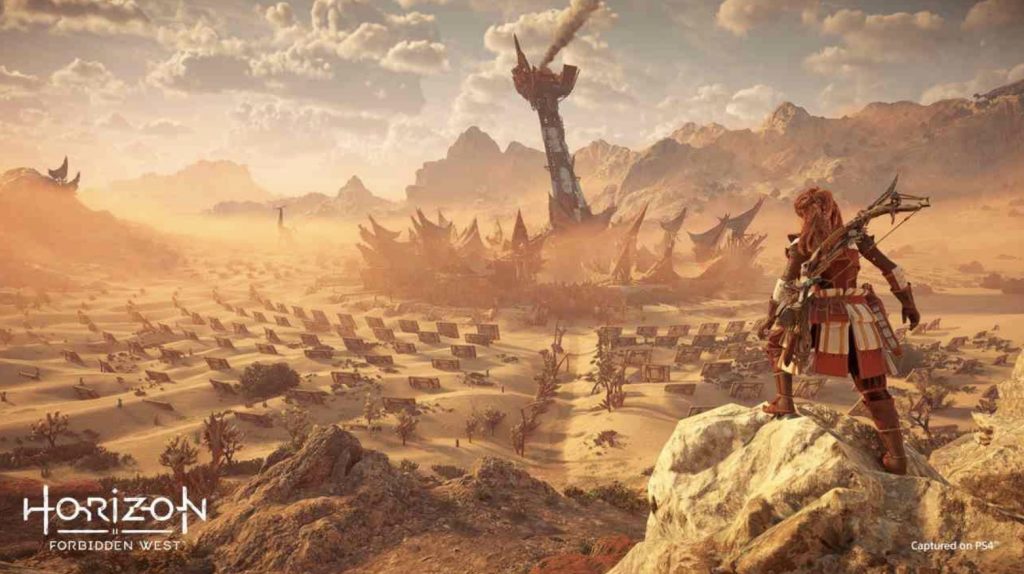 "They're not great builders, so throwing together a bunch of beams then tying together at each intersection gives us a similar look to those in the holograms." He shows us the crude tent-like structures of the Tenakth, all with similar bright colours to their attire and arranged as buildings around the central solar tower.
"The buildings are as aggressive as the holograms," he observes. "It looks like an explosion frozen in time… But isn't this all a bit of a reach? A culture doing all this? But this happens in our world as well…" IJzermans explains…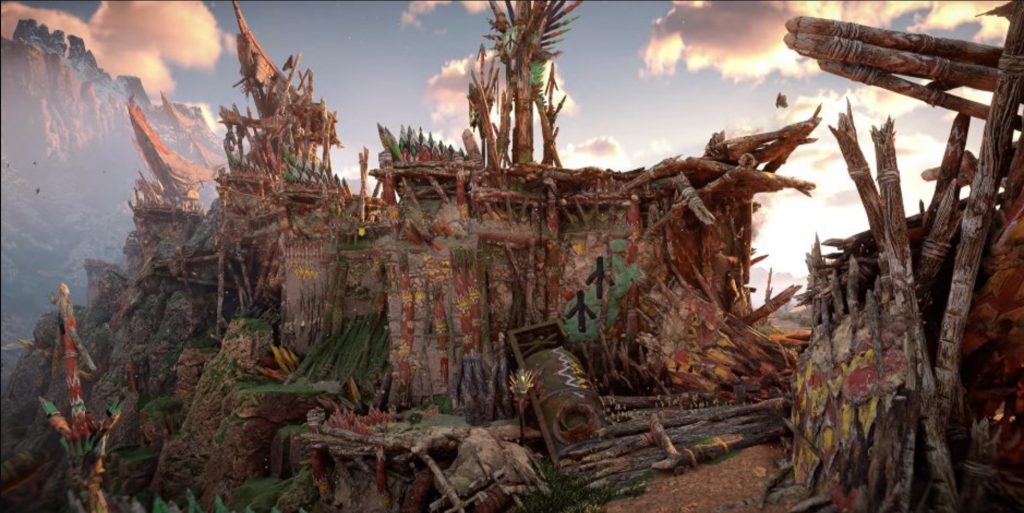 "We interpret all roman sculptures to be white… Like even the White House." He shows us familiar Roman sculptures and buildings. "But maybe it had more colour if we'd found it earlier?… Maybe they were more colourful?" We see the same statues… But this time painted brightly to look much more lifelike… It's certainly an interesting concept.
Time for a little Q&A…
How do you know when you've reached a point that the tribe is as detailed as you need?
"Once you start moulding these things you need that amount of detail to show in the models in the game. You design it… And they say they need more detail… When they say they've got enough then we know we've done our job."
What was the hardest thing in crossing generations of platforms?
"We designed everything on a maximum level of detail so we already answered any question at a microscopic level. We didn't make it any harder for our team."
Does everything get a concept?
"We don't concept art the complete world. Instead we create style guides for each of the tribes. We try to include as much information in the style guide – to inform anyone working on them. So there's a level of trust moving forwards for those working further down the pipeline."
How much does game design lead into gameplay?
"That happened early on this time. We took lessons from Zero Dawn. Some of the larger cities had less activities. We wanted to create spaces for certain types of gameplay."
If you're interested in seeing (and playing in amongst) state of the art game design we highly recommend entering the world of Horizon: Forbidden West on PS4 and PS5.