World-famous beer legends, Heineken, have introduced the first beer for the metaverse. Heineken Silver, the virtual beer, was presented at the product's launch event within Heineken's digital brewery. During the virtual event, guests could learn about the virtual beer-making process while their avatars dined on digital caviar and lobster. Hey, if it's not real then why not have the best?
According to a press release, the beer company is bringing its brewing expertise to the metaverse "one pixel at a time."
"Heineken® has always been passionate about natural ingredients, but in the metaverse, it's all about the finest, 100% computer-generated ingredients." Says Heineken. The company explains that it is substituting its special A-yeast with "A-pixels."
"Forget hops harvested in fields, virtual Heineken® Silver is brewed with Binary Coded Hops grown by NPC (non-player character) farmers," states Heineken, "And of course, the whole virtual brewing process is overseen by Heineken's dedicated Virtual Brewing Assistants, digitized stand-ins for our Star Brewers."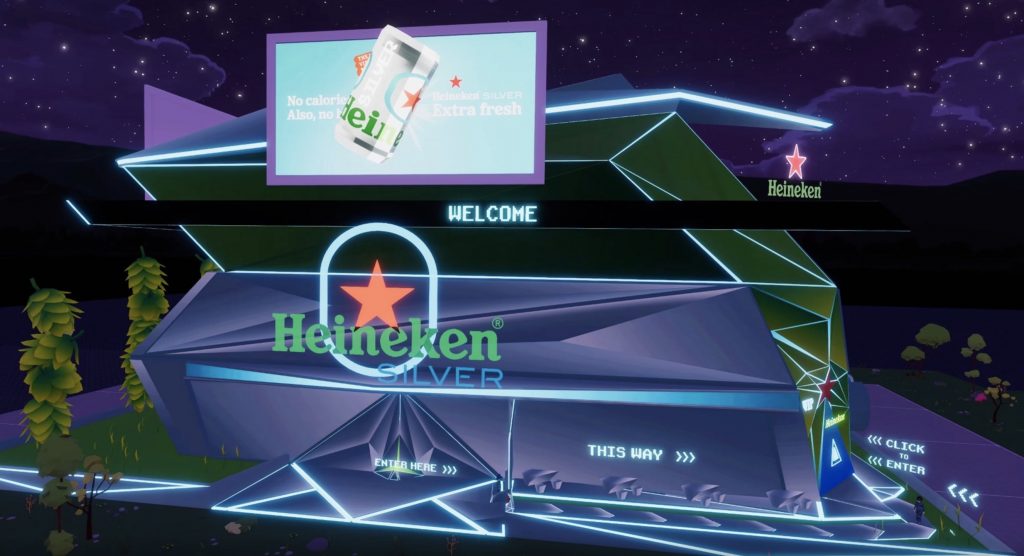 A Decentraland Exclusive
There's obviously a touch of tongue-in-cheek at play here as Heineken simultaneously embrace the future while poking just a little fun at it too. That said the offering is very much for real. Decentraland users can visit the company's virtual brewery to experience the virtual beverage. The popular metaverse also features a virtual architecture and design service through Roar.
Self-taught street artist J Demsky helped to design Heineken's virtual brewery.
"As a long-time lover of Heineken®, I was excited to be involved with this fun and unique launch that brings the brand, and virtual Heineken® Silver, to life in a really unique way." says Demsky, "To be able to give people a way to artistically understand what a virtual drink could taste like, especially when you combine all the pixels and technology together, fits perfectly with who I am and the art I like to create – so I hope people love my interpretation of what virtual Heineken® Silver could be like if it had a flavor."
Virtual beer… Real advertising
Heineken is fully aware that the metaverse is not the best market for drinks. Global Head of Heineken Brand, Bram Westenbrink, states that while the metaverse brings people together in a fun and immerse way, "it's just not the best place to taste a new beer." Westenbrink explains that Heineken Silver is an ironic joke that makes fun of brands that are forging into the metaverse when their products are better suited to the physical world.
Whether other food and beverage producers will see this as a launching point to enter the metaverse is unclear.
"For now, you can't taste pixels and bytes," he says (the beer boasts 'No calories, no hidden ingredients, no beer…') "So, we want to make a joke about that and remind everyone that nothing beats the taste of a refreshing beer, including our new virtual Heineken® Silver, in the real world," adds Westenbrink.