You join us for the final quarter of our look back at 2021. If that's intentional, or you relish reliving a year non-sequentially, stick around. Alternatively, you're free to catch up on Part 1 (Jan-Mar), Part 2 (Apr-Jun), and Part 3 (Jul-Sep).
October – ThumbHorse
Everyone's mum gave a little wink to all the silly kids, as Mumlord and Master Mark Zuckerberg pulled a rib from Facebook and placed it in Meta. Silly kids everywhere watched The Social Network and know that Justin Timberlake's character was right all along.
London joined the metaverse with a sweet AR experience, launched as a "mini-metaverse" located at London Wall Place.
Journalists scrambled to ask what-is-the-metaverse and we all died a little when William Gibson reminded us about what actually happened at the end of Neuromancer.
People in this brave new metaverse society realised they can become overnight millionaires by tracing the shape of a horse around their thumb, adding some neon/Tron colours, and calling their masterpiece "ThumbHorse" before flogging said horse on Sotheby's new metaverse. Famous video enthusiast Paris Hilton and really great DJ Steve 'no turntables required' Aoki produced "works" for NFT that feature the types of nightmares you experience trying to drive out of the Donington Download Festival car park. Burning Man it is not.
The Wall Street Journal actually mentions Ready Player One in its description of the metaverse. And we can all relax.
My little project over at IEEE became a world standard for NFTs (and on Ada Lovelace Day too!).
Admix got us all excited with a $25 million Series B round to scale up its "In-Play" solution featuring ad-models for the metaverse. Its plan to dominate this space is super interesting as Bidstack, Adverty, Anzu and Frameplay offer similar models across various verticals.
Chipotle went digital, or more accurately, attempted to go metaversal with its Halloween Boorito campaign in Roblox. A spooky digital maze full of exclusive brand offers awaited gamers and fans alike.
The what-is-the-metaverse big life question found its answer: Meta. Everyone who has worked, tirelessly, in the metaverse for the last few years to make it a place that belongs to everybody, basically gives up and goes home; because old people, my mum, and your aunt, start telling the BBC that Facebook is the metaverse.
Nike filed over half a dozen trademarks that revealed plans of making and selling virtual footwear and apparel for use online and in online virtual worlds.
November – This Too Shall Pass
Metaverse advocate, Louis Vuitton Creative Director architect and Off-White founder Virgil Abloh, passed away at the age of just 41 years. His visions of the metaverse were just getting started: "Funny thing is, the real world is just the part-time metaverse… this long trajectory of physical-and-digital things not just fashion, co-exist is my space." After we wiped each other's tears, we promised one another that this doesn't spell the end for fashion in the metaverse, and that this is just the beginning of something really beautiful.
Someone somewhere was still wondering what-is-the-metaverse, as they searched interminably for articles that were still being written and published by way of explanation as late into the metaverse as we are. We all took a collective sigh knowing full well that this 2021 OK boomer moment will pass.
It will, won't it?
Social media, games and entertainment giant Tencent Holdings brought China back into the metaverse spotlight, suggesting that Beijing may allow 'metaverse' virtual environment services to operate in China, provided they meet the criteria and follow the rules for what, you know, is supposed to be an open/decentralised metaverse. Tencent acknowledged both the potential and motivation for game industry opportunities, but suggested China's metaverse will be markedly different to the, er, metaverse. What is the metaverse? Does anyone know? I'll have a look on Google. There must be one or two articles about it.
The world's newest sovereign nation, Barbados, made a bid to have the first embassy in the metaverse which is weird because Second Life was full of embassies, wasn't it? And, er, yeah, the first country to inaugurate in Second Life was the Maldives on May 22, 2007. Oh, Barbados meant the first embassy to happen in this iteration of the metaverse? Not Second Life. Okay, then.
The British Fashion Council gave its first publicity – I mean, award for design – in the metaverse. To publicise – I mean, celebrate – this momentous occasion where a bunch of thought-leaders and visionaries of the metaverse (including supermodel and entrepreneur Karlie Kloss, Highsnobiety Editorial Director Christopher Morency, Dazed Fashion Features Director Emma Davidson, and W Magazine Editor-in-Chief Sara Moonves) got together and awarded cSapphire, it even created an immersive experience (we would hope so) on Roblox.
Who are the three biggest entertainment, social, and games providers that you can think of and what would happen if they clubbed together to do something awesome? Wonder no more because that's exactly what happened when Avakin Life teamed up with ITV and TikTok (no less) to create Emmy award-winning The Voice in the metaverse. Using Avakin Life's immersive digital world (it actually is) and supported by TikTok, as well as the TV show itself, we no longer have to dream it, we can be it!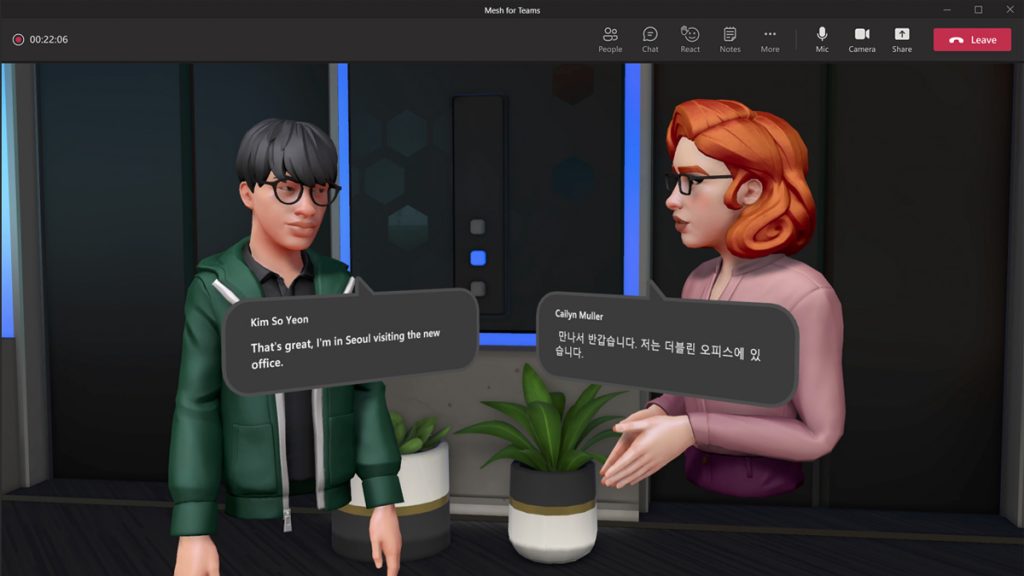 December – What Is The Metaverse?
Adidas entered the metaverse with a range of NFTs and did some kind of Yorkshire Tea-style off the cuff remark on Twitter. The Liam Lynch in me said whatever.
It was all about the real estate and no sooner did a million Century21 realtors use Unreal Engine to power their 360s than the metaverse ups the ante and says, "Our land both does exist and doesn't." In a huge land grab (is that right?) $104.87 million changed hands for land at the start of the month. Let's face it, Matrix kid, there is no spoon unless Keanu Reeves says there's one. Which reminds me, there was also a new Matrix trailer out. Not an ounce of Cyberpunk 2077 in sight.
Tinder made a big pitch to move into the, erm, Tinderverse. Swiping left or right is now going to cause a world more hurt because you'll probably be doing this avatar à avatar: think TimeOut classifieds meets Lawnmower Man but now with added RuneScape weddings. Cue a million sad song playlists on Spotify. It's not me, it's you.
Forbes made an argument for a different type of metaverse where finally, as previously predicted by me and a bunch of other metaversians, it exists inside AND outside of physical and digital realms. Yeah, we've been calling it phygital for well over a year or more but you can call it wearable, healthtech, medtech, femtech, device-driven even interoperable if you like – just build it that way, please? So that everyone can participate and really find out what the metaverse is by living it. That would be nice. Thanks.
SoftBank Group Corp announced a $150 million investment in Zepeto, citing "young female users" as the big driver in selling high-fashion items for 3D avatars. Game developers all clutched their NFT pearls and remembered that games have been avoiding doing this for years, because guns and skins make more money, right? WRONG.
Even though the Royal London Hospital has been using Microsoft HoloLens since at least 2018, it's only towards the end of 2021 that we see MedTech going super mainstream in the metaverse with medical devices and digital twins of environments to test and train the future of surgery. Microsoft Mesh's big launch means a Microsoft metaverse might focus on that sweet spot between entertainment, education, and emergent tech. Just waiting in line for my medical tricorder treatment please, Dr Crusher.
We end the year where we started: what-is-the-metaverse? The same publications peddle the same old definitions of Snow Crash, Neuromancer and bloody Ready Player One. Time to pull our collective heads out of our technological proverbials and stop defining it – can we please just get on with it?
Bring on 2022.