In a live event that was also streamed globally today, UK media corp Sky has unveiled new entertainment hardware, Sky Glass. Group CEO Dana Strong pitched the intention to provide, "An easier, more connected life at the heart of our living rooms".
At its heart is a trio of TVs in 43″, 55″ and 65″ sizes and five colours, that don't require a separate set top box (STB) to operate and – an even bigger shift for Sky, no satellite dish. All content is streamed via WiFi.
The Quantum Dot 4K Ultra HD screens feature HDR10 and Dolby Vision, as well as 360° Dolby Atmos sound with access to streaming services that include Netflix and Disney+. You could use the included remote control, or operate the set via voice control.
Smart TVs are not exactly new, but this streaming TV is apparently, "All about content and how people consume it". Building on the firm's 30 years' experience in delivering entertainment content to consumers, Sky is obviously hoping for an Apple iPod/iTunes style synergy of hardware and content.
The pricing model will be familiar to existing Sky customers, with no option to buy the Glass outright. Monthly payment options start at £13 for the small set, but that's somewhat disingenuous as you'll also need a Sky viewing package, starting at £26. So it's really £39.
Despite extolling the virtues of simplifying access to content with no need to plug anything into the Glass, its functionality can be extended to other screens in the household using the Sky Stream Puck for another £10 per month.
The glass TVs will be available in the UK from Oct 18th, with more territories to follow in 2022.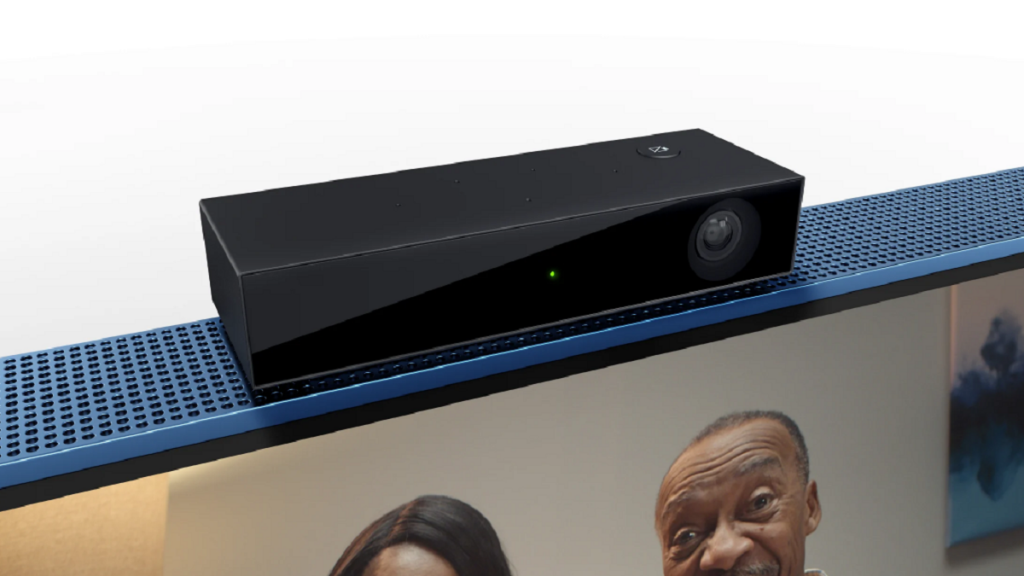 Zoom will be in your living room too!
Frasier Stirling, group chief product officer, gave us a preview of an additional product that will join the line-up next year. The imaginatively named Sky Glass Camera is, well, a camera that will enable users to chat online using brands such as Zoom.
Working with Microsoft, the 4K camera offers video chat integrated onscreen with the broadcast or playback for a group picture-in-picture watchalong, so you can see everyone's reactions in real-time.
Body tracking adds full movement and gesture control, for exercise workouts and playing games. And what cutting-edge game did Sky choose to showcase the tech? Fruit Ninja. Not exactly the 'cutting edge' we were hoping for… At least there's the option for local or remote multiplayer.
Bravo, Microsoft! Yes, they finally found a way to offload all those unsold Xbox One/Windows Kinects. Just flip it upside down so the camera's on the other end and no one will notice…
At the top of the show, Dana Strong invited us to, "Step into the future of entertainment". Welcome to 2014, we replied.