Core Data:
Vision: Entirely lifelike surrogate bodies
Type: Popular culture – Film
As Seen In: Surrogates
Envisioned: 2009
Visionaries: Jonathan Mostow (director), Robert Venditti and Brett Weldele (comic book creators)
Target Date: Undefined (though it's clearly near future)
Overview:
Sometimes the science in science fiction doesn't have to be particularly accurate to shine a light on the modern world. Surrogates – a 2009 movie based on Robert Venditti and Brett Weldele's Top Shelf comic book series – envisions a world where almost everyone is connected to an android body. People send these surrogates (or surries) go out into the real world to live their lives for them, reducing actual human contact to almost zero.
While these surrogate units are an impossibility with contemporary technology, the movie does ask pertinent questions about how we use devices to interact with other people. There are also unintended parallels with Covid-19 lockdowns, where many of us had to adapt to living our working and social lives via machines.
So look past the bored-looking Bruce Willis and the by-the-numbers thriller plot about a top-secret weapon that can kill users while they're connected to their robot proxies. There's plenty else in the movie to provide technological food for thought.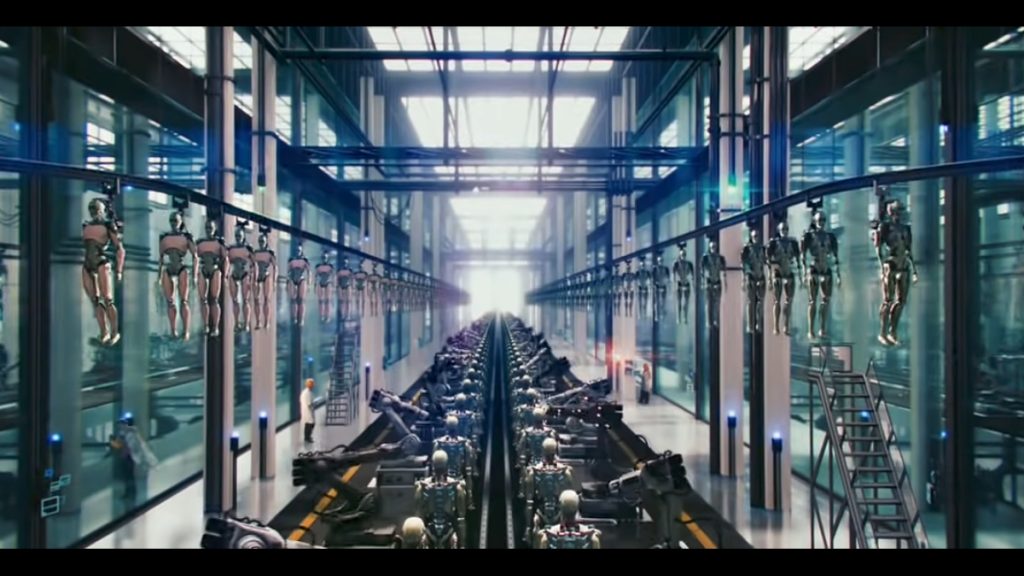 Key Tenets:
Hardware: Users connect to the surrogate technology via a bespoke headset containing wraparound eye screens and neural connectors. A reclining, mechanically operated chair is also part of the immersive interface.
Users can hook themselves up to surrogate bodies (also known as "surries") which can look and move like a human – albeit with enhanced strength and physical dexterity.
The appearance of a surrogate is entirely up to the consumer. They can purchase factory-standard models, or go with bespoke face moulds. Many users choose to base their surrogate's look on a younger, fitter, more attractive versions of themselves, but it's also possible to be someone else entirely.
Not all surrogates are equally lifelike. The surrogate used by FBI agent Tom Greer has a plasticky quality – though that may be a consequence of 12-year-old CG technology's efforts to de-age a 50-something Bruce Willis.
By law, every surrogate is registered to a single human user.
Surrogates connect to a charging unit when not in use.
Safety protocols in the surrogates' operating system prevent any accidents that befall the surrogate harming the user.
Experience: The surrogate tech came into being 14 years before the events of the movie, with a prototype that allowed a monkey to operate a mechanical arm via a neural connection.
100 sensors in the interface connect to different regions of the brain.
The first practical application of the technology was creating fully synthetic bodies for people with physical disabilities. It was then used by the military and industry, before expanding out into the general population.
Surrogates soon took the place of humans in everyday life, with users spending their time in their homes while sending their surries into the real world to work and run errands.
By the time of the movie, the US Supreme Court has voted 5-4 to allow surrogates in everyday life.
Users embrace the opportunity to have the "perfect" face and body without having to go to the gym or get plastic surgery.
Because people never leave their homes, crime rates and disease have fallen to record lows. Racism and sexism are reportedly also in decline.
Users can get 'high' by 'jacking' – an activity that involves pushing a special electrical device against their surrogate's skin.
Despite safety protocols, surrogate units are susceptible so-called OD (Overload Device) weapons. Although these were designed to render a surrogate unit inoperable, they have the unfortunate side-effect of killing the user as well.
Humans stepping out into the real world without a surrogate body often suffer from intense anxiety.
A small minority of the population resists the use of surrogates, opting instead to live in machine-free 'Dread Reservations'.
Company: The surrogate technology was pioneered by Dr Lionel Carter, who subsequently became disillusioned with the way surrogates had taken the place of actual human interaction.
Carter is also the former boss of the market leading manufacturer Virtual Self Industries (VSI).
Economics: Surrogate models are available in high-street stores at a variety of price points.
On simpler, cheaper surrogate units, the sensory experience is limited to audio and vision. More sophisticated models incorporate other senses as well.
The exact pricing is unclear, but the fact that over 98% of the world's population uses a surrogate in their everyday lives suggests they're relatively affordable.
There are also subsidiary businesses based around maintaining/upgrading the appearance of surrogates.
IP: When it comes to surrogates, the intellectual property is real life.
State of Play (November 2021)
Hardware: There have been numerous projects to create a convincing android (human-like robot). Notable examples include Osaka University's Actroid, KITECH's EveR-1 and Dr William Barry's Maria Bot.
Osaka University's Hiroshi Ishiguro and his "Geminoid" (an android copy of himself) make a brief appearance in Surrogates, while Maria Bot has participated in a TED Talk.
Experimental androids have a range of capabilities, including facial movements and responses to human behaviour.
Locomotion on two legs is particularly challenging to replicate in a machine – human brains do a lot of clever work to keep us upright.
As a result, the creation of android bodies as convincing as those seen in Surrogates is still some years away.
Internet connectivity is improving all the time – particularly with high-speed 5G becoming more and more widespread – but it's unlikely we'd have enough bandwidth to support a world full of surrogates. Assuming 98% of the population is connected to a surrogate unit, there'd be more than 7.5 billion people, each exchanging significant amounts of data back-and-forth.
Personal androids may remain in the realms of science fiction, but our lives are becoming more and more automated – driverless cars are already in use in Chandler, Arizona.
Experience: Humans are very good at recognising and responding to other humans. As a result, androids always run the risk of slipping into the 'uncanny valley' – a close approximation of a human that's very slightly inaccurate can be disconcerting for a user.
That said, android science suggests that people respond better socially to a machine with human characteristics than they would to something more mechanical in appearance.
Covid-19 lockdowns taught many workers that it's possible to carry out their business from home – albeit via a computer monitor, rather than an android proxy.
It's also possible to lead an active social life online, without ever meeting anyone in person.
The real-world interpretation of remote working is rather different to what we see in Surrogates. In the movie, we see a surrogate unit working through a filing cabinet full of paper documents, which is utterly impractical. The FBI would get much better returns from uploading the documents to a computer system and sharing via the internet/the cloud.
Lockdowns showed that reduced human contact can indeed reduce the spread of disease.
Most of the users in Surrogates appear in remarkably good physical condition, considering that they rarely leave their homes. Where are they getting their physical exercise and vitamin D? If surrogates were introduced in the real world, obesity would be an even bigger challenge for health services than it is now.
Surrogates suggests that racism, sexism and bullying decrease after the introduction of android bodies. Going on how people behave on social media under the cover of anonymity, this seems incredibly unlikely.
Economics: It seems extremely unlikely that 98% of the population would be able to afford such a sophisticated piece of technology – unless they were supplied by governments.
From what we see in the movie, people don't tend to look after their surrogates particularly well, so presumably there would also have to be an extensive repair budget.
Reality check: Utterly impractical but there are some parallels with real life
There are so many technological, practical and economic barriers to creating convincing android avatars that the surrogates are currently the stuff of fantasy. But as an analogy for the ways we use tech to interact with the world – and each other – Surrogates is often bang on the money. Indeed, replace the surrogate units with laptop computers and smartphones, and the world presented in the movie isn't that dissimilar from our own.
Further reference: