Core Data:
Vision: Future technology
Type: Popular culture – movie
As Seen In: Minority Report (based on The Minority Report by Philip K Dick)
Envisioned: 2002
Visionaries: Steven Spielberg, Philip K Dick
Target Date: 2054
Overview:
When Steven Spielberg teamed up with Tom Cruise to adapt a novella by the author whose writing inspired Blade Runner and Total Recall, people were bound to sit up and take notice. Perhaps the most remarkable thing about their blockbuster take on Philip K Dick's The Minority Report, however, is how prescient its vision of the future has proved to be.
Two decades later, the central premise of both book and film – telepathic "precogs" are used to predict (and prevent) crimes before they happen – remains in the realms of science fiction. (This is arguably a good thing, seeing as the experimental Pre-Crime project is completely discredited by the end of the movie.)
But Spielberg went the extra mile when it came to imagining the future. During pre-production, he assembled a "think tank" of architects, computer scientists, authors and medical experts to visualise what the Washington DC of 2054 might look like.
In 2002 – an era before smartphones, tablets and Facebook became commonplace – Minority Report's world of gesture-led computer interfaces, personally targeted advertising and driverless cars barely felt plausible. Fast forward to the present day and it's as if Spielberg had hired some precogs of his own to take a glimpse at the future – indeed, Minority Report is a movie that gets better and better with age.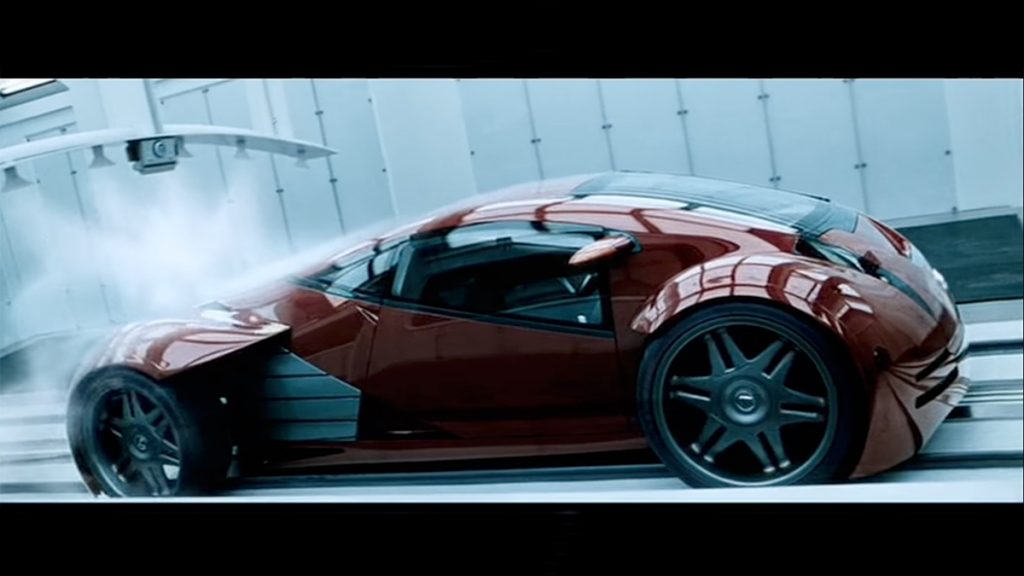 Key Tenets:
Experience: Law enforcement agencies use pre-cognitive humans to predict murders. This information is used to apprehend the guilty party before they have a chance to kill, opening up an ethical bag of worms.
Pre-Crime officers, such as Tom Cruise's John Anderton, use hand gestures to interact with giant screens, on which images appear to be floating in mid-air.
Movie projectors are advanced enough to create life-like three-dimensional moving images in the viewer's home.
In an urban setting – on the street, on personal transport, etc – video advertising displays are specifically targeted to individuals. Creepily, they even address the customer by name – this is particularly troublesome if you're on the run from the law.
Newspapers still exist, but are printed on e-paper, which can incorporate moving video displays – pages can even be updated in real-time to reflect breaking news. Again, this is particularly troublesome for the fugitive Anderton, when his face is suddenly plastered across front pages everywhere.
Cars are driverless and move through cities on freeways with clearly defined lanes.
Hardware: The displays used by Pre-Crime are large, curved and transparent.
Interaction with computers comes via special gloves, which register the user's gestures.
One prediction Minority Report gets wrong is that key computer data is stored on physical media rather than in the cloud. Perhaps the filmmakers thought that was a cognitive leap too far for its early '00s audience, for whom the idea of wireless computing was still comparatively new.
Wall spaces in public areas are transformed into large, sophisticated displays.
Public spaces are filled with retina scanners, which are constantly logging passers-by. These retina scans are used to target suitable ads to the customer, and also for government surveillance – Big Brother is watching you at all times.
The cars' passenger units can rotate on multiple axes relative to the direction of travel – indeed, Minority Report's cars even use "Mag-Lev" technology to move up and down vertical sections of road.
Law enforcement officers also make occasional use of rapid-response jetpacks.
Economics: The display screens and retina scanners appear to be so ubiquitous in 2054 that logic dictates they must be relatively low cost.
IP: Any IP could plausibly make use of Minority Report's display technology and computer interfaces. In the film, we see adverts for major brands including Lexus, Guinness, Gap, American Express, Aquafina and Reebok.
News outlet USA Today produces an e-paper edition.
Company: The manufacturer of the computer technology is unknown, though with Washington DC's Pre-Crime system being a prototype, it's safe to assume that its computer hardware is proprietary. Toyota is a prime-mover on the driverless Mag-Lev cars, via its Lexus subsidiary.
State of Play (October 2021)
Experience: Accurately predicting the future violates too many laws of physics to be plausible, while fiddling around with causality and someone else's timeline is also problematic.
When Minority Report was made, most of our interactions with a computer would have been via keyboard and mouse/touchpad. These days, the arrival of smartphones, tablets and touchscreen computers means that we're just as likely to swipe, pinch and tap our way around a piece of software. It's not quite the same as Anderton's orchestra conductor performance, but it's spookily similar.
While we don't get bombarded by personalised ads every time we walk down the street, targeted advertising is now a fact of life. Tech giants like Google and Facebook are constantly monitoring our movements online and this information is used to deliver more relevant commercial content.
Hardware: Gesture-based interfaces are now so common-place on phones, tablets and computers that we take them completely for granted.
If touching screens feels a little too old-school, various game systems have taken advantage of gesture-based controls, from Nintendo's groundbreaking Wii to Microsoft's Xbox Kinect and Sony's PlayStation Move.
While we're not quite at the point of photo-real three-dimensional images in our living rooms, holographic projection is improving all the time. The eagerly anticipated 2022 ABBA reunion tour will feature four "ABBAtars", 3D representations of the band as they looked in their 1970s heyday.
Iris scanning technology was used for arrivals at several UK airports between 2005 and 2012.
Facial recognition software is now so commonplace that Apple use it as a security feature on its iPhones. It is also utilised by law-enforcement agencies around the world.
While Minority Report-style e-paper isn't yet commonplace, many of us now read newspapers on smartphones and tablets – we have a constantly updating news source with us at all times.
Driverless cars are already on the road in parts of the world – notably in Chandler, Arizona – but the big questions arguably aren't so much about the tech as the legal issues if a vehicle hits a pedestrian.
Functioning jetpacks exist – paramedics recently tested a model in the Lake District – though fuel capacity means they're unlikely to be practical over long distances.
Economics: The Minority Report technologies that are already widespread are making businesses a lot of money. Those that aren't surely will do in the relatively near future.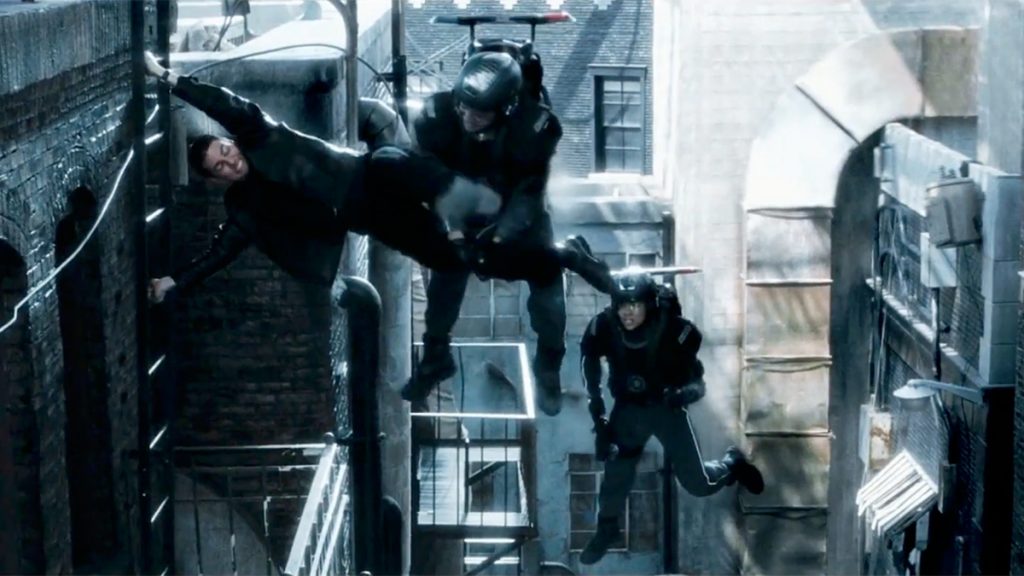 Reality check: Incredibly plausible
Using uniquely gifted human beings to look into the future is likely to remain impossible – the idea of predetermination creates all manner of physics-y issues – but most of the other tech in Minority Report feels remarkably prescient.
So while many of the interfaces and visuals are given a futuristic, sci-fi sheen in the movie, they're built on ideas that are either commonplace now, or likely to be in the near future. Aside from the jetpacks…
Further reference