Quick music gear lesson: Chances are if you've ever watched a guitarist knock a crowd crazy, then the chances are that they were playing a Fender Stratocaster guitar. (Either that or Gibson Les Paul, but that's a whole other story…)
The Stratocaster is a music icon in its own right, and easily more famous than most of the hundreds of thousands of guitarists who've rocked it over its 70 year history. For while music equally likes to plunder the past and reach new highs through the use of technology, the world of guitars is notoriously steeped in history. For many guitarists the Fender Stratocaster electric guitar has never been bettered and – arguably – never will.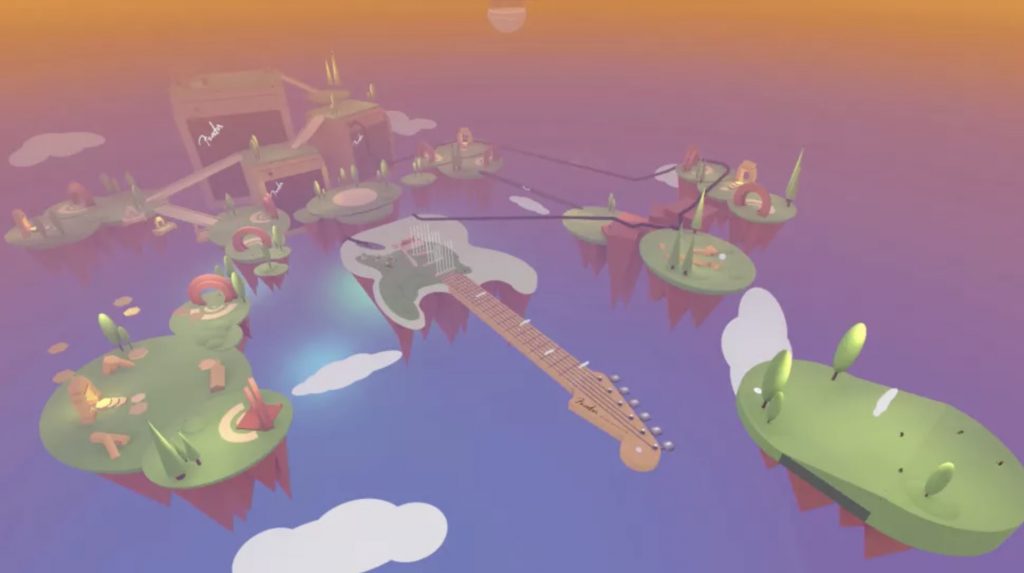 Bigger than the music
Hence when Meta went on the prowl for an on-trend, super-credible new music partner to give Horizon Worlds a bit more kerrang, they went knocking on Fender's door. And nothing says Fender like their Stratocaster.
Featuring a distinctive pointing headstock, a pair of horns (one longer than the other) and three, slim 'single-coil' pick-ups on its body, once you've learnt its shape, you suddenly start seeing it everywhere. And its sound is all over rock and pop music of every shape and size.
Thus – just announced at the Cannes Lions International Festival of Creativity – Fender are partnering with Meta to create the Stratoverse, a Strat-shaped island "surrounded by clouds, floating high up in the stratosphere". Of course.
It's a bespoke, self-contained, music-themed social area of Meta's Horizon Worlds that Quest 2 owners can explore right now.
On your journey around the Stratoverse you can take a walk to the headstock, neck and body of the guitar-shaped island before settling into the Riff Maker hut and creating music all of your own.
Fender have been pioneering new ways to teach guitar (delivering hi-tech teaching in app form to what has always been a notoriously physical and dextrous instrument to master) for years now, so the Stratoverse feels like a logical step forwards in further popularising an instrument whose cool never seems to sunset.
Music clips found around the Stratoverse can be combined in the Riff Maker to quickly make tunes that are guaranteed to fit together, teaching harmony and melody as sounds are layered to form bespoke music tracks.
You can even go further afield, exploring the clouds, high above the stratosphere to find Finder 'picks' (aka guitarist's plectrums) that give access to more sounds. Sounds can also be earned through answering guitar trivia questions, taking part in a guitar pick throwing game and – of course – engaging in air guitar competitions.
"Once a pick is unlocked, the player takes it down to the main island where they can place it in one of the 12 spots in the Riff Maker to add their sound to the customisable looping riff," say Fender.
Plus skins and outfits. Of course
There are even customisable outfits to find and win, allowing you to truly make a visit to Fender's world all your own.
Evan Jones CMO Fender says "We could not be more pleased to have been invited by Meta to bring Fender into the Metaverse for the first time. As a brand we are committed to enabling all forms of musical expression and are thrilled by the potential this technology has to allow Fender fans and creators to come together, play, and create across borders, cultures, and from any distance.
"Collaboration and experimentation are essential ingredients to the musical journey," he added, "and we're looking forward to seeing what creators can do with the unlimited potential of the Metaverse and our first Fender Stratoverse experience."
Keep your eyes peeled for a rival, darker, heavier Gibson-verse any time now… And as for the high-tech, EDM and dance music gear makers? We're predicting that Korg-, Yamaha-, Roland- and Pioneer-verses are all on the way…