According to a new market research study published by P&S Intelligence, the revenue of the metaverse market was over $148.5 billion in the year 2021 and it is likely to progress at a mammoth compound annual growth rate of 29.7% from 2021 to 2030 and touch $1,542.9 billion by the year 2030.
This will be due to the increasing requirement for metaverse to acquire digital assets with cryptocurrencies. Furthermore, the advent of metaverse-centric firms, alliances to innovative medical VR and AR solutions, to advance patient outcomes and surgery quality, and increasing investments in R&D are projected to boost the industry.
During the pandemic, the metaverse market saw augmented funding due to an increase in the dependence of people on various digital platforms. COVID-19 opened the gates for new entrants in the market, as people had more idle time than before, which had a positive impact on the immersive gaming field. For example, users of Fortnite increased to 350 million in 2020 from 250 million in 2019.
In the years to come, software is likely to have the higher growth rate. This is because of the growing requirement for VR/AR web and mobile app development tools, software development kits (SDK), VR/ AR studios, and tools that are cloud-based. Further, with the growing popularity of animated avatars, developers have designed payment gateways and games where people can earn money, thus propelling the sales of metaverse platform software.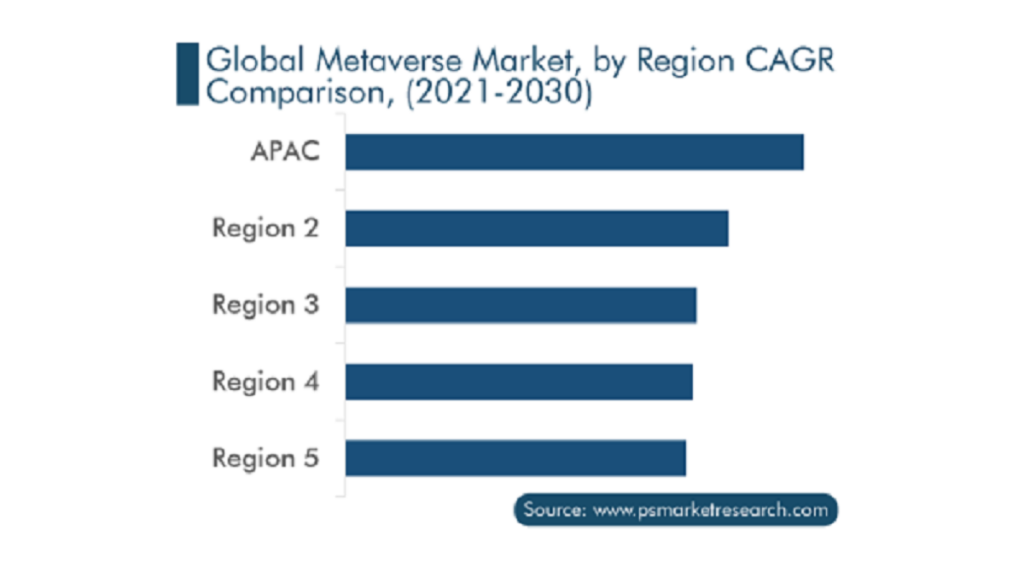 Regional Analysis of Metaverse Market
In the coming years, the metaverse market of the APAC region is likely to have the highest growth rate, in excess of 30%. This will be because of the growing usage of VR/AR and rampant digitization in nations such as China, Japan, India, and South Korea.
North America was the market leader in the year 2021. It is credited to the increasing penetration of smartphones, surging usage of VR/AR, and increasing acceptance of smart medical devices. In addition, the mounting individual and corporate spending on new technologies pushes the regional market to prosperity.
Additionally, the market in Europe is likely to see substantial progress mainly because of the booming audience on platforms such as Facebook, Twitter, and Instagram and on gaming websites.
Similarly, the market in LATAM and the MEA is advancing because of the growing adoption of digital platforms in Mexico, Brazil, South Africa, Saudi Arabia, and various other countries.
You can request a sample of this report here.