Welcome to Cuvée Collective, a digital wine ecosystem combining NFTs and the art of fine wine collecting, all fine-tuned for the digital age. If you love wine and you love NFTs then this is your dream come true.
Cuvée Collective aim to create a digital wine community and ecosystem, albeit one with its roots as much in the blockchain as they in the highly-prized soil of an ancient vineyard. And, naturally, with World Enviroment Day arriving this Sunday, June 5th and when working in an arena as natural and ecologically dependent as wine production, it comes as no surprise that Libation Labs take issues of sustainability very seriously when delivering their unique NFT offering.
At its simplest, Cuvée Collective – the first project from Libation Labs studio – is a digital wine NFT club that exists as a mobile game as well as offering digital and physical benefits – such as unique wine tasting experiences – to its members. But the company aims to go further than that as Andrew Allison, CEO and Founder of Libation Labs told us "When you partner with iconic wine brands, sustainability is paramount."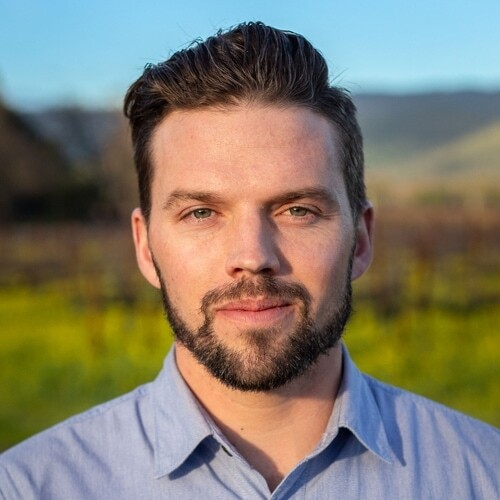 Employing SBC, a leading US-based sustainability advisory firm, Libation Labs are moving to deliver Cuvée Collective as a carbon negative business with blockchain partners only appointed following an assessment based on carbon emissions and future roadmaps.

Starting out in the games industry Andrew's familial background was in the wine business and by taking on blockchain, NFTs and the metaverse, he's been able to found Cuvée Collective to combine his passions. We asked him to tell us more.
How does Cuvée Collective work?
"Cuvée Collective is the first members-only wine NFT club. Your membership is purchased as an NFT giving you exclusive benefits and experiences within the world of wine, in-person and digitally. We have created an experience driven membership for wine lovers and have partnered with some of the best luxury wine brands in wine country so holders can experience the best it has to offer. Your membership is a resellable asset, so you can depart the club at any time by reselling the NFT."
And that NFT is your ticket to future wine events and offers?
"Cuvée Collective has personalized experiences for members around three tiers. Each tier provides club access, with additional in-person and digital benefits based on the NFT type: Early Access, Wine and Vineyard. The NFT opens up benefits and experiences all designed to enhance the perfect wine country experience; ranging from a chauffeur service, classic or super car club, hot air balloon ride and exclusive tastings and after-parties. As Cuvée Collective grows, more benefits will be curated through input from the community."
Is Cuvee Collective up and running right now? Is there a proposed launch date?
"Cuvée Collective will launch our first NFTs in June 2022 and we have a Discord channel where you can join now to follow our progress."
And you're aiming to do the whole thing in as sustainable a way as possible
"We're working with SBC to scope and measure our footprint. We brought SBC onboard to help us create the plan that will work for our business to positively make an impact in our industry. We plan and aspire to be a carbon negative business."
Find out more at Cuvée Collective's Discord channel and hear Kevin Wilhelm of SBC discuss their work on the latest episode of the Wine in Web3 podcast here.