CD Projekt Red's smash hit The Witcher and its subsequent spin-offs catapulted the ever-expanding studio heavyweight to the top of the development tree. But it was their next project – their take on the Cyberpunk table-top RPG legend and associated media universe – that really pushed them into the mainstream, with their long-awaited and much-hyped first-person action RPG interpretation being designated THE big game of Christmas 2021…
And then things didn't go entirely as planned… But that's another story.
Nevertheless, the team's ambitions, ability to scale up, create their own tech where an equivalent didn't exist, and generally get the impossible done in record time has made them a force to be reckoned with, with a story to tell.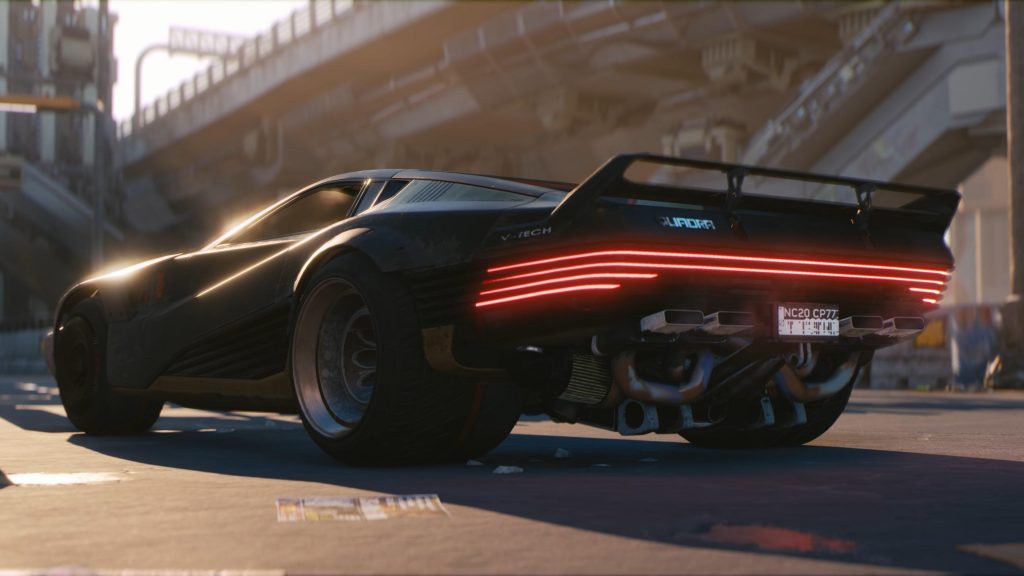 And at GDC 2022 the team took the opportunity to show off their hard-fought creative muscle, treating us to a fantastic demo and talk looking at the creation of Night City, arguably one of the most complex and challenging game world creation tasks ever undertaken.
Lead environment artist Kacper Niepokólczycki told us how it was done.
Building the world of Cyberpunk 2097
"All of these stories go a little like this," Niepokólczycki sets the scene. "It's always 'we had this dream… and we had an amazing ambition… and we had our challenges… and this is how we overcame them… And I'm going to do the same."
Sounds like a plan.
"The huge ambition was that we were working on the Cyberpunk universe which was very close to my heart. So I was super excited," he begins. "But in our studio we set the bar really high, to create something spectacular. We wanted to create Night City and something that nobody else has ever seen in a game – a super dense, live city.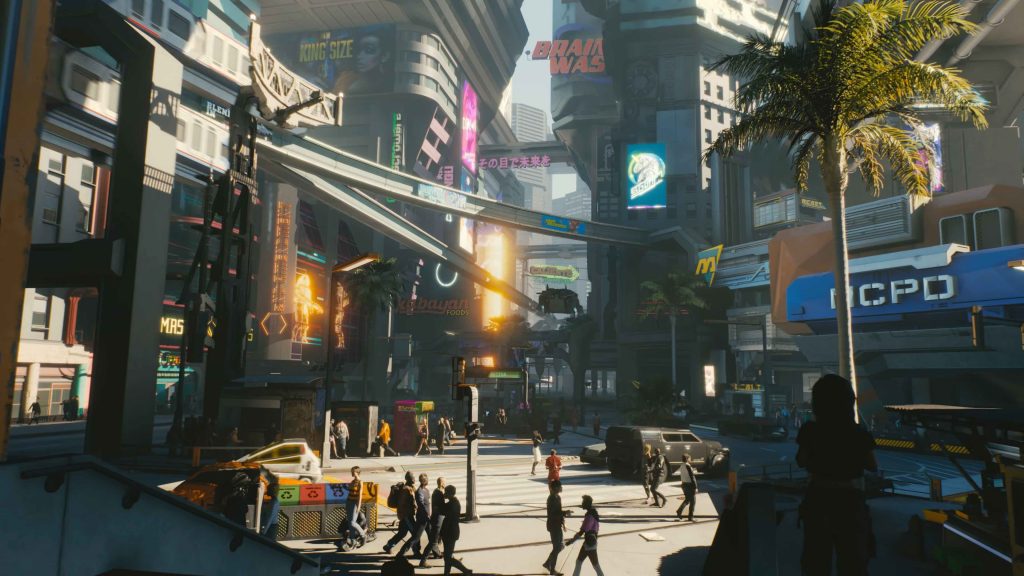 "Switching from third person in The Witcher to first person totally changed the game for us. We realised that it's not going to be possible to build a game on our old tech from The Witcher so we started by asking questions.
"What do we want to build? What do we want to create? And what is it that's going to drive everyone crazy and make them happy?"
Much of CD Projekt Red's Night City is original but the game's origins lie in the famous Cyberpunk tabletop game from 1981.
"The tabletop game was our starting point," Niepokólczycki explains. "The Cyberpunk 2020 game gave us an understanding about the city, such as what kind of districts do we have in there? But we thought 'what can make our cyberpunk unique in a new IP'?"
Niepokólczycki shows us familiar images from modern sci-fi…
"People think of Blade Runner when they think of Cyberpunk… But we thought 'what about an open world with a day and night cycle?' Rain, fog and dark all the time wouldn't be interesting. We had to put our DNA on it with bits of how we thought California is going to look.
It's life… But not as we know it… Yet.
"So we created crazy things such as a clean air factory…" He shows us concept art of a small, inner-city building covered with glass terrariums and tubes, ducting the clean air they produce into a shop where it is sold below.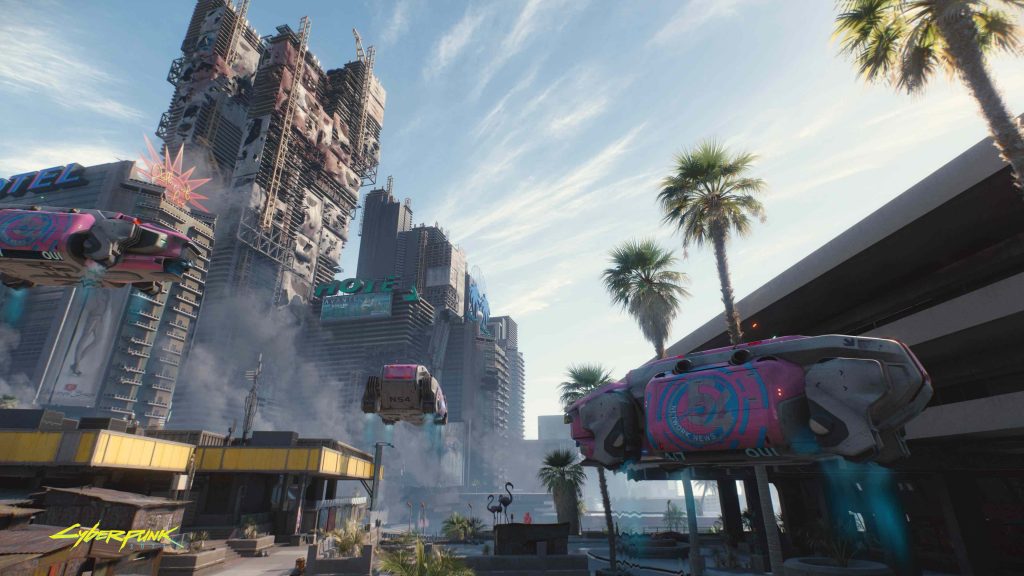 "We keep the ideas coming and flowing… What shape should the city be? It has to be traversable very quickly. It has to look dense and packed. Cracks between buildings to entice you to go in and take a peek…"
He shows us concept art of the world taking shape and reveals one of the major influences on their designs.
"We used 'the rule of contrast'. So it has to be a city based on what we have today… So the bottom half might be what you would find today… Smaller buildings… Houses… Then mega buildings in amongst them. A whole town within a town. So it's weird… but in a good way.
"We use this all the time. Here they built a town in a river bed." He shows us art of a conventional looking LA-style suburb but – bigger picture – it's built in a huge storm drain with vast flyovers and megastructures surrounding it.
"We're taking what we know and understand, and making it bigger and bolder and more unique while supporting our story."
Keeping it real
But with such a vast and complex gameworld surely it's going to be easy for the player to get lost?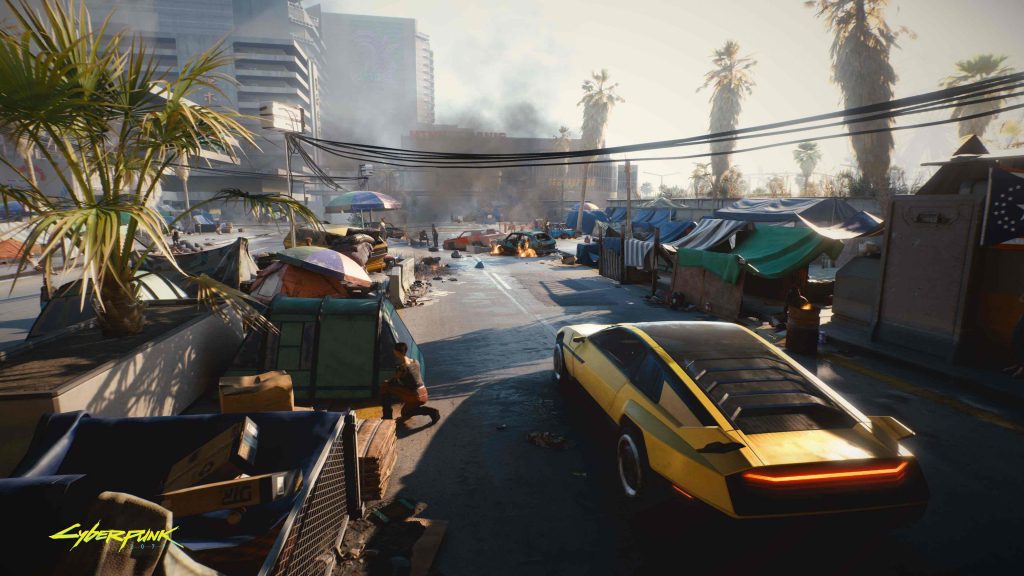 "We put colours in every district to help the player to subconsciously locate themselves," Niepokólczycki explains.
"North harbour is orange. Japantown is pink, etc. Very quickly we built something that we wanted to work with."
But there were problems ahead. If Cyberpunk was going to fulfil the team's ambitions they were going to have to far outstep the world-building skills they'd honed on The Witcher.
"The first thing was switching to first person. We tried using the metric system from The Witcher [using the same basic scale and world-building grids] and it didn't work. So we had to start again… How big are the doors going to be? How steep are the stairs going to be? We had to support the gameplay. The crouching system… The cover system…
"We had collaboration with urban planners. We got in people with the very specific skills of building real life cities. Artists aren't thinking like that. They make something really cool and unique… But the urban planners build a world that's like today. Like Los Angeles. This has to be a believable city with highways and streets. We had a lot of arguments to find the sweet spot."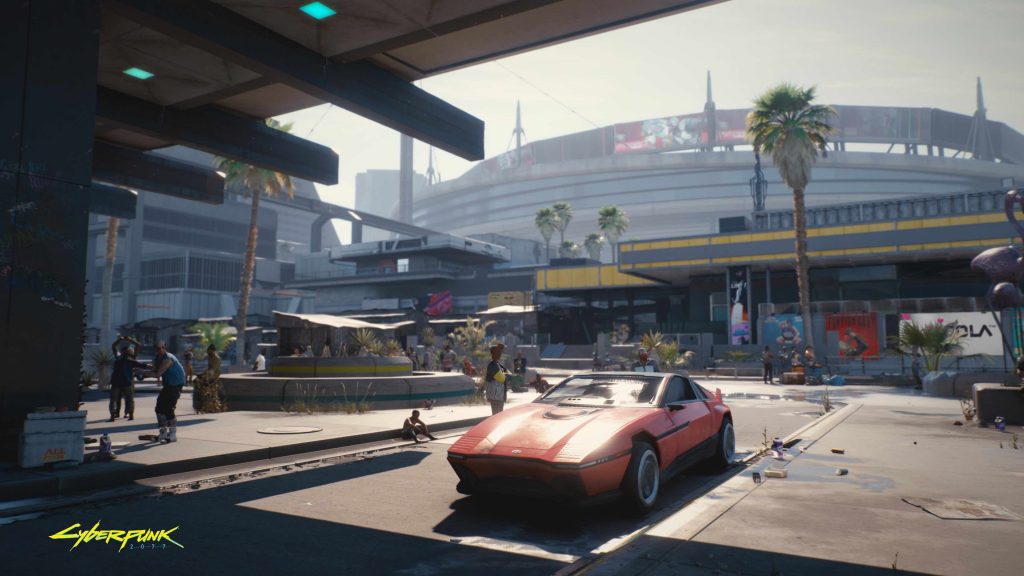 With a basic set of looks and maps and grids and scale in place, what came next?
"Having had all those talks and ideas we started to build the blockouts for Night City," says Niepokólczycki. "We used simple shapes and forms to create emotions. Adding shapes and forms to build something really cool. And once we had the tech it was time to make a proper game."
In order to maintain the original table-top game's vision the team wanted to make good on its promise of districts each with their own style.
Playing by the rules
"One of the biggest high level goals was to make every district unique," says Niepokólczycki. "You're in one big town… but the districts feel different. They're close to each other… but totally different. I'd be here for a week if I was to describe everything so we're going to focus on Kabuki."
Niepokólczycki shows us a raft of concept art and photographs. "I love Hong Kong, Tokyo and Asian culture so building Kabuki was a dream come true for me," he explains.
But with so many artists working on so many different elements and styles how did he keep the project on track?

"Art direction was set in a very specific style, from clothes to cars. We had an art bible with cool shots that determined the moods. Like a blueprint to build the environments. Kitsch was a style where it was the look over the function… But Entropism was function over style. It doesn't matter how it looks as long as it works. If someone says 'I'm going to build this part in Entropy style' then everyone has a key as to how things are going to look and work."
With the look of the world determined it was time to start building a city.
"The tall structures in the city act as a compass," Niepokólczycki explains. "The player can understand where the north, east, west and south are. And Kabuki is built on a slope… So whenever you're going down, you're going south. And when you're going up, you're going north.
"We created landmarks and points of interest. So we have a mega building with the sign '11' on it." He shows us artwork of a huge painted building towering over the buildings and flyovers below. "It's so the player can find their way easily through something very iconic and eye-catching. I'm all about verticality. I love it. I tried to build Kabuki so it's layers over layers. We had five design paths on top of each other."
And with the city taking shape, it was time to start thinking about the game that would live amongst it.
Lights, camera, action…
"With the city being built, the game designers took those worlds and put the missions there. They were layers to support gameplay and quests and missions. And to support the story. We were building a platform for all the teams in our company. They could then jump in and start their work: What is the story going to be? What's the location going to be? What's the payoff going to be? We would talk to every team in the company to make it pretty… but most of all how it works for the game to be deliverable and gameplay friendly.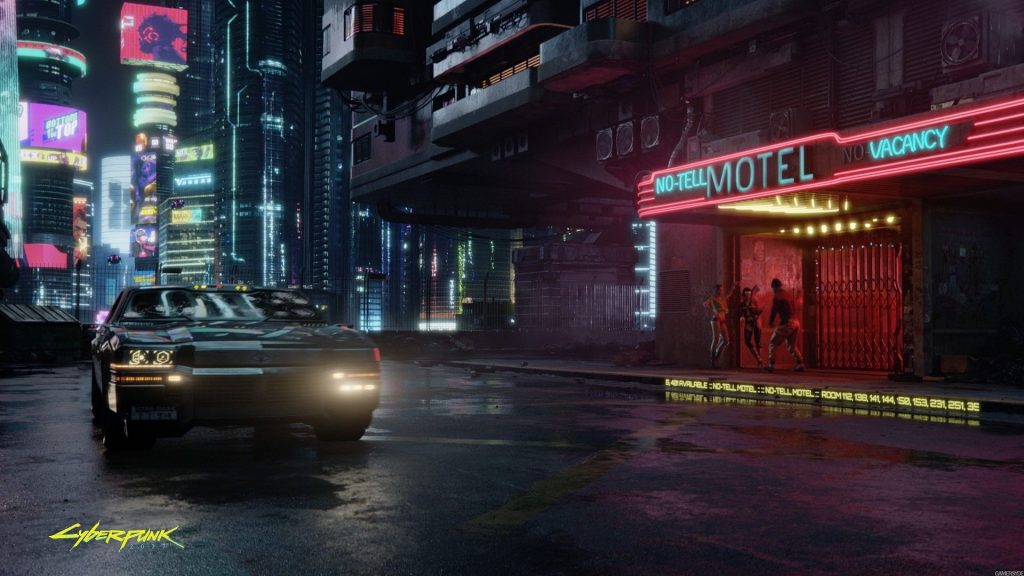 And with styles and levels taking shape it was time to build this out on a massive scale. Here the game's proprietary tools were essential. Using their Road Tool, Cable Tool, Foliage Tool and Terrain Tool they were able to quickly build buildings and roads, repeating prefab parts that worked together while still having the flexibility to change textures to make each unique.
Niepokólczycki shows us a set of buildings that, while clearly based on the same basic shop fronts and windows, are each unique through the application of textures and graffiti on top. "And when you change one of these you can change every instance that it appears in the world." With a few clicks he shows a single wall texture being duplicated then edited, changing how it appears all around the city.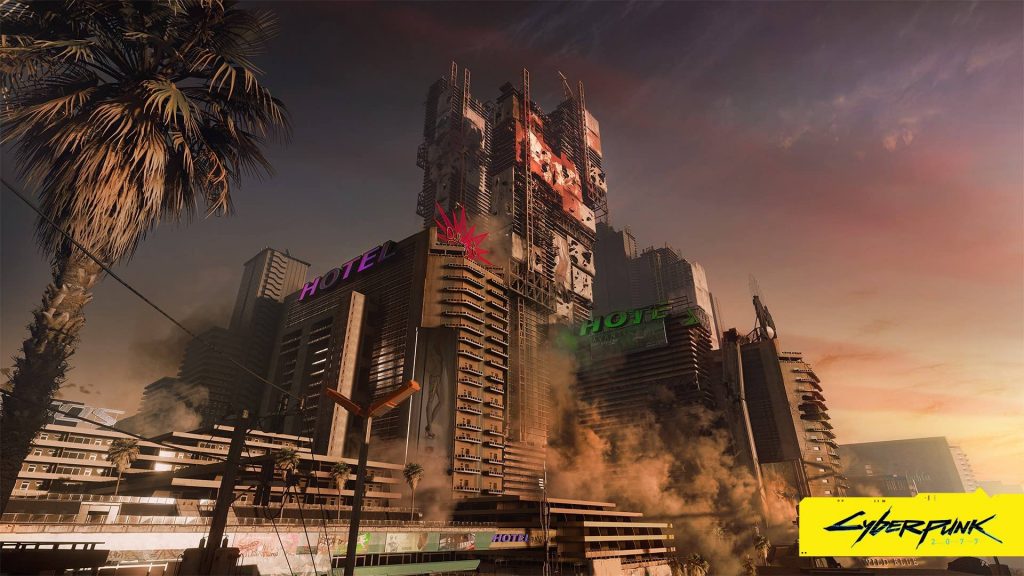 In the final part of his demo Niepokólczycki shows us a stop motion sequence of an empty alleyway moving from initial design to finished in-game product. The artist dials through hundreds of objects – dumpsters, litter, vegetation, manhole covers, graffiti – layering layer on layer, building and building… Before giving the scene a final polish of real-time lighting. It's spectacular to watch.
Finishing touches
Are there any final tips that Niepokólczycki would like to give artists aiming to achieve the same stellar standards?
"You have to ask the big question…" he offers. "Why… You need to ask why you're doing it. And if the answer is not clear then don't do it. Ask the question 'why' all the time and it will improve your life."
Wise words.